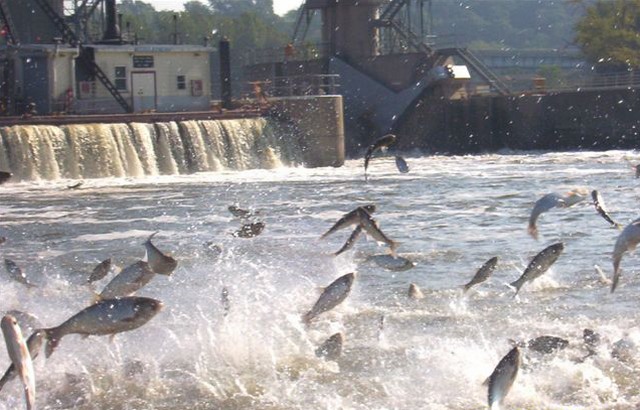 Amazing activities of invasive Asian carp shown in this Great Lakes Fisheries Commission photo
---
Petoskey Group Sounds Asian Carp Alarm; Levin Leads Effort to Block Invader
Freshwater Future Says Separation of Watersheds Essential to Stop Carp
March 18, 2012 Leave a Comment
By: Dave Rogers
Freshwater Future, a Petoskey non-profit organization, is sounding the alarm and leading the charge to protect the Great Lakes against Asian Carp.
The group reported recently that Senator Carl Levin, D-Michigan, has won support from 30 members of Congress for the Stop Asian Carp Act -- legislation that would separate the Great Lakes and Mississippi River basins.
"Separating the two watersheds is the only permanent solution that would stop the Asian carp from swimming into our Great Lakes," said Jill Ryan, the group's executive director.
"As you read this, thousands of Asian carp are swimming toward our Great Lakes," the group stated in a news release. "The Illinois River is already infested, and this invasive species has been found in other rivers flowing into Lake Michigan and Lake Erie.
"If they become established, our $7 billion fishing industry would be at risk along with many of the ways we enjoy our favorite lakes and rivers.
"As of today, Asian carp have NOT made a home in our Great Lakes, which means we still have time to stop them. But we cannot wait any longer to act -- there is too much at stake. We must permanently separate the Great Lakes and Mississippi River waterways to prevent entry of these huge carp and other invasive species. If we fail to act now, the Great Lakes may never recover from this invasion."
Studies show current protection efforts by the Army Corps of Engineers will not stop the Asain carp, Ms. Ryan said. "This threat requires immediate solutions, while the Corps timeline and actions do not. One of the best ways to influence the Corps is through Congress, which authorizes and mandates its activities and funding. The Great Lakes are our responsibility.
This past month, with the help of groups around the Great Lakes region, Freshwater Future delivered 11,000 post cards with signatures to Members of Congress. Last year 12,000 postcards were sent to President Obama and legislators, she said, adding:
"In 2010, we met with 20 Members of Congress to discuss the Asian carp threats and what actions we need them to take to protect our Lakes. We also held a Congressional briefing where staff from 21 Congressional offices attended. While we were in Washington D.C., we met with John Goss, the Asian Carp Director of the White House Council on Environmental Quality."
Released by the Great Lakes Commission and Great Lakes-St. Lawrence Cities Initiative called "Restoring the Natural Divide", the study says separating the Great Lakes and Mississippi River basins to prevent the spread of Asian carp and other invasive species is not only possible, but a natural step toward much-needed action to improve Chicago's water infrastructure.
Senator Levin circulated a letter, which was signed by 30 Members of Congress in just a few short days, directing the Army Corps of Engineers to utilize this report and wanting to know how they intend to do so.
In related policy activity, the first details of a renegotiated Great Lakes Water Quality Agreement between the United States and Canada emerged last week in Washington at a meeting of the Great Lakes Commission. Cameron Davis, senior advisor for the Great Lakes at the U.S. Environmental Protection Agency (EPA), said that although the document has not been finalized, the groups have reached an agreement in principle.
Also unveiled at the meeting were the Commission's FY 2013 federal legislative priorities which include preventing the introduction and spread of aquatic invasive species, cleaning up contaminated sediments, controlling polluted runoff, restoring degraded wetlands, and conserving fish and wildlife resources.
First enacted in 1972 and last revised in 1987, the Water Quality Agreement represents the primary Great Lakes environmental protection policy for the U.S. and Canadian federal governments. According to Davis, the new pact is more "prevention oriented" and "allows us to be more futuristic."
While in the past, the agreement focused most prominently on toxic pollutants, he said, the new version features increased emphasis on habitat restoration, particularly wetlands; invasive species; and potential impacts of climate change on Great Lakes water quality.
Davis noted that the new Water Quality Agreement's forward-looking orientation will be more effective in identifying and responding to emerging environmental threats to the Great Lakes. He said: "Even before they became established in the Great Lakes, we knew that zebra mussels were likely coming, but we could not move fast enough. This new agreement will allow us to respond to such threats much more effectively."
The Commission received a firsthand report on the 2012 Farm Bill from Chris Adamo, staff director for the Senate Agriculture Committee, chaired by Michigan Senator Debbie Stabenow.
Reauthorization of the Farm Bill with strong provisions for conservation programs such as those supporting control of soil erosion and agricultural runoff is another high priority for the Commission.
GLC Chair James Tierney said: "The 2012 Farm Bill is not only important to maintaining and enhancing our agricultural productivity , but also to protecting the Great Lakes from one of the greatest threats to water quality: non-point source pollution."
Also appearing before the Great Lakes Commission was EPA Assistant Administrator Nancy Stoner who provided an update on a new, more integrated approach to stormwater and waste water management. In addition to being more effective in dealing with overflows impacting Great Lakes water quality, the new approach is more cost effective. "In our current budget-constrained environment, the goal is to make every dollar go as far as possible," said Ms. Stoner.
The Commission also heard updates on efforts to keep Asian carp out of the Great Lakes, including a recently released study by the Commission and the Great Lakes and St. Lawrence Cities Initiative, outlining engineering approaches to separation of the Chicago Areas Waterway System of the Great Lakes from the Mississippi River where Asian carp have been migrating northward since the 1980s.
Acknowledging the substantial backlog of dredging in the Great Lakes that has impaired navigational access to many ports and harbors, the Commission moved to support development of new legislation to provide federal funding for harbor maintenance, particularly for low-use commercial and recreational harbor communities.
John Goss, Asian carp director for the White House Council on Environmental Quality, presented the U.S. federal government's strategic framework for Asian carp control in FY2012, which will be supported by a $51 million budget commitment.
---
---

Dave Rogers




Dave Rogers is a former editorial writer for the Bay City Times and a widely read,
respected journalist/writer in and around Bay City.
(Contact Dave Via Email at carraroe@aol.com)

More from Dave Rogers
---
Send This Story to a Friend!
Letter to the editor
Link to this Story
Printer-Friendly Story View
---
--- Advertisments ---