Saginaw Sting Win Football Season Opener 64-32,
Set Sights On Game 2 At The Dow Sunday 3/25
March 20, 2012 Leave a Comment
By: MyBayCity Staff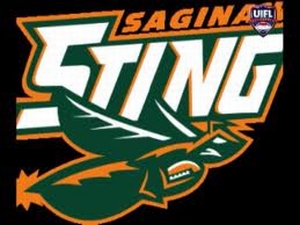 Saginaw Sting Start Strong
SAGINAW, MI -- The Saginaw Sting are very pleased with the results of their home opener against the Chicago Vipers. The Sting lived up to the high paced action expected in CIFL games right off the bat. The game started with 16 points scored by defense and special teams. Thanks to the explosive start the Sting were able to jump to a 28-0 lead in the first quarter.
The Sting's special teams were dynamic in their opener. Charles Tarver returned the opening kickoff for 45 yards and a touchdown, Tarver would later return a kick to the one yard line. The Sting's special teams were able to return 5 kicks for a total of 113 yards.
The Sting were lethal with their aerial attack amounting to 6 touchdowns through the air. QB Tommy Jones threw for 179 yards with only one interception. Jones completed passes for touchdowns to 4 separate receivers. Former Saginaw Valley graduates Andrew Beaver and Jeff Austin both caught two touchdowns and Zach Nichols and Charles Tarver both added one of their own. The offensive line was able to protect their quarterback and not give up a single sack.
The defense stood their ground all game with 3 interceptions and one fumble take away making the Vipers earn their points, holding them to 3.7 yards a play. Jakendall Brown finished the game with 3 tackles including a sack, Andrew Deweerd was a force to be reckoned with totaling 6 tackles.
Overall the Sting were satisfied with their start on their journey to another championship.
Sting head coach Fred Townsend said, "I was pleased. But, we've got a long way to go."
The Sting are optimistic about their journey and realize it will be a lot of work. "We're at about 20% right now," said Townsend. "We have a long ways to go."
The journey continues this Sunday, March 25th, at The Dow Event Center on Draper Auto Field against the Indy Enforcers with a 3PM tailgate & 4:30PM kickoff. Tickets are still available at The Dow Box Office starting at only $10.
---
---
---
Send This Story to a Friend!
Letter to the editor
Link to this Story
Printer-Friendly Story View
---
--- Advertisments ---