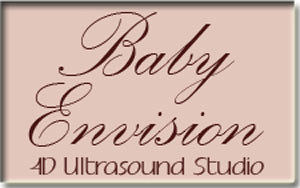 Baby Envision Gives You a 3D/4D Sneak Peek at Your Baby
April 15, 2012 1 Comments
By: Stephanie Meyer
When couples find out the exciting news of an upcoming bundle of joy, it is inevitable that their minds fill with questions and concerns. As the tummy grows so does the curiosity of not only "is this going to be a healthy baby," but also, "what is this baby going to look like?"
Owner of Brighton, MI based Baby Envision, Amanda Kube, aims to ease the minds of inquisitive parents by providing elective ultra-sound services starting at 16 weeks.
Kube is no stranger to ultra-sounds with 6 children ranging in age from 10 years to 17 months. In fact, it was when she was pregnant with her 5 year-old twins that the idea came to her of the importance of having this type of service for families, especially like hers. "My husband is in the military and he wasn't able to make it to the appointments," says Kube, "this gave him a way to still see it." Based in Georgia at the time, Kube was able to find elective ultra-sound services, but had a harder time when she moved to Michigan.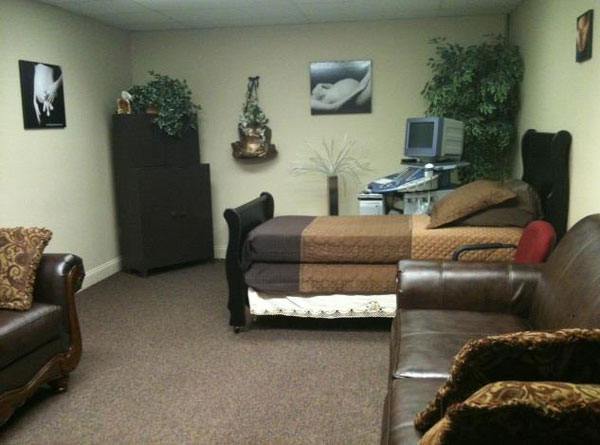 An attractive facility makes you feel like you are getting an ultra-sound in your own bedroom.
With only one sonographer, Kube opened her doors in Brighton in April of 2010. She has since expanded her facility in the same location, added 5 office staff and 3 sonographers (all have completed school and have been registered with the American Registry for Diagnostic Medical Sonography) working part-time filling approximately 25-30 appointments a week. This is up from 15 appointments in the beginning.
When you register on the day of your appointment, you will be asked for evidence of prenatal care. Sonographers provide this service for entertainment purposes only and unless they see that the baby or mother's life is in danger and in need of emergency services, they do not comment on deformities or other concerns. Kube makes it very clear that, "This service does not replace the ultra-sounds by your physician and it is required that you are receiving pre-natal care."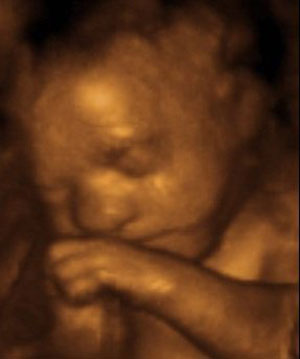 Although Baby Envision can not guarantee the exact results of the imaging because it is based on baby's positioning, this photo is a potential result from a 3D/4D ultrasound.
Baby Envision has a variety of packages starting at "The Early Gender 4D Package" for $99 that allows you to see the baby between 16-20 weeks for 10-15 minutes in 2D/3D/and 4D with the option to pay for a CD and DVD for $20, all the way up to the "Gold Package" for $150 that lets you take a peek at the baby between 20-33 weeks and offers more time and pictures, they kick in the CD, but still give you the option to purchase the DVD for $20.
For just a short hour drive south of Bay City, this type of service offers numerous amounts of benefits to the parents and their families. Not only can you find out the gender at 16 weeks (albeit with the cooperation of your baby) after OBs typically schedule a comprehensive ultra-sound 18-20 weeks into your pregnancy to find out the gender, they have evening hours to accommodate working parents where most facilities are limited to day time hours, they encourage you to bring family and children (up to 12 in a room), and the DVD lets family and friends view the ultra-sound, baby moving and all, after the fact.
For Bay City resident, Sarah Green, this service allowed her and her husband to share their exciting news over Christmas versus waiting until her scheduled ultra-sound in January. "Like many first-time parents, we were excited to find out our baby's gender. In our case, the 20-week ultrasound appointment with my local OB fell in January, after the Christmas holiday. Using the elective 4D ultrasound technology at Baby Envision, we were able to determine the gender of our baby early, around 17 weeks," states Green, "This allowed us to surprise our family with the exciting news ("It's a girl!") on Christmas Eve, which made for a holiday celebration we'll never forget!" Green also found value in the DVD she was able to purchase. "I'm certain our daughter will love watching her first movements on DVD as she grows up."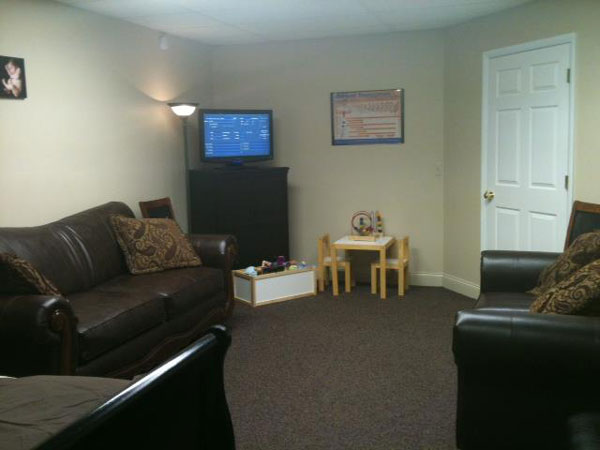 Spacious and family friendly ultra-sound rooms helps make everyone feel welcome.
Kube's passion and love for her business is more than evident. "We believe strongly in the bond of families," she states, "We love to hear the "oohs and aahs" when siblings get to see the baby on the screen. It really helps to create a bond when they can put a name and a face together. We feel blessed to be able to share this amazing experience with them."
If you are interested in additional information or would like to make an appointment, check out the website at www.babyenvision.com or call 810-229-9899. Military families can look for exceptionally good deals in the month of May in honor of Memorial Day.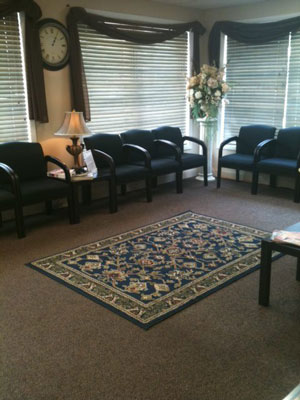 The lobby of Baby Envision is clean and inviting.
---
---
---
Send This Story to a Friend!
Letter to the editor
Link to this Story
Printer-Friendly Story View
---
--- Advertisments ---