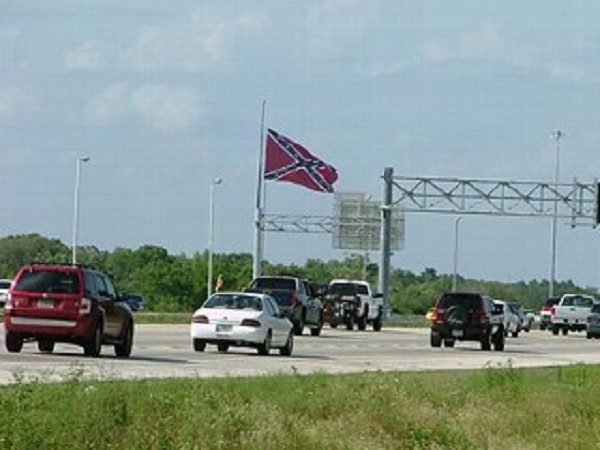 Some say the huge Confederate flag is evidence the Civil War never ended, at least for some good ole' cracker boys down here.
---
FLORIDA: Confederate Flag Still Flies Here, Folks; What Does That Mean?
What Would Charlie Smith, World's Oldest Man at 137, Have Thought?
June 8, 2012 2 Comments
By: Dave Rogers
The world's most humongous Confederate flag flies here along I-75 and I-4 near Tampa.
The flag is 30 feet by 50 feet and has startled drivers since 2008, according to local reports.
Yankees flocking down here to spend their cash and catch a few rays don't know what to make of it; neither do I.
Some commentators say the huge flag is evidence the Civil War never ended, at least for some good ole' cracker boys down here.
(By the way, the designation "cracker" comes, I'm told in Polk County, from whip cracking pioneers who came down from Georgia and Alabama to settle the area around Bartow after the Civil War.
The Sons of Confederate Veterans got together, raised some bucks, bought a little patch of land by the expressway and established a Confederate Veterans Memorial.
I guess it's best to be philosophical about the situation even though its an obvious political statement. Like the hillbilly asked in a bar if he had any ID, the reply was "'bout what?"
Was it a coincidence that the flag went up about the time of the election of the first black President in American history? We do know that gun sales skyrocketed about that time, apparently out of fear that new federal policies would be more restrictive to gun owners, a situation that never developed.
The Sons of Confederate Veterans take umbrage at the charge that the flag is racist. One member has called the flag "a profound statement," and says it doesn't represent slavery, but the valor of Southern men in their lost cause during the Civil War.
All eyes will be on the Republican National Convention in Tampa this August when anyone with a hankering will be able to pack a pistol inside the crowded conventional hall. That's the sole doing of Florida Gov. Rick Scott who over-ruled the City of Tampa.
Little outright evidence of racial discrimination exists around here, as might have been the case 15-20 years ago. Blacks and whites are seen lunching together, obviously pals from some factory or farm workplace. The old days of segregation are long gone and a Hispanic, Marco Rubio, is a popular U.S. Senator who may be on the short list for Mitt Romney's vice presidential pick.
However, one startling situation in Bartow (named after the first rebel general to fall in the Civil War) is that half a dozen bail bond agencies are located right on the main street across from the court house. As far as I know, no bonding agency is visible in Bay City or Midland, although Saginaw has a few.
Does the existence of lots of bail bond agencies mean that lots of folks are under arrest for various offenses on a regular basis? One would suspect that is the case although statistics are hard to find.
Schools, at least the private academy where we attended a graduation, are a polyglot of races, with many Middle Easterners joining those from India and other nations whose parents are perhaps more fortunate financially. However, African Americans in the private schools almost all are "tokens," one parent observed, coming in on athletic scholarships.
The public schools reportedly still are battling segregation and do not share equally in state resources with majority white schools. So, what else is new?
Writer Dave Weber of the Orlando Sentinel reported last year: "Segregation is making a comeback in Florida's public schools with the new wave of charter schools springing up across the state. One out of eight charter schools has a student body with 90 percent or more of a single race or ethnicity, an Orlando Sentinel analysis of the state's 456 taxpayer-financed charters shows. That compares with one out of 12 traditional public schools."
There is a new trend, according to the report: "Today, many of the new Florida charters are targeting black or Hispanic students. There are charters for Jewish, Greek, Puerto Rican and Native American students, too.
"Enrollment at some can run to 99 percent black or Hispanic, with not a single white student at 19 charters and more than a quarter of all Florida charters with 10 percent or fewer white students, according to the state's official count in October. "Equally troubling, civil-rights advocates say, is the rise in charters with largely white student populations, evoking memories of "white flight" from public to private schools across the South during integration."
Orlando and Disney World are in Central Florida, but all is not fun for folks outside the Magic Kingdom. The city violent crime rate for Orlando in 2009 was higher than the national violent crime rate average by 178.71% and the city property crime rate in Orlando was higher than the national property crime rate average by 144.04%.
Central Florida is a different world than the coastal cities; it's more like industrial cities up north while St. Petersburg, Daytona Beach, Fort Lauderdale and Miami are garish tourist traps for sun-bronzed wealthy (or apparently so) folks from around the globe.
They say there are three kinds of Yankees: Yankees, Damn Yankees and GD Yankees. Yankees are up there, Damn Yankees have come to visit, and GD Yankees are those who stayed.
I guess if Charlie Smith was still alive we could ask him about the lore of Central Florida. Charlie's picture and artifacts are prominently displayed in the Polk County Historical Museum. Charlie was born in Liberia and came to Florida to work in agriculture, of course. As the story goes, Charlie was the oldest man in the United States -- 137 years -- when he died in Bartow in 1979 (some claim he was "only" 105 and that he lied about his age.
Charlie was so famous for another claim he made: that he had heard in Africa to come to Florida because it was filled with "fritter trees." These were touted as trees from which pancakes sprouted and you could have all you wanted to eat at any time.
A PBS documentary about Charlie, produced in 1978, claimed he was told about the "fritter trees" to trick him into slavery. The story states that Charlie escaped, joined the Union Army and ended up out west fighting Billy the Kid.
The Polk County Museum shows Charlie dressed in a blue uniform that looks like Union soldier's garb but doesn't identify it as such. Charlies may have been a traitor to the South -- who knows?
President James K. Polk never set foot in Polk County, they say at the museum. But his name, and Charlie's, are still mentioned in these parts. One has to wonder what Charlie would have thought about the huge rebel flag still flying 147 years after the war.
The local folks took Charlie to Cape Canaveral for a moon shot in 1972. He was famously quoted as commenting: "I see they goin' somewhere, but that don't mean nothin'."
Maybe it's kind of like the fritter trees, a vision in somebody's mind about what never was and never can be. A return to the old South of magnolias and happy slaves is still a fantasy some folks would like to perpetuate.
###
---
Government Article 07070
"The BUZZ" - Read Feedback From Readers!
mosher Says: On June 11, 2012 at 11:34 AM

When I see a Confederate flag in Michigan, like on a truck, I think why does that person hate my country? It's a symbol of terrorism, worse than Osama bin Laden's Al Qeada.

Why does that person hate my state, Michigan, from where over 16,000 of its men died 150 years ago fighting that flag?

A California highway patrolman told me when he sees one, he thinks "meth user--follow me to the lab". I think: trouble going someplace to happen.
Anon says: On October 31, 2012 at 09:42 PM

How would everyone feel if I hung a huge flag with a Swastika on my private property... The Germans are embarrassed by that part of their proud heritage and what that flag represents.
This Confederate flag is not about race, it's about ignorance. As a proud white American I am embarrassed by this part of our history and don't need to have someone rub my nose in it with a flag.

Please don't use my name if you choose to publish, unfortunately racism still exists.
---

Dave Rogers




Dave Rogers is a former editorial writer for the Bay City Times and a widely read,
respected journalist/writer in and around Bay City.
(Contact Dave Via Email at carraroe@aol.com)

More from Dave Rogers
---
Send This Story to a Friend!
Letter to the editor
Link to this Story
Printer-Friendly Story View
---
--- Advertisments ---