Roy Facundo, after being announced as the winner! at the Willew on Wednesday night.
---
Newcomer Wins Karaoke for Ka$h! at Willew
October 14, 2012 Leave a Comment
By: Sean Connelly
It was just last week that the Karaoke for Ka$h article stressed how hard it is to win the competition on your first night. Apparently Roy Facundo didn't get that message as he sang his way in to the hearts of many who were in attendance at the Willew Lounge this past Wednesday night. Facundo became the first contestant to enter the competition and win on the very same night.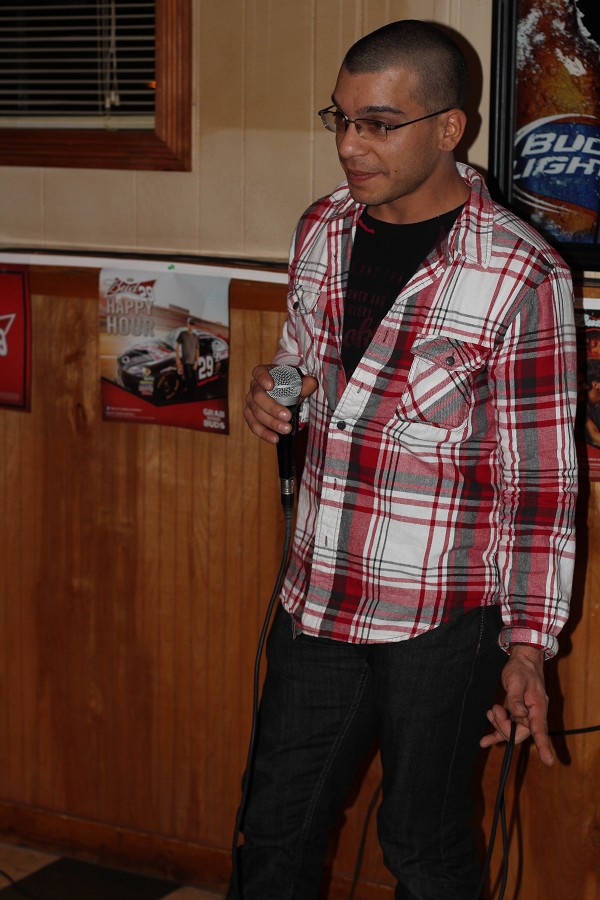 Facundo during his victory performance
Photo by Sean Connelly
© MyBayCity.com
Facundo performed Jennifer Holliday's "And I'm Telling You," rocking the crowd to their core with his incredible voice. The song may not be one that many know or remember, but it's one that Facundo is fond of. "I have to thank my mom and dad for that," says Facundo. "They had such a diverse taste in music. I got to experience such a broad range of it growing up." As for why Facundo chose that song in particular, "It's all about what the song makes me feel," says Facundo. "This song is about pain, which is something we can all relate to."
Facundo can also relate to many of the other competitors, as many of them have some sort of musical history. Taking part in his high school mixed choir, Facundo travelled all over the country, singing in a few of the continent's bigger cities. "We travelled to Florida, Toronto, Chicago [...] I started as a soprano, very Prince like," says Facundo. "I had to bring my voice down a bit to get it where it is now."
Those in attendance weren't the only ones impressed with Facundo's voice. Judge and Season 4 winner of Michigan Idol, Travis Paten, had this to say about the voice that captivated the crowd, "I loved your performance. You've got a very strong (and) deep voice." All three of the judges were fans of Facundo, only offering a little advice for him going forward. "Just make sure you're getting more involved with the crowd," said Paten, "Feel the energy from them and give it right back to them."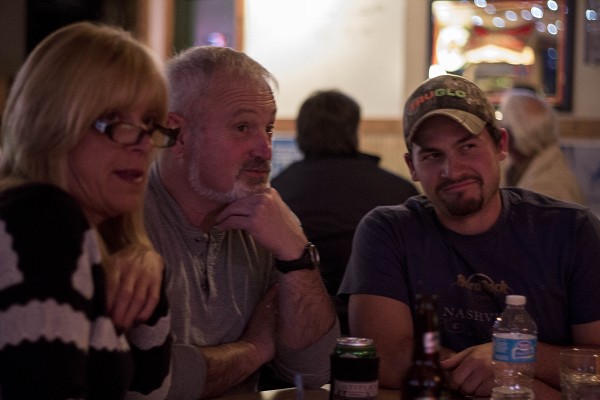 All three judges for Week 5 enjoying Facundo's performance
Photo by Sean Connelly
© MyBayCity.com
As for his winning strategy, Facundo offers a few pointers to help out contestants, both old and new. "You've got to know what you're best at singing, make sure you're playing off of your strengths," says Facundo. "Practice at home without the music (and) listen to yourself to make sure you're in the right key. And you've got to have confidence in yourself."
Karaoke for Ka$h is held every Wednesday night at the Willew Lounge in Bay City. Warm-ups start at 8PM with the competition getting underway around 9PM. Each week a new contestant will win $50 (a contestant may only win the $50 weekly prize once) and an invitation to the final night on Wednesday November 14th. On November 14th all previous weekly winners will have a chance at the $500 grand prize. Only four more chances to enter remain.

L/R Jesse Fisher, Roy Facundo, Debi Schmeider, Chuck Kirkbride, Emily LaPrairie
Photo by Sean Connelly
© MyBayCity.com
---
---
---
Send This Story to a Friend!
Letter to the editor
Link to this Story
Printer-Friendly Story View
---
--- Advertisments ---