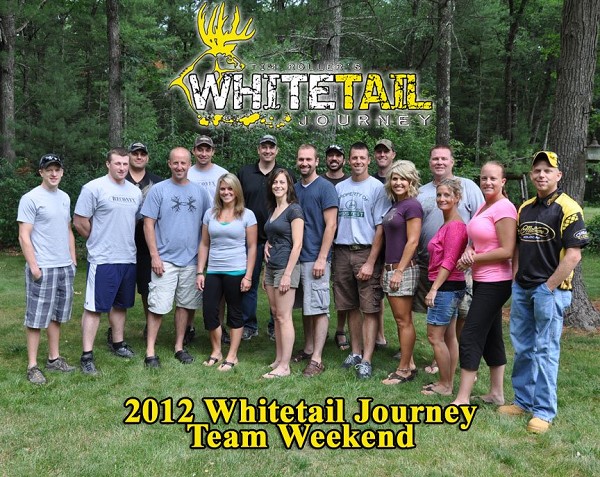 The 2012 Whitetail Journey Team - JJ Dukart, Craig Meyer, Nic DiFilippo, Tim Roller, Angie Breault, Jeremy Breault, Fred Andalora, Matt Engle, Amber Rock Engle, Chad Kious, Traci Kious and Regean North at PM River Lodge during Summer of 2012.
---
Tim Roller's Whitetail Journey Pro Staffers Are Putting Deer on the Ground
Eight Whitetail Deer On Film So Far in 2012 Season
October 28, 2012 Leave a Comment
By: O. J. Cunningham
Every whitetail deer hunter dreams of success.
Most hunters just don't put in the time or energy to achieve what they dream.
Every Sunday at 6:30pm (EDT) on The Sportsman Channel, Bay City's Tim Roller and his Whitetail Journey Pro Staffers show you how to "get it done."
The Whitetail Journey team of hunters knows exactly what it takes to be successful during the season. Some of that success is thanks to the hard work the sixteen members of the Pro Staff put in during the entire year.
"We've got sixteen hunters from 10 states involved in our Whitetail Project this year," Roller pointed out.
Roller and his Pro Staff get together every summer to exchange ideas, compare notes on equipment and share tricks of the trade. In July of 2012 the Pro Staff and family members spent the weekend at the Pere Marquette Orvis Lodge in Baldwin for a weekend of fun and Whitetail discussions.
"We've got eight deer on film already this year," Roller said. "The guys and gals are putting in the time and the results have been outstanding."
This is the seventh year for Roller's TV Show on Outdoor National Television.
Here's a look at the Whitetail Deer harvested by the Whitetail Journey crew so far in 2012.
For more information . . . Go to
WhitetailJourney.com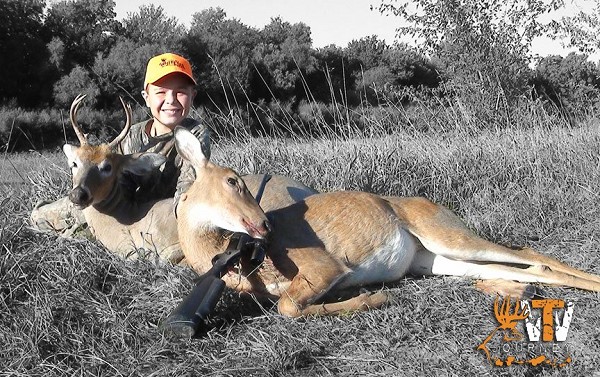 Congratulations to 9 year old Roc Engle for taking his first deer this past Sunday in Kansas. Roc shot a 7 point buck and then filled his doe tag 2 minutes later! Roc was hunting with his dad Matt Engle, who also filmed the hunt for Whitetail Journey TV. What a great start to the season for the Whitetail Journey team! - with Amber Rock Engle.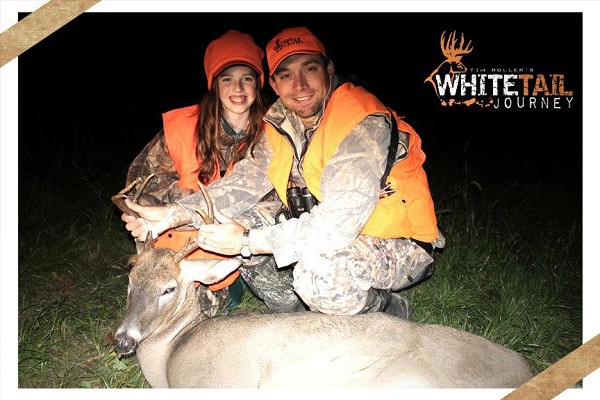 The Whitetail Journey "junior pro-staffers" continue to show the way this year. This is 11 year old Kara DiFilippo with her father Nic DiFilippo (Whitetail Journey pro-staffer) and her very first buck! You saw Kara take her first deer ever, a doe, on an episode of Whitetail Journey earlier this season. Next season you'll get to see this exciting hunt! Congrats Kara...so very proud of you! - with Nic DiFilippo.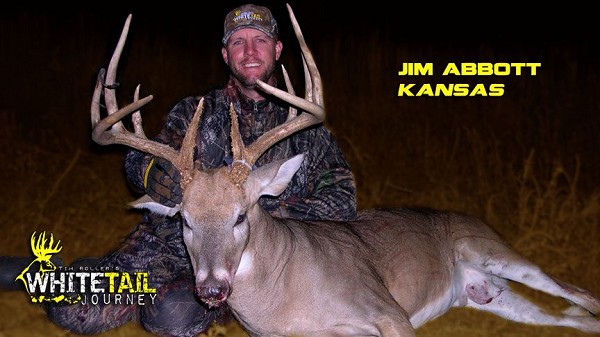 Tim Roller's Whitetail Journey pro-staffers Jim Abbott and Todd Coates traveled to Kansas, to hunt a brand new piece of ground they got permission on, during the early muzzle loader season. Todd filmed Jim take this great buck while on the ground at 12 yards! Congrats guys!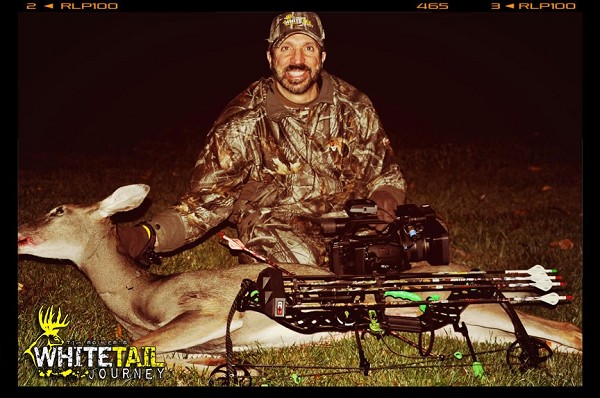 The man himself, original Whitetail Journey pro-staffer Fred Andalora, getting it done yet again. Fred self-filmed a great hunt last evening that resulted in perfect footage of his Beman slicing through this doe. Congrats Fred! - with Fred Andalora.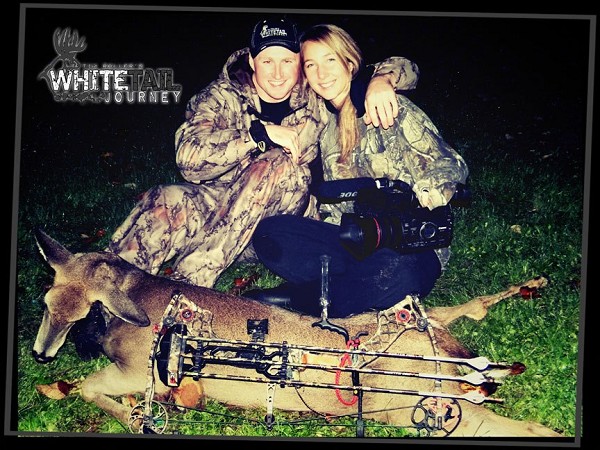 Whitetail Journey pro-staffer Craig Meyer and his girlfriend of 2 1/2 years, Laura Pierce. This was Laura's first time hunting with Craig and she filmed him take this doe with his Mathews! Great job Laura!! (....oh, and you too Craig!)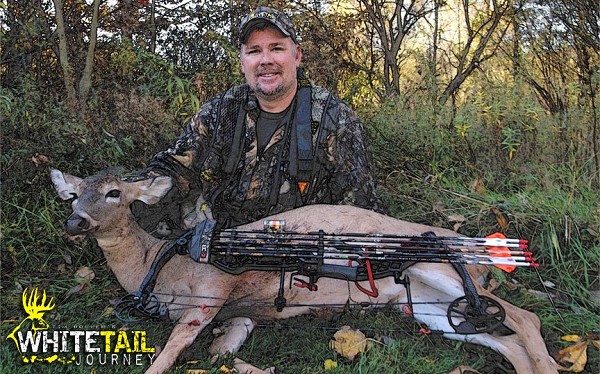 Tim Roller's Whitetail Journey pro-staffer Chad Kious got out this morning near his home in southwest Michigan and arrowed this nice doe. The "October Lull" is a great time to fill doe tags and keep your skills sharp before the rut kicks off. Congrats Chad!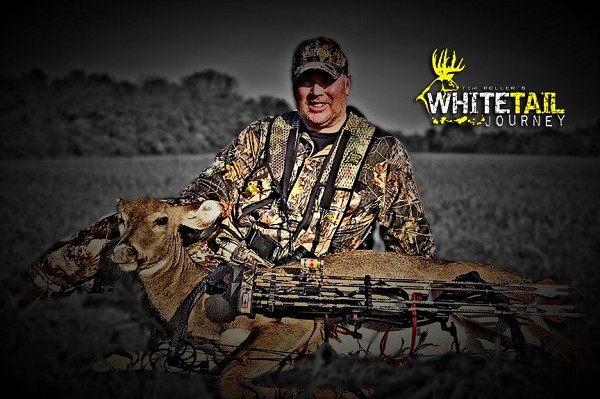 Whitetail Journey pro-staffer Chad Kious is on the board in Illinois with a nice doe. The Mathews, Inc.- Largest bow manufacturer in the world! / Tru-Fire broadhead combo spelled death for yet another. Congrats Chad! Who else loves turning deer into venison? -- with Chad Kious.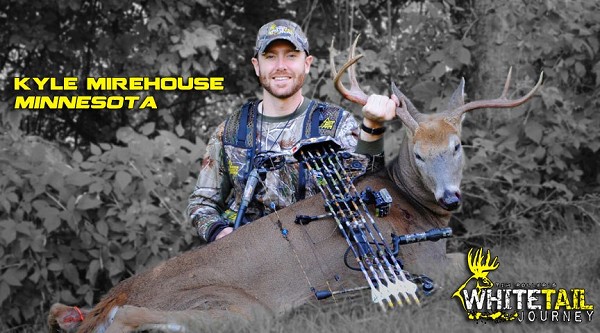 Whitetail Journey pro-staffer JJ Dukart recently filmed his good friend Kyle Mirehouse take his first ever buck. Kyle is a Purple Heart decorated US Marine who served in both Iraq and Afghanistan. He is currently working as a Private Security Contractor in Baghdad and was home on a short leave with only three days to hunt. Kyle and JJ got it done on the first night in the stand. Congrats to JJ and Kyle along with a very special THANK YOU to Kyle, and the rest of our service men and women, for providing us a blanket of freedom and protection that allows us hunt!
---
---

O. J. Cunningham




O. J. Cunningham is the Publisher of MyBayCity.com. Cunningham previously published Sports Page & Bay City Enterprise. He is the President/CEO of OJ Advertising, Inc.

More from O. J. Cunningham
---
Send This Story to a Friend!
Letter to the editor
Link to this Story
Printer-Friendly Story View
---
--- Advertisments ---