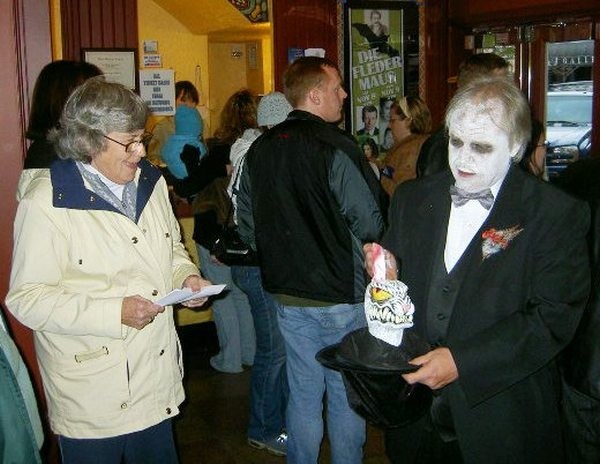 Magician Tommy Anderson pulls a simulated skull from a hat to the delight of Kathy Branigan.
---
More Halloween Events Slated: Ghost Walks Link History with Spookiness
Authors Slated for Book Signing Oct. 27 at Bay County Historical Museum
October 21, 2012 Leave a Comment
By: Dave Rogers
Haunted events will stalk the streets of Downtown Bay City from now until Halloween.
The Delta College Planetarium will continue the Digital 360 Haunted Night (Special Showings!) Oct. 26-27 at 7, 8, 9 pm.
The Haunted Temple continues Oct. 26-27 at the Bay City Masonic building on Madison at Sixth, featuring youthful re-enactors and a spooky setting.
And a new guided walking tour of about three-quarters of a mile in downtown Bay City with tour guides furnishing details of scary but actual historical events is scheduled on two succeeding nights preceding Halloween, Sunday, Oct. 28 and Monday Oct. 29.
The season's final two GHOST WALKS ON HELL'S HALF MILE will be held Oct. 28 and 29 at 5:30 p.m. by historian/author Dave Rogers and magician Tommy Anderson. Please call 686-5544 for reservations as tour spots are limited.


The tour starts at the site of the Dec. 10, 1977 fire at the former Wenonah Hotel, now replaced by an educational structure, the Delta College Planetarium.
Are there ghosts of the 11 victims of Bay City's worst conflagration and catastrophe? Perhaps -- but mainly in the minds of those who know the story.
Reports are that movie makers are preparing a film that will elucidate a fantasy tale of a love triangle leading to the hotel's fiery end on a frozen winter's night. The film reportedly will incorporate period scenes from the iconic Mill End Store and the Red Lion restaurant. Watch for that film next year perhaps at the increasingly popular Hell's Half Mile Film Festival.
The tour also appropriately starts near the site of a onetime marine sales building in which remains of a long dead lumberjack were found enclosed in the wall -- a long ago murder not discovered for decades. The gruesome find was uncovered in demolition of the old building in 1948 to make room for an auto dealership.
Most of the stories from the tour were published in three books, "Ghosts, Crimes & Urban Legends of Bay City, Michigan," "Paul Bunyan: How A Terrible Timber Feller Became a Legend," and "Bay City Hauntings," all available at the Bay County Historical Museum.
A book signing will be held at the museum Saturday Oct. 27 from 1-4 p.m. Besides Mr. Rogers, authors at the signing will be Ron Bloomfield, Pat Drury, Leon Katzinger and Jim Watson.
Starting place for the Ghost Walk is outside the Delta College Planetarium at Center Avenue and Water Street at the heart of the legendary Hell's Half Mile of lumbering days.
The Planetarium sits squarely where the Wenonah Hotel was located from 1908 until 1977. About 120 persons were living in the building, which had been converted to apartment living, when the blaze occurred about 7 a.m. on Dec. 10, 1977.
The 96-man Bay City Fire Department was aided by others from around the area as far away as Flint, utility company bucket trucks, tree trimming trucks and city vehicles working with every available fire fighter and volunteer.
Greater loss of life was no doubt prevented by the quick, coordinated action. The fire made national and international news and a technical account was featured later in Fire House Magazine.
The walking tour is set on the strip that once was dotted with seedy saloons, hotels and houses of ill repute where many an unwary lumberjack, dock walloper or sailor met an untimely end in the 19th century.
Within a half dozen blocks are scenes of strange deaths, gruesome robbery-murders, a fatal 1875 lumberjack feud that spawned the Paul Bunyan legends, incarceration gone horribly wrong, and the scene of a leopard trainer's death by the claws of a rogue animal in 1925.
"The stories of the events in history that have conjured up ghostly images from the past are all based in reality," said Mr. Anderson, who in the past has re-enacted such characters as slain Bay Theatre manager Floyd Ackerman in 1943 and Elm Lawn cemetery superintendent Horace Warfield, who died mysteriously of a gunshot in 1906.
There is perhaps no more historic legal center in this area than the Bay City Federal Building where the sentencing of the last person executed in Michigan history occurred in 1938.
The incredible story of the 1938 hanging of Tony Chebatoris, notorious Hamtramck bandit, for the slaying of a Bay City truck driver in a Midland bank robbery and how it is linked to the 1932 arrest here of two members of the Bonnie & Clyde Gang is another tale recounted on the Ghost Walk.
Reservations for the Ghost Walks on Hell's Half Mile are available by calling 686-5544. Cost is $8 per person; attendance is limited and is recommended for adults and young adults only.
The Ghost Walks are timed to follow a series of six youth events in a historic building that really looks the part and has a haunted history to boot.
The Haunted Masonic Temple is a haunted house with a different twist. The Bay Arts Council hosts student performers from the Bay City area who provide a creepy and interactive performance as tour groups explore the historic and yes HAUNTED Masonic Temple.
Tours run 7-11 pm on Fridays and Saturdays Oct. 26th, & 27th. Adults $10; Students with ID and Seniors over 65, $6.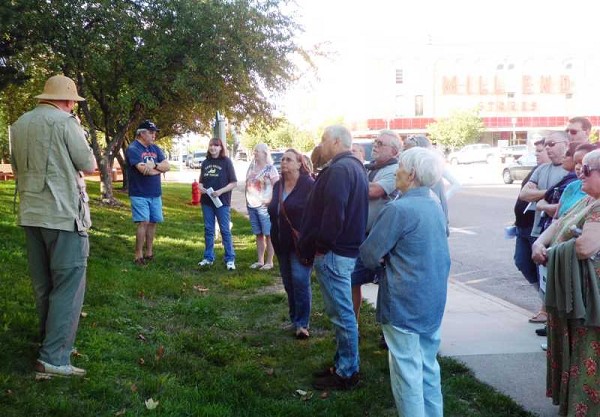 Ghost Walk Tour Guide Dave Rogers talks up Bay City's connection with ghostly historic events on Hell's Half Mile.
Photo by O. J. Cunningham
© MyBayCity.com
---
---

Dave Rogers




Dave Rogers is a former editorial writer for the Bay City Times and a widely read,
respected journalist/writer in and around Bay City.
(Contact Dave Via Email at carraroe@aol.com)

More from Dave Rogers
---
Send This Story to a Friend!
Letter to the editor
Link to this Story
Printer-Friendly Story View
---
--- Advertisments ---