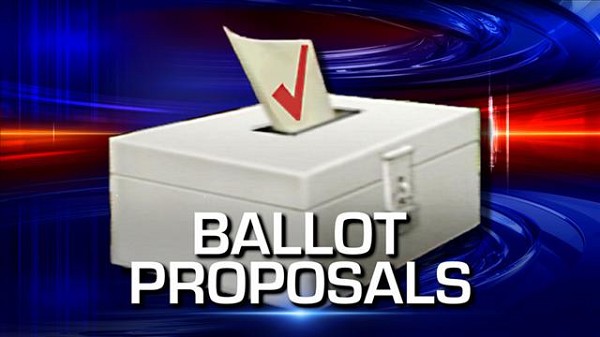 6 Proposals on the Ballot in 2012
---
BALLOT PROPOSAL ANALYSIS
A Non-Partisan Look at the 6 Ballot Initiatives
October 26, 2012 Leave a Comment
By: Dave Rogers
Short summaries of the ballot wording of the proposals on the Nov. 6 ballot, and MyBayCity.com analysis selected from the non-partisan Citizens Research Council of Michigan and various other non-partisan sources, follows:
VOTE RECOMMENDATION SUMMARY: "NO" on 1, 3, 5, 6. "YES" on 2 & 4.
PROPOSAL 12-1
A REFERENDUM ON PUBLIC ACT 4 OF 2011 - THE EMERGENCY MANAGER LAW
Public Act 4 of 2011 would:
Establish criteria to assess the financial condition of local government units, including school districts.
Authorize Governor to appoint an emergency manager (EM) upon state finding of a financial emergency, and allow the EM to act in place of local government officials.
ANALYSIS: Could be a dangerous extension of the power of state government. An assumption underlying this proposal is that a demonstrated financial emergency, as defined in state law, justifies a state takeover. CRC says the great departure in PA 4 is the granting of powers to emergency managers that are significantly greater than those that may be exercised by locally elected officials and the extension of those powers into every aspect of local government.
RECOMMENDATION: "NO"
PROPOSAL 12-2
"A proposal to amend the state constitution regarding collective bargaining.
"This proposal would:
"Grant public and private employees the constitutional right to organize and bargain collectively through labor unions.
"Invalidate existing or future state or local laws that limit the ability to join unions and bargain collectively, and to negotiate and enforce collective bargaining agreements, including employees' financial support of their labor unions. Laws may be enacted to prohibit public employees from striking."
ANALYSIS: Federal law allows states to outlaw the union shop or agency shop for employees, commonly referred to as right-to-work laws. Governor Snyder has declined to push "right-to-work" laws on the basis they would be too divisive. According to CRC this proposal would prohibit the Michigan legislature from enacting right to work laws similar to those that have been enacted in 23 other states.


RECOMMENDATION: "YES"
PROPOSAL 12-3
A PROPOSAL TO AMEND THE STATE CONSTITUTION TO ESTABLISH A STANDARD FOR RENEWABLE ENERGY
This proposal would:
Require electric utilities to provide at least 25 percent of their annual retail sales of electricity from renewable energy sources, which are wind, solar, biomass, and hydro-power, by 2025.
ANALYSIS: The ability of any of energy producers, including municipalities such as Bay City, to generate at least 25 percent of their energy from renewable sources is questionable. The ability to purchase renewable electricity will depend on surplus electricity being available from Michigan generators of that power. CRC says the potential premium charged for that energy will threaten the financial position of these entities, and may in the end threaten their existence.


RECOMMENDATION: "NO"
PROPOSAL 12-4
A PROPOSAL TO AMEND THE STATE CONSTITUTION TO ESTABLISH THE MICHIGAN QUALITY HOME CARE COUNCIL AND PROVIDE COLLECTIVE BARGAINING FOR IN-HOME CARE WORKERS
This proposal would:
Allow in-home care workers to bargain collectively with the Michigan Quality Home Care Council (MQHCC). Continue the current exclusive representative of in-home care workers until modified in accordance with labor laws.
ANALYSIS: Currently, only state police troopers and sergeants have collective bargaining rights in the state constitution. This proposal would provide that home health care workers also have the right to collective bargaining, though they would not have civil service protection. According to CRC, the Home Health Care Program itself will remain in effect regardless of the outcome of this election on the proposed constitutional amendment: the program that pays for home health aides depends on federal and state funding, not on the bargaining rights or union affiliation of, nor payment of union dues by, home health care aides. However, senior groups support the proposal to secure additional training and security for workers serving them.


RECOMMENDATION: "YES"
PROPOSAL 12-5
A PROPOSAL TO AMEND THE STATE CONSTITUTION TO LIMIT THE ENACTMENT OF NEW TAXES BY STATE GOVERNMENT
This proposal would:
Require a 2/3 majority vote of the State House and the State Senate, or a statewide vote of the people at a November election, in order for the State of Michigan to impose new or additional taxes on taxpayers or expand the base of taxation or increasing the rate of taxation.
ANALYSIS: A requirement for a voter referendum in November will also make it more difficult to respond to financial challenges that might call for additional tax revenues, according to CRC. Economic cycles and the need for financial adjustments do not adhere to election date schedules. Some consider super-majority vote requirements to be undemocratic and anathema to the concept of majority rule that is basic to government policymaking and the legislative process. It is argued that these vote requirements can transfer power from the majority to the minority.


RECOMMENDATION: "NO"
PROPOSAL 12-6
A PROPOSAL TO AMEND THE STATE CONSTITUTION REGARDING CONSTRUCTION OF INTERNATIONAL BRIDGES AND TUNNELS
This proposal would:
Require the approval of a majority of voters at a statewide election and in each municipality where "new international bridges or tunnels for motor vehicles" are to be located before the State of Michigan may expend state funds or resources for acquiring land, designing, soliciting bids for, constructing, financing, or promoting new international bridges or tunnels.
ANALYSIS: CRC says Michigan has not encountered any known constitutional issues with regard to bridge construction and finance. Efforts to construct an additional crossing of the Detroit River have gone on for some time. This proposal is an effort by a particular party with a vested interest in the outcome of those efforts to prevent or delay the state's efforts.
RECOMMENDATION: "NO"
---
---

Dave Rogers




Dave Rogers is a former editorial writer for the Bay City Times and a widely read,
respected journalist/writer in and around Bay City.
(Contact Dave Via Email at carraroe@aol.com)

More from Dave Rogers
---
Send This Story to a Friend!
Letter to the editor
Link to this Story
Printer-Friendly Story View
---
--- Advertisments ---