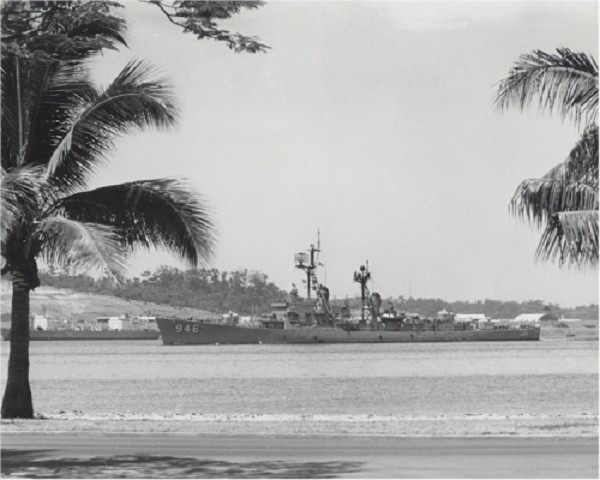 USS Edson in tropical waters during the Vietnam War.
---
USS Edson: Grey Ghost of the Vietnamese Coast Eyeing Longterm Berth
Combat Histories of Maj. Gen. Edson, Namesake Ship Recalled by Veterans
November 11, 2012 Leave a Comment
By: Dave Rogers
In a few weeks, two tugboats will drag the USS Edson off the mudbank at the Wirt Stone Dock in Essexville and head her upriver to her permanent berth near the Independence Bridge in Bangor Township.
Veterans Day, Nov. 11, saw huge crowds visit the Edson, ceremonies honoring vets, flag raisings and a 21-gun salute.
USS Edson moves to her permanent installation in mid-November, said president Mike Kegley of the Saginaw Valley Naval Ship Museum that operates the Edson. "The gangway is open now, and you can come aboard. Tour hours, weather permitting, are Saturday 10 a.m. to 5 p.m., Sunday noon to 5 p.m."
More details are emerging about the Edson's stellar service record, 1958-1988, especially in combat when she was nicknamed "the Grey Ghost of the Vietnamese Coast."
The 418 foot long Forrest Sherman class destroyer, that has a 45 foot beam, draws 22 feet of water. But she now sits on a shallow bar near the shore and is listing to starboard as a result.
The ship is named for a Marine general hero of World War II, Merritt "Red Mike" Edson, who headed the Fifth Marine Division. Marines who served with him recalled how Edson's Raiders -- outnumbered by more than five to one, for two days isolated and alone -- beat back seasoned Japanese jungle fighters to save not only the airfield at Guadalcanal but also the invasion itself.
States a Navy history: "The legacy of the short-lived Raider history lives on in the perpetual memorial of the former USS Edson (DD-946), the destroyer bearing the name of the first Marine Raider. Twenty-two other U.S. Navy ships are named for men of the 1st Raider Battalion who were killed in action."
His namesake ship in 1960 saved 10 military personnel in the western Pacific -- seven Marines who had blown out to sea in a rubber raft and three Naval airmen whose plane had gone down.
In 1962 the Edson gave emergency aid to a seriously wounded seaman aboard the Danish steamer Margrit. In heavy seas, assistance personnel and medical supplies were high-lined to the merchant vessel.
The ship got plenty of public recognition. In June 1961 some 30,000 visitors toured the Edson over five days during the annual Rose Festival at Portland, Oregon.
The destroyer Edson was awarded the Armed Forces Expeditionary Medal for her participation in the Quemoy and Matsu island operations in March 1960.
Quemoy-Matsu was a continuing conflict that took place between the People's Republic of China (PRC) and the Republic of China (ROC) governments in which the PRC shelled the islands of Matsu and Quemoy in the Taiwan Strait in an attempt to seize them from the Republic of China.
In 1967, the Edson was hit by North Vietnamese gunfire while on patrol near the DMZ. Radio Hanoi -- incorrectly of course -- reported she had been sunk with no survivors, recalled former crewman Wayne Sporman, adding:
"By the time EDSON made her final departure of the deployment from the Vietnamese coast, she had fired over 23,000 rounds on targets in both North and South Vietnam, rescued a downed South Vietnamese Air Force pilot, and had been named the Top GUN Destroyer in South Vietnam by the Naval Gunfire Spotters of the First Anglico Company, Fleet Marine Force. During her last period on the gun line, EDSON was again taken under fire by North Vietnamese artillery but sustained only minor damage."
Merritt Austin Edson, born 25 April 1897 in Rutland, VT, enlisted in the Marine Corps Reserve at the outbreak of World War I and was commissioned a second lieutenant in the regular Marine Corps 9 October 1917. He served in France from 1919. In 1941 he directed experimental operations which included training with high-speed transports. These led to the organization of the 1st Marine Raider Battalion II.
For his actions at Guadacanal, Gen. Edson was awarded the Congressional Medal of Honor. The citation reads: "For conspicuous gallantry and intrepidity at the risk of his life above and beyond the call of duty as Commanding Officer of the First Marine Raider Battalion, with the First Parachute Battalion attached, during action against enemy Japanese forces in the Solomon Islands on the night of September 13-14, 1942. "After the airfield on Guadalcanal had been seized from the enemy on August 8, Colonel Edson, with a force of eight hundred men, was assigned to the occupation and defense of a ridge dominating the jungle on either side of the airport. "Facing a formidable Japanese attack which, augmented by infiltration, had crashed through our front lines, he by skillful handling of his troops, successfully withdrew his forward units to a reserve line with minimum casualties. "When the enemy, in a subsequent series of violent assaults, engaged our force in desperate hand-to-hand combat with bayonets, rifles, pistols, grenades and knives, Colonel Edson, although continuously exposed to hostile fire throughout the night, personally directed defense of the reserve position against a fanatical foe of greatly superior numbers. "By his astute leadership and gallant devotion to duty, he enabled his men, despite severe losses, to cling tenaciously to their position on the vital ridge, thereby retaining command, not only of the Guadalcanal airfield, but also of the First Division's entire offensive installations in the surrounding area."
He took part in the Tarawa invasion and in 1944 was appointed Chief of Staff, Fleet Marine Force, Pacific. After the war he served in Washington, retired in 1947 and died in 1955.
A writer recalled that Gen. Edson was deeply troubled. "Top dog at the National Rifle Association, he had been called upon to review procedures regarding GI prisoners of war who had been brainwashed by the North Koreans and Chinese.
"Sentiment was mixed across the nation -- were they traitors or victims? -- and Gen. Edson, who knew what men could do when facing harm at the front, told me he also appreciated how continuing torture, blatant or otherwise, could break other men over long periods.
"He was torn. As an officer, he had pushed his men to the limit and beyond in action. But he realized there is no action within a prison camp to keep men fighting, and some break. He was understanding and compassionate, whether that was the military code or otherwise. Shortly thereafter, the burden was too much. He took his own life. In a way, he was a casualty of war."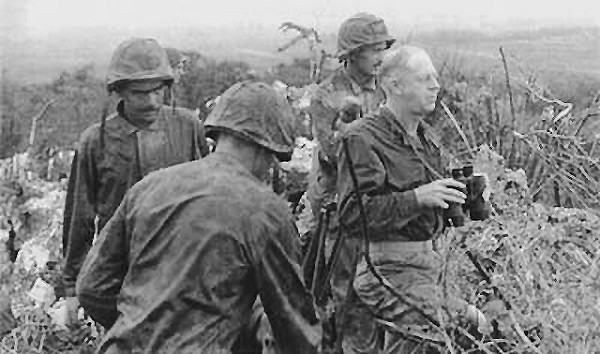 Maj. Gen. Merritt Edson, right, with binoculars, Marine Raider leader and hero of Guadacanal.
---
---

Dave Rogers




Dave Rogers is a former editorial writer for the Bay City Times and a widely read,
respected journalist/writer in and around Bay City.
(Contact Dave Via Email at carraroe@aol.com)

More from Dave Rogers
---
Send This Story to a Friend!
Letter to the editor
Link to this Story
Printer-Friendly Story View
---
--- Advertisments ---