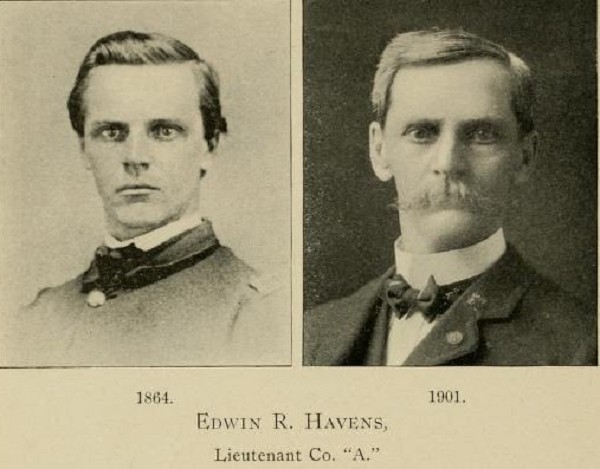 Sgt. (later Lt.) Edwin Havens, 7th Michigan Cavalry, 1864.
---
Diary of Soldier in Bay City's 7th Michigan Cavalry Online at MSU
Gen. Meade Credits Local Horse Troops With Securing Gettysburg Victory
November 18, 2012 Leave a Comment
By: Dave Rogers
General George Meade credited the 7th Michigan Cavalry with a decisive part in the Battle of Gettysburg, the diary of Sgt. Edwin Havens reveals.
The 7th included Bay Cityan Lt. James G. Birney IV and many local and area men serving under Brig. Gen. George Armstrong Custer.
Havens' diary was written while his unit was chasing Robert E. Lee's Confederates into Virginia after the Battle of Gettysburg.
Havens comments that officers had been gathered by Gen. Judson Kilpatrick "who informed them that he had received complimentary orders from Genl Mead saying that our work on the right had decided the battle and that to the boldness and decision of our movements was due the success of our arms that day."
The 7th, along with the Michigan 1st, 5th and 6th Cavalry units had stopped a flanking movement attempted by Confederate cavalry under Gen. J.E.B. Stuart. The rebels were intent on flanking the Union right and hitting Meade's men from the rear at the same time at George Pickett's troops were assaulting front of the defensive center.
The diaries may be accessed at:
http://civilwar.archives.msu.edu/
The Edwin Havens Papers consist of letters and diaries written by Havens while serving in the Seventh Michigan Cavalry during the Civil War.
Havens was born at Stafford, New York on May 25, 1842. His family later moved to Michigan in 1851, settling in Niles Township. As a young man, Havens taught in the district schools of Berrien County.
In September 1862, Havens enlisted in the Seventh Michigan Cavalry Regiment as a Sergeant. The letters of 1862 concern the training period of the regiment at Camp Kellogg, Grand Rapids, Michigan. In February of 1863, the regiment was sent to Washington, D.C., and was later involved in campaigns at Gettysburg, Richmond, Petersburg, and the Shenandoah Valley.
On 6 July 1863 Sgt. Havens wrote: "I presume that you begin to feel some anxiety concerning me. The news from this section of the country has undoubtedly caused varying emotions in the hearts of our people at home.. One of the most important if not decisive battles has been fought and most important actions of the war has been won within the past ten days. The three days fight at Gettysburg will long be remembered by many and will fill many brilliant pages in the history of this war when that shall be written.. But I will not attempt any glowing eulogy upon that as I have no time."
His military record, included in the online entries, follows: Havens, Edwin R., Buchanan. Enlisted in company A, Seventh Cavalry, as Sergeant, Sept. 12, 1862 at Buchanan, for 3 years, age 20. Mustered Oct. 13, 1862. Wounded in action at Gettysburg, Pa., July 3, 1863. Promoted First Sergeant Oct. 24, 1864. Discharged to accept promotion June 17, 1865. Commissioned Second Lieutenant company I, to date May 24, 1865. Mustered June 17, 1865. Discharged to accept promotion June 23, 1865. Commissioned First Lieutenant to date Feb. 27, 1865. Mustered June 24, 1865. Mustered out at Fort Leavenworth, Kan., Dec. 15, 1865. Was in battles of Hanover, Hunterstown, Gettysburg, Smithfield, Hagerstown and Boonsbore. Present residence, Lansing, Mich.
Havens' letters contain details of important battles, as well as the day-to-day life of the Civil War soldier. Descriptions of such notables as Ulysses S. Grant, George Meade, George Armstrong Custer, John Mosby, and Jubal Early are especially interesting. After the war, Haven was transferred to the West where he was stationed at Virginia Dale, Colorado Territory.
On December 15, 1865 the regiment was mustered out at Fort Leavenworth, Kansas and Havens returned home to Michigan. In 1888, he became an employee of the State Lands Division and retired in 1929 as the chief of the department. He died in Lansing on August 25, 1931 following a lingering illness.
###
---
---

Dave Rogers




Dave Rogers is a former editorial writer for the Bay City Times and a widely read,
respected journalist/writer in and around Bay City.
(Contact Dave Via Email at carraroe@aol.com)

More from Dave Rogers
---
Send This Story to a Friend!
Letter to the editor
Link to this Story
Printer-Friendly Story View
---
--- Advertisments ---