Economy & Jobs Are Major
Concern of Bay, Midland &
Saginaw Counties
More Regional Planning
May Be in the Works
December 3, 2002 Leave a Comment
By: Dave Rogers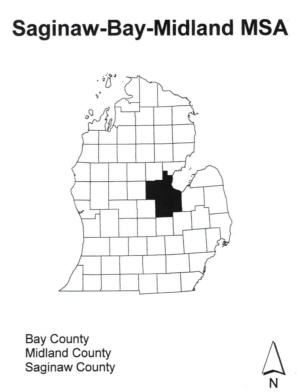 Economic concerns are growing in the tri-county area of Bay, Saginaw and Midland counties, especially in view of the recent recession and more global competition.
"Everything seems to be made in China now," said one perplexed economic development official recently.
Although the flow of goods produced overseas is vastly increased, and many manufacturing jobs have moved to other parts of the United States, especially the South, Michigan and the tri-county area are still important manufacturing areas.
"At times, the strengths of the MSA (Bay, Saginaw, Midland Metropolitan Statistical Area) are also its weaknesses," states a recent report by the East Central Michigan Planning and Development Regional Commission (ECMPDRC). "The manufacturing sector, especially in Saginaw County, remains reliant upon the automotive industry although efforts are underway to establish the area as an IT (information technology) destination. When the economy is good, the automotive industry is typically good. Also, the automotive industry pays higher than average wages. However, when the economy sours, the automotive industry is typically one of the hardest hit."
The economies of the three counties are inter-related and many resources are shared by the three counties, such as Delta College, Saginaw Valley State University and MBS International Airport. There is considerable inter-county commuting for jobs and entertainment.
Travel/tourism and retail sectors are also important, especially since Frankenmuth is the top travel destination in Michigan. Bay County is focusing on tourism and tour operators from around the midwest are beginning to recognize that the historical and architectural attractions of Bay City are a good draw for tourists. Several dozen tour buses visited Bay City to participate in the historical society's tours this past summer and more are expected next year, said Shirley Roberts, executive director, Bay Area Convention and Visitors Bureau. Birch Run is home to the largest retail outlet mall in the state. Saginaw also boasts a growing reputation as a regional health care center.
A major concern in the tri-county area is loss of population. Both Bay and Saginaw counties posted negative growth rates of 1.3 percent from 1990 to 2000, while Midland's growth was 8.4 percent, exceeding the statewide rate of a positive 6.9 percent. Interestingly, the predominately rural Arenac County grew 15.9 percent during the same period.
Why are Bay and Saginaw counties losing population? "The answer lies in two factors," states ECMPDRC in the report, "a slight natural population excess of deaths over births, combined with a negative rate of population migration out of the region. Both Saginaw and Bay experienced population losses due to the outflow of residents from their respective counties. A demographic trend impacting the region's workforce is the aging of the population. "Strategies to retain older workers and increase the participation of workers currently not fully participating will be critical," the report states.
The ECMPDRC report notes that Midland County has more resident engineers, chemists and metallurgists than any other area in the nation on a per capita basis. The basis of this workforce are the Dow Chemical Co. and Dow Corning Corp. which manufacture chemicals, plastics and silicone products. One problem cited in both Midland and Saginaw counties is over-reliance on a few firms.
"The area, as a whole, has a solid reputation as a manufacturing and technology center and has made progress in diversifying its economy," said Sue Fortune, executive director of ECMPDRC. "To better reduce the impact of future economic downturns, the MSA needs to continue to build upon its current strengths to attract a greater diversity of manufacturers. Future discussions regarding the area are expected to also include potential designation as a 3-county Metropolitan Planning Organization (MPO)."
---
---

Dave Rogers




Dave Rogers is a former editorial writer for the Bay City Times and a widely read,
respected journalist/writer in and around Bay City.
(Contact Dave Via Email at carraroe@aol.com)

More from Dave Rogers
---
Send This Story to a Friend!
Letter to the editor
Link to this Story
Printer-Friendly Story View
---
--- Advertisments ---