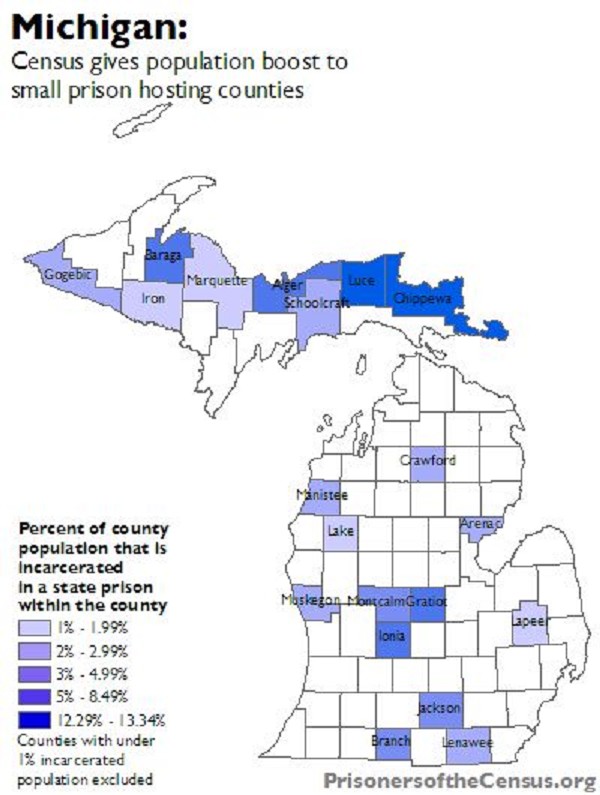 LOCK 'EM UP! Old Flawed Idea Now Seen Unfair, Unsustainable by Policymakers
Michigan Spends More on Prisons Than on Higher Education: WHY???
Spending more on prisons than on higher education, as has been occurring in Michigan, raises the question: WHY???
The nation's 50-year obsession with putting poor people in prisons -- an epidemic of mass incarceration -- is in the midst of a break up.
It was inevitable that society would eventually revolt against the high cost of mass incarceration -- especially since rehabilitation is hardly a feature of the system.
The Journal of American History (JAH) in its June 2015 issue has shined a relentless spotlight on the misguided policies that one academic called "Slavery By Another Name."
"Historians and the Carceral State," a special issue, puts a research and analysis microscope on crime and punishment, and the fraud of rehabilitation, with such essays as "Impossible Criminals: The Suburban Imperatives of America's War on Drugs," by the University of Michigan's Matthew D. Lassiter.
Policing and punishment and detention and deportation powerfully shape the U.S. economy and American democracy, the historians assert.
This area of policy has vast implications for the State of Michigan, as we outlined recently in an article that told of Gov. Rick Snyder's attempts to cut the $2 billion per year corrections budget by freeing lower level non-violent criminals.
At a cost of $35,000 to $40,000 per year per prisoner, we would observe that amount could pay for a year at Harvard University.
What society gets from prison is a poor return for its money -- often a disillusioned, virtually unemployable social reject. And all the while employers are begging for workers.
According to the 16 authors of articles in JAH examining the mass incarceration phenomenon, the United States holds the world's largest prison population, caging more humans than any other nation on earth.
Nationwide, the numbers are staggering: Nearly 2.4 million people behind bars, even though over the last 20 years the crime rate has actually dropped by more than 40 percent.
"The United States has about 5 percent of the world's population, but we have 25 percent of the world's prisoners - we incarcerate a greater percentage of our population than any country on Earth," said Michael Jacobson, director of the non-partisan Vera Institute of Justice. He also ran New York City's jail and probation systems in the 1990s.
A report by the organization, "The Price of Prisons," states that the cost of incarcerating one inmate in Fiscal 2010 was $31,307 per year. "In states like Connecticut, Washington state, New York, it's anywhere from $50,000 to $60,000," he said.
"Yes - $60,000 a year. That's a teacher's salary, or a firefighter's. Our epidemic of incarceration costs us taxpayers $63.4 billion a year.
"The explosion in incarceration began in the early 1970s - the political response to an explosion in urban violence and increased drug use."
"So 'Tough on crime,' 'three strikes, you're out,' 'Let 'em rot, throw away the key' - all that stuff resulted in more mandatory sentencing, longer and longer sentencing," said Jacobson.
See more at: http://www.cbsnews.com/news/the-cost-of-a-nation-of-incarceration/
Adopting the acronym Flocatex, (Florida, California, Texas), Alex Lichtenstein, associate professor of history at Indiana University, relates how the nation's incarceration rate (steady at about 100 prisoners per 100,000 population for years) has skyrocketed by a factor of 5 since 1970.
"Criminal justice is now the largest employment sector in the United States," writes Heather Ann Thompson, University of Michigan history professor, with two co-authors, Kahlil Gibran Muhammad and Kelly Lytle Hernandez.
"The majority of those confined in a U.S. correctional facility are black or brown and poor," they note.
The scope of the effect on democracy of the prison-industrial complex is almost incomprehensible. For example, eight house districts in the state of Pennsylvania simply would not exist if disfranchised prisoners were not included in the population numbers, notes Ms. Thompson's writing group , calling this "prison gerrymandering.".
Louisiana imprisoned an astonishing 865 per 100,000 population in 2010, while Texas was at 646 and California at 438.
Alluding to effects of incarceration on voting, in 2014, 23.3 percent of Florida's black population was disenfranchised due to a criminal record. As of 2014, 48 states temporarily or permanently disfranchise felons.
It's obvious Gov. Snyder is on the correct track in attempting to lower costs by reducing the prison population of Michigan. Whether he will be foiled by politics remains to be seen.
###
---
---

Dave Rogers




Dave Rogers is a former editorial writer for the Bay City Times and a widely read,
respected journalist/writer in and around Bay City.
(Contact Dave Via Email at carraroe@aol.com)

More from Dave Rogers
---
Send This Story to a Friend!
Letter to the editor
Link to this Story
Printer-Friendly Story View
---
--- Advertisments ---