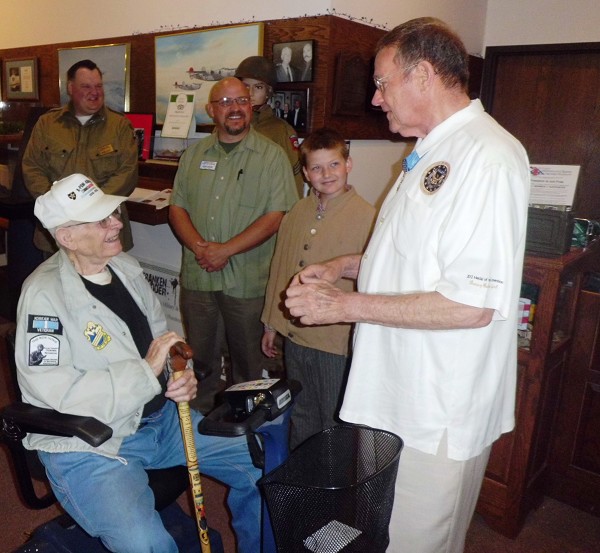 Heroes gathering at the Michigan Military Museum are Col. Roger Donlan, standing left, and Dallas Mossman, in wheelchair. Museum officials John Ryder and John Auger and Boy Scout Thomas Auger, 10, smiles approval.
---
VETS REMEMBER: Medal of Honor Winner Reminisces with Korean War POW
Michigan Military Museum at Frankenmuth Hosts Heroes of Two Eras
Two military heroes of different wars shook hands Saturday.
Dallas W. Mossman, of Montrose, at 86 is five years older than Roger Donlon, of Kansas.
They are U.S. military heroes who fought in different wars 11 years apart, Mossman in Korea in 1953 and Donlon in Viet Nam in 1964.
They met at a relatively unknown military museum in Frankenmuth that is tucked away on a back street. Ten-year-old Boy Scout Thomas Auger was among the first to welcome Col. Donlon to the museum.
But the meeting was historic and memorable: Mossman a corporal in a wheelchair and white Korea-POW hat and tall, stately Col. Donlon in a Hawaiian shirt displaying a celebrity presence like John Wayne himself.
Their common bond: military heroism in defense of a proud nation.
Donlon was the first Medal of Honor winner in Viet Nam, presented by President Lyndon Johnson. Donlon spent a week here promoting the school curriculum offered by the Medal of Honor Foundation.
Graciously he gave his time to greet veterans at a Walleyes for Warriors event, a Bay Veterans golf outing at Green Hills Golf Course, Linwood, a Loons baseball game in Midland, a tour of the USS Edson and an Elks dinner in Bay City and a meeting with teachers training in the Medal of Honor curriculum in Saginaw.
Mossman spoke to a reporter about his experiences combating Chinese Communist troops in Korea:
"The Chinese came in waves, so many you couldn't see a gap in their lines," said Mossman, his voice cracking slightly. "When the first rank was mowed down, the unarmed ones behind picked up their rifles -- they kept coming and coming."
Soon overwhelmed, Mossman and his comrades -- 1,000 of them -- were forced to walk from their first P.O.W. camp to another camp called Pyok-Dong, some 20 miles further North. "When we got there only 200 were left, including me -- the rest had starved to death."
His North Korean captors had breached the international rules of war and had refused to feed their helpless U.S. prisoners. Mass murder resulted.
Held for five months, Mossman finally was repatriated (exchanged) in October 1953. He carries a cane with the dates and names of the infamous camps where he had been held captive.
Donlon's story has become well known: as a 30-year-old captain, Donlon and his 12-man team spent five excruciating hours heroically defending a U.S. Special Forces outpost at Camp Nam Dong, Republic of Vietnam on the night of 6 July 1964.
Suffering multiple wounds in a place he recalled as a "hellhole," Donlon's men were hit in the middle of the night by about 900 Viet Cong in a desperate surprise fire fight.
Despite wounds to his left forearm and shrapnel in his stomach several places and in his left leg, GI's falling dead all around him, Donlon rallied his men.
Hit by continual mortar fire, the small U.S. party resorted to tossing VC grenades back to the enemy like a game of catch. The Viet Cong even tried brainwashing with a loudspeaker. Donlon's men zeroed in on the source of the noise and wiped it out with mortar shells.
Donlon was nearly killed when he stumbled and found himself inches from his own mortar muzzle blast.
As he was being medi-vaced out, Donlon thought: "Every man responded without hesitation again and again in a superhuman effort that ultimately was successful in preventing the camp from being overrun, as the VC loudspeaker had promised."
Finally, in the morning, with tactical air support and Marine helicopters arriving, the VC withdrew and 75 Vietnamese friendlies marched into camp.
He was one of the 65 wounded and lucky to have escaped the group of 55 dead. They counted 62 dead VC, wiry, muscular young men, virtually naked -- wearing only shiny red and blue loincloths.
"We held, and we threw them back," Donlon wrote.
Donlon's tale of courage was featured on the cover of Saturday Evening Post and he published a book, "Outpost of Freedom." He stayed in the Army and married a Vietnamese widow, Norma, he met on an airplane leaving Washington after a ceremony at the Tomb of the Unknown Soldier in 1965. Donlon had been divorced in 1961 and Norma's late husband, a U.S. Army officer, had died in combat in Vietnam.
He and Norma have traveled the world, promoting freedom and humanitarian projects. When in the nation's capital,they stop at the Vietnam Veterans Memorial and reflect on the 58,000 names it lists, including three on the first panel--Roger's comrades who fell on that fateful day in 1964 at Nam Dong.
Donlon has promised to return in November for a Saginaw Spirit hockey game. The Spirit and Garber Buick were among sponsors of his visit here this week and he was driven around by Dr. Tim Eckstein of Covenant Health Care in a Buick provided by the Garber Buick agency.
"Beyond Nam Dong" is Col. Donlon's latest book available exclusively from the author for $25 plus $5 shipping at 2101 Wilson Ave., Leavenworth, KS 66048 or through e-mail at Rogerdonlon@aol.com. ###
---
---

Dave Rogers




Dave Rogers is a former editorial writer for the Bay City Times and a widely read,
respected journalist/writer in and around Bay City.
(Contact Dave Via Email at carraroe@aol.com)

More from Dave Rogers
---
Send This Story to a Friend!
Letter to the editor
Link to this Story
Printer-Friendly Story View
---
--- Advertisments ---