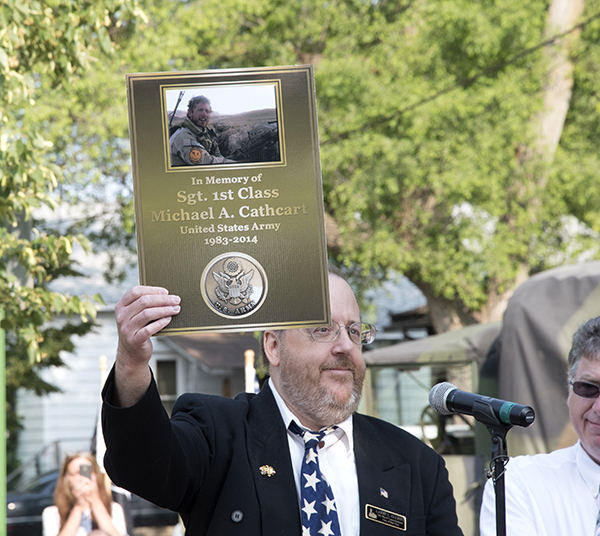 Commissioner Larry Elliot shows the prototype of the plaque that will be in place soon.
(MyBayCity Photo by John Keuvelaar)
---
SFC Michael Cathcart Honored and Remembered as Bay City's True Hero
Marquette Pocket Park renamed Michael A. Cathcart Memorial Park
July 5, 2015 Leave a Comment
By: John Keuvelaar
The Fourth of July celebrations means many things to many people. For me, it is remembering my father who fought in World War II and those that have served for our country. For the over 100 men and women who gathered at the corner of Ottawa and Elm St in the city's Banks District, the Fourth of July celebration took on a whole new meaning. It is the day that we celebrated and honored one of Bay City's True American Hero in the name of Sgt. First Class Michael Cathcart.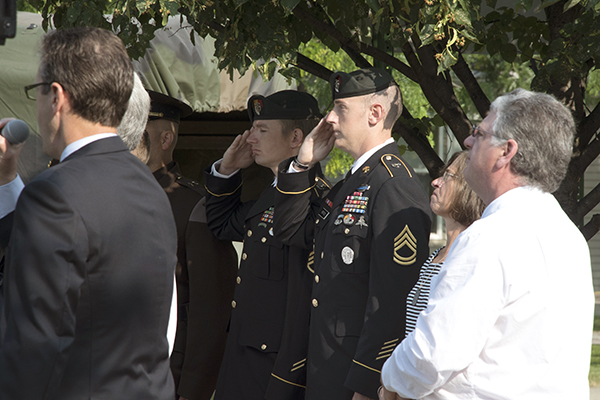 Sgt. First Class Michael Cathcart's teammates came in from North Carolina to pay tribute to the fallen friend..
(MyBayCity Photo by John Keuvelaar)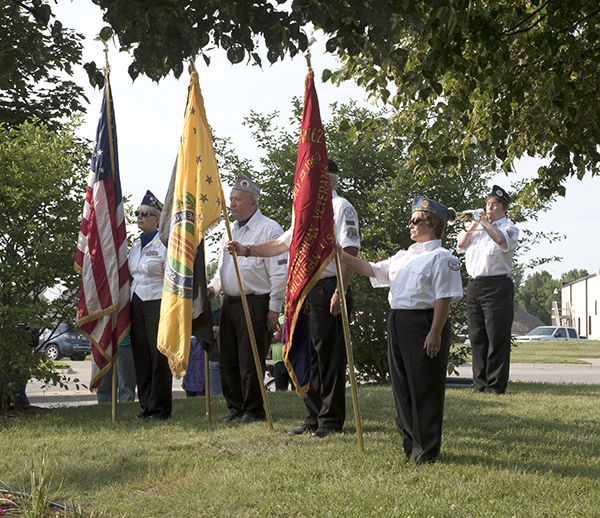 Bay County Honor Guard displays the colors while playing Taps.
(MyBayCity Photo by John Keuvelaar)
The large gathering Friday morning was to dedicate the memory of and rename the Marquette Pocket Park to the Michael A. Cathcart Memorial Park. This dedication honored one of Bay City's most decorated military heroes for his ultimate sacrifice to his country when he lost his life during his third tour of duty in Afghanistan last November, 2014. But the ceremony was not about SFC Cathcart's death as it was about his life and honoring his many selfless acts for those that neither met him nor knew him but benefited so mightily from his bravery and service to country. By the end of the ceremony, we all felt as if we knew him and wished we could thank him personally for the sacrifices he has made for us. This dedication certainly added a sense of realism as to what the Fourth of July is really about.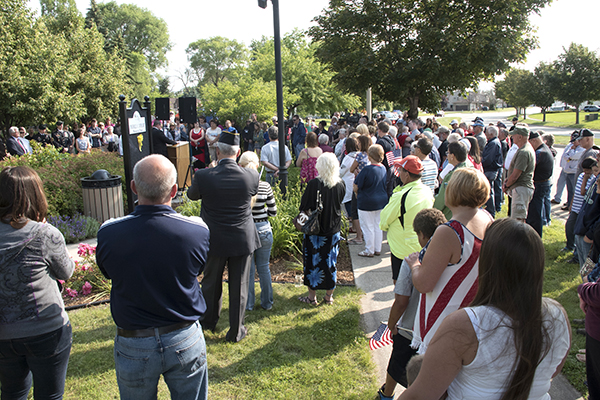 Over hundred people gathered to pay respects to the Cathcart family.
(MyBayCity Photo by John Keuvelaar)
We learned that Michael joined the Army after graduation from Bay City Central High School in 2001. First assigned to the 101st Airborne Division, he later joined the Special Forces group in 2007 where he was assigned to the 3rdBattalion, 3rd Special Forces Group as a senior engineer sergeant at Fort Bragg. After serving two tours of duty in Iraq, he was serving his third tour in Afghanistan when his career and life was all too soon ended. Along the way, SFC Cathcart was honored with a laundry list of medals, ribbons and accommodations as read by Bay City Mayor Christopher Shannon with the most distinguished being the earning of three Bronze Star Medals, a Purple Heart Medal and four Army Commendation Medals. While the accommodations were impressive, it was clear that the accolades were not what Michael Cathcart was about. It was his service to country which was clearly evident by his "teammates" from Fort Bragg who left their families in North Carolina and traveled to Bay City to support and honor their "teammate" as they referred to him. Sgt. King addressed the group noting how Michael was much more to him and others of their unit. He was a mentor and how Michael loved gardening. The Park is a fitting touch to Michael's passions.
The Park's appearance is beautifully expressed beginning with an iron arch bearing the sign of Michael A. Cathcart Memorial Park and decorated with flowers and day lilies. A bench affords the traveler a place to rest and contemplate while a plaque will soon be present to inform and honor Michael Cathcart of his contributions to us all.
Representative Charles Brunner spoke of how he was in Beson's Market down the street talking with the owner, Steve Beson when Steve first sprung the idea. Steve also has a wall commemorating their neighborhood hero. Rep. Brunner then contacted 9th Ward Commissioner Larry Elliot and the idea took on life.
The Ceremony started with District Judge Tim Kelly singing the National Anthem which in and of itself was very stirring and emotional. This was followed by a 21 gun salute by the Bay County Honor Guard followed by the showing of appreciation to the large number of veterans who assembled to pay their respects. Jeanne Cathcart, mother of Michael, shared an emotional thank you to all in attendance: "Thank you for the outpouring of love and support that I've had from this community." She also touched on how her employer, Meijers, had initially come forward in November wanting to know what they could do. Christmas boxes where the choice for Michael's "teammates" so with the contributions from Meijers and with the help from the students of the Bay City Public Schools, Christmas boxes were filled and shipped to deserving soldiers.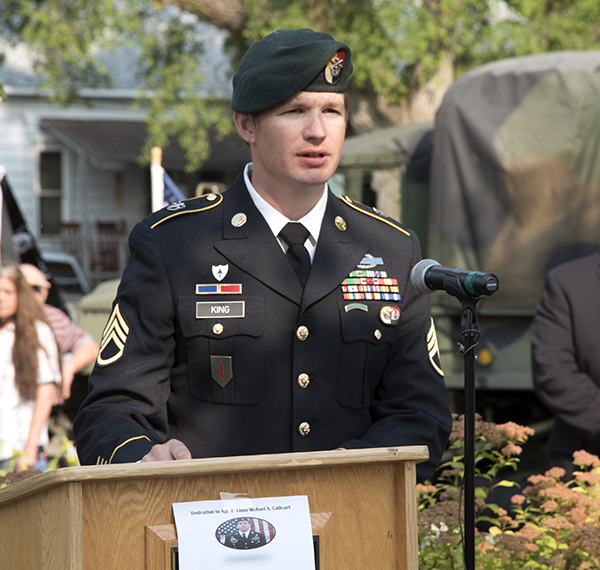 Sgt. King talks about his friend and teammate.
(MyBayCity Photo by John Keuvelaar)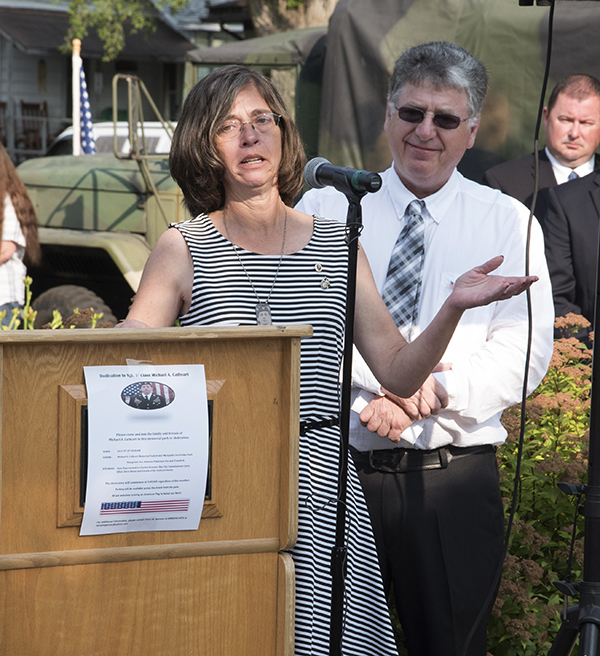 Jeanne Cathcart thanks the community for their support.
(MyBayCity Photo by John Keuvelaar)
Representative Charles Brunner, 9th Ward Commissioner Larry Elliot, Mayor Chris Shannon and fellow veteran of overseas action, Pinconning Police Officer and local businessman Terry Spencer all stepped forward to say supportive words to Michael's mom, Jeanne Cathcart and those in attendance. Officer Spencer talked of first learning what a hero is when he related a story about his Grandfather who fought and was wounded in Italy. His Grandfather lay in a ditch for three days before he was discovered and attended too. "Mike was this," he stated. "Our duty is for us to honor and remember" our military heroes.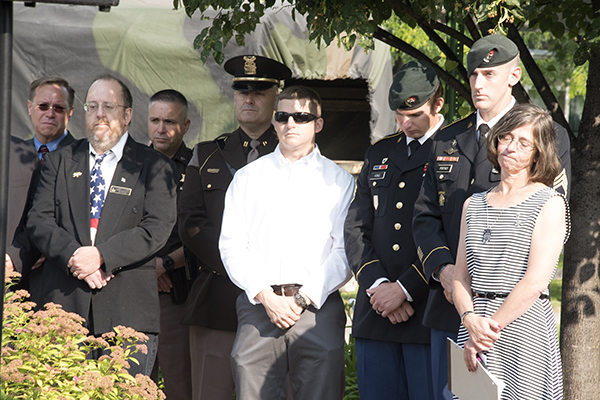 Feanne Cathcart and "family" listen to all the kind words that are spoken in honor of Michael.
(MyBayCity Photo by John Keuvelaar)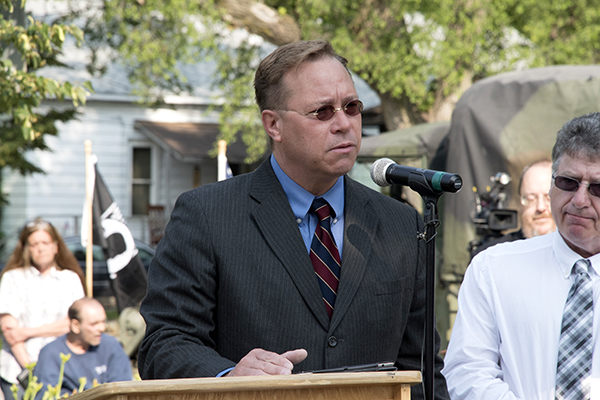 Mayor Chris Shannon shares the list of accomplishments SFC Cathcart achieved.
(MyBayCity Photo by John Keuvelaar)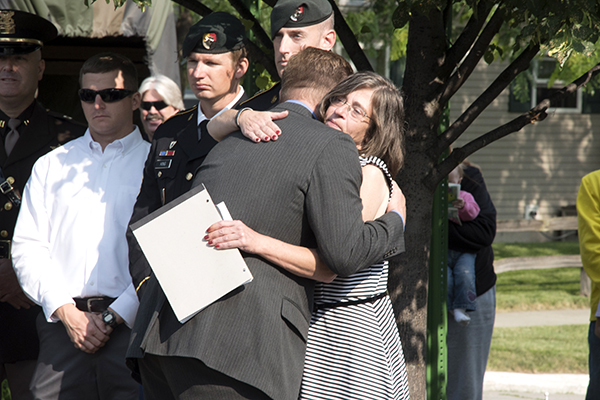 Mayor Shannon shares a moment with Jeanne Cathcart.
(MyBayCity Photo by John Keuvelaar)
As we celebrate the Fourth of July and remember personally and generally those who have served and fought for our freedom, we will always remember Sgt. First Class Michael Cathcart for his dedication and service to us from Bay City.
---
---

John Keuvelaar




John Keuvelaar is a college student at Midwest Photography Workshops and Delta College.

More from John Keuvelaar
---
Send This Story to a Friend!
Letter to the editor
Link to this Story
Printer-Friendly Story View
---
--- Advertisments ---