Rummel Talks to Rotary About Mission of Great Lakes Regional CVB
Three-county Convention and Visitors Bureau Markets Entire Area
July 21, 2015 Leave a Comment
By: Stephen Kent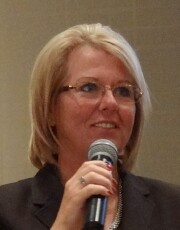 Annie Rummel
Annie Rummel, head of the of the Great Lakes Regional CVB, spoke to Rotary about the mission and work of the GoGreatBay organization. (website GoGreat.com).
One of the first women to join Rotary in Frankenmuth, Annie had 100% attendance there, which was a requirement of her Rotarian Grandfather. When she went back to school she took an extended leave of absence but promises to return when she can again achieve 100%.
The GoGreatBay CVB is one of less than one percent of CVB's worldwide that is accredited by the international association of Convention and Visitor Bureaus. They are very proud of this fact. At only three years old, they are one of the youngest accredited CVBs.
Annie introduced the GoGreatBay web site (
www.GoGreat.com
), which was designed with a "responsive" design. The site has intuitive features which make it easy to navigate. It also automatically recognizes the user's device and tailors itself to desktop computers, smart phones, or tablets.
The entire focus of the CVB is to generate overnight hotel stays somewhere in the region. That's where their funding comes from; hotel guests pay a 6% sales tax and a 5% hotel occupancy tax.
The CVB promotes any and all events in the area free of charge. The only restriction is that the organization be a member of the local Chamber of Commerce. That requirement helps foster a close relation of the Chambers to the CVB, something that is not often found in the industry.
The Regional CVB is an umbrella for the Bay, Midland and Saginaw county CVB. The state looked at the eight counties in the area and passed laws allowing them to combine. Of that eight, only the three eventually came together. They went to Annie and asked her to organize and create the GoGreatBay group.
The regional group is a collaborative project. The local CVB's remain independent but operate collectively. Each county sends an equal number of board members. Each has a county commissioner on the board. And each of the Chambers of Commerce Presidents are on the board.
In 2009, Bay and Midland hotels collected a 2% tax and Saginaw a 5%. The combined groups enabled that to be change so that all three counties pay 5%. 2009 CVB collections of $1.4 million increased to $3.1 million in 2014. Marketing investments increased from $839 thousand to $2.3 million.
The regional group runs the web site but also designs and insures a common branding throughout the region. Their marketing efforts spend
$226,000 on technology
$147,000 on meetings and conventions
$1.4 million on general tourism
$115,000 on motorcoach and group sales
$186,000 on sports marketing

Among the services of the group is the packaging of anyone's convention. "If you are a member of an organization that holds a convention or meeting, call us." The GoGreatBay office do all the leg work. She'll put together a RFP. They will organize the food, transportation and all the details. "It costs you nothing but it sure is an easy contribution back to the economy that you can provide."

For more information visit www.GoGreat.com .


---
CLUB NEWS and ANNOUNCEMENTS
The board meets this week
April 14 at 11:00 before the regular meeting.
Everyone is welcomed.



President Brenda Scramlin's introduced a scrolling series of slides on the big screen. The new feature will highlight announcements, special meetings, and other information members should read. The plan is to run this through the meal at every meeting.

OFF SITE MEETINGS
Next week, July 28, meet at the Lumber Baron's on Midland Street across the river.
August 4, meet at the Pere Marquette Depot.

Members, family and friends are reminded that Brenda is leading a "Rotary Wednesday Walkout" at Wenonah Park each Wednesday evening at 6:15. The objective is to get in shape for the Fall ZOMBIE RUN (and Walk). Bob Chadwick mentioned other information about the Zombie Run on October 10.

Reminder: District Governor Mike Kelly will attend the August 11 board meeting then speak to the club's regular meeting. Everyone is welcomed to that, and all, board meetings.

Chuck Cusick noted that there have been NO NEW POLIO CASES in Nigeria for a year.

Niko Stang, one of our two exchange students, made it back to his home in Norway. Last week we heard that Madoka Moriis made home to Japan, although there were canceled flights and other adventures along the way.

Note that the Doubletree has raised the meal price. Starting this term, members are asked to pay $12 at the door. Members may alternatively pre-pay meals with their dues.

Cindy Chadwick, chief Sargent at Arms is looking for assistants. If you're interested, see her.

The current and past DISTRICT DISPATCH newsletters are available in the LINKS section below.


---
DATES TO REMEMBER
"Rotary Wednesday Walkout" every Wednesday at 6:15. Meet Brenda at Wenonah Park. Bring your family and friends. Get in shape for the ZOMBIE RUN (and Walk).

July 28, 2015: Off-site meeting at Lumber Barons on Midland St. August 4, 2015: Off-site meeting at Pere Marquette Depot.

October 10, 2015: ZOMBIE RUN!

November 10, 2015: Vocational Day


---
Upcoming Programs
(See the official schedule at RotaryBayCity.org )


July 28, 2015: Boy Scouts of America Shoreline District Speaker Bruce Sparks Unit Service Executive.
Off-site meeting at Lumber Barons on Midland St.

August 4, 2015: Meet RI President Ravi Ravindran. A Rotary International Video presented by programmer Andreas Teich.
Off-site meeting at Pere Marquette Depot.

August 11, 2015: District Governor Mike Kelly.



---

Current and past DISTRICT DISPATCH newsletters are available on the District site shown in the LINKS section below.







Rotary Bay City on Facebook!
Click on the Blue Facebook to visit us there.

Remember! Check attendance sheets at the front desk.
---
LINKS
---
---

Stephen Kent




Steve Kent and his family have lived in Bay City for 40 years. He is VP of Technical Services at MMCC which produces MyBayCity.Com. Kent is active in many Bay City civic organizations.

More from Stephen Kent
---
Send This Story to a Friend!
Letter to the editor
Link to this Story
Printer-Friendly Story View
---
--- Advertisments ---