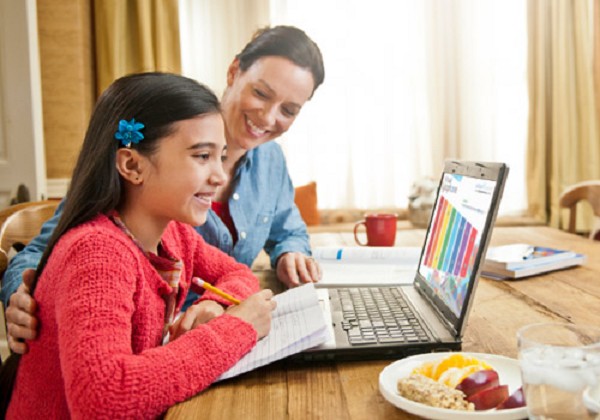 Nationwide, the number of cyber students is 4 million.
---
CYBER TAKEOVER? No More Brick & Mortar Schools, Predicts Academy Leader
Jeb Bush May Accelerate the Demise of Public Schools, Comments Show
According to one prognosticator, public schools and buildings are going the way of the dinosaurs.
WHY? The number of students taking classes on the Internet has skyrocketed, reports WILX-TV, Lansing.
Also, if it is up to leading Republican Presidential candidate Jeb Bush, traditional public schools may be doomed. Keynoting the Mackinac Public Policy Conference in 2013, Bush called for more online education, criticized public education and boosted charter schools.
Bush's comments, according to Valerie Strauss of the Washington Post, "showed nothing but disdain for public education." He said:
"We must expand [school] choice. Our governance model includes over 13,000 government-run monopolies run by unions. We can't just outsource public education to bureaucracies and public education unions and hope for the best."
The Huffington Post retorted: "Mind you, Bush does support 'outsourcing' public education to for-profit companies."
Michigan is in the thick of the charter-cyber transformation. In 1999, only 100 students in Michigan took an online class. In 2013, the number had jumped to 185,000 (out of 1,550,800 total students statewide.
Nationwide, the number of cyber students was 4 million.
Heather Ballien, principal of Great Lakes Cyber Academy, says brick-and-mortar schools may someday be a thing of the past.
All kids will be sitting home on their computers instead of grabbing the school bus and sitting in class in a building, she predicted, adding:
Students in virtual schools praise the fact that they can learn at their own pace, whether quicker or slower than their peers. Virtual schools have implemented new technologies that prevent cheating and provide more avenues to learn.
Ms. Ballien is an alumna of Alma College (BA), Western Michigan University (MA), and Saginaw Valley State University (Ed.,S.) and is pursuing a doctoral degree from Central Michigan University.
"At our cyber high school in Michigan, students work from home or any location with Internet access," states Ms. Ballien, adding:
"Our powerful online technology links students and their parents to our dedicated teachers and outstanding curriculum. A responsible adult, typically a parent, serves as a Learning Coach and supports the process by coaching the student, monitoring the schedule, and consulting with teachers.
"Using conferencing and dynamic screen tools, our teachers conduct real-time interactive LiveLesson® sessions. In this virtual class time, students enjoy the lively interactions of a traditional classroom -- but in an online setting. By typing or speaking into a microphone, students can ask and answer questions, take part in discussions and work with other students in small-group sessions."
Great Lakes Cyber Academy is owned by Pearson, Inc., a corporate education giant. The academy, headquartered in Okemos, is authorized by Central Michigan University.
Pearson came under fire in March by The New York Times for monitoring social media to identify students who might be leaking information about certain tests administered by the company.
The math and English tests -- called the Partnership for Assessment of Readiness for College and Careers, or PARCC -- are being developed by a consortium of states in conjunction with Pearson to measure students' preparedness for life after graduation.
Pearson said the states contractually required it to monitor public social media posts to make sure students did not disclose test questions.
Although education officials in some states already screen social media on their own for possible test leaks, Pearson's efforts have ignited a firestorm among some teacher and parent groups who contend the monitoring is invasive and unfair.
Pearson Education, founded in 1844, is headquartered in London, England. Pearson Education operates as a media and education company in the United Kingdom, other European countries, the United States, Canada, Asia Pacific, and internationally.
The company operates through North American Education, International Education, Professional, and FT Group segments. It provides its customers with a range of products and services such as curriculum textbooks and other learning materials; student assessments and testing services; and education technologies for educators and students from early education through elementary, middle and high school, and higher education.
Pearson also publishes educational materials in local languages; English language teaching materials for children and adults; and online learning products as well as offers testing, assessment, and qualification services.
- See more at: https://www.crunchbase.com/organization/pearson#sthash.SyuwS8d5.dpuf
Diane Ravitch, New York education observer and blogger, says Pearson is creating "standardized minds." She writes:
"Pearson is clearly a major force in American education. It is the dominant provider of testing and textbooks. It owns the GED. It owns Connections Academy, which runs for-profit virtual schools. It owns a teacher evaluation program being marketed to states and districts. It partners with the Gates Foundation to develop online curriculum for the Common Core standards."
###
---
---

Dave Rogers




Dave Rogers is a former editorial writer for the Bay City Times and a widely read,
respected journalist/writer in and around Bay City.
(Contact Dave Via Email at carraroe@aol.com)

More from Dave Rogers
---
Send This Story to a Friend!
Letter to the editor
Link to this Story
Printer-Friendly Story View
---
--- Advertisments ---