Boy Scouts Present Rotary Program
July 28, 2015 Leave a Comment
By: Stephen Kent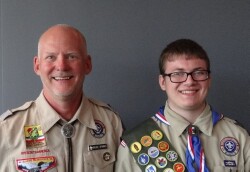 Bruce Sparks and Chandler Cogan
Bruce Sparks
, Unit Service Executive for the Shoreline District of BSA, spoke to rotary. That district includes the 1,100 Scouts of Bay, Arenac, and Ogema counties. Also speaking was Eagle Scout
Chandler Cogan
.
Bruce said that this is the "funnest times of the year" because it's Scout Camp time. Camp Rotary near Clare is full all summer. Right now Troops 150 and 111 are there for the week.
Camp Rotary was originally given to the Scouts by the Saginaw Rotary. The first week of each summer is each summer features the Rotary Youth Leadership Award (RYLA) camp. The rest of the summer it is a Scout Camp. "Getting outside is just good stuff. It kind of takes you away and lets you refocus. A lot of great leadership things are happening there." said Bruce.
There are eight Scout camps or reservations in the state. Cole Canoe Base near Alger is the largest camp. Every week they host about 600 Scouts.
As of June 30, 2015, the Scouts showed a 26.4% increase in traditional membership growth over last year. As the "go to guy" for the district Bruce was very proud of this benchmark for Scouting. "It means that more youth are involved in Scouting and that's good stuff."
Chandler Cogan
, a recent Eagle Scout from troop 150 drove back from Camp Rotary just to speak to Rotary. Chandler wore a sash with Merit Badges on the front and over the shoulder to the back. He has earned 5 Palms for his Eagle by completing 25 Merit Badges over the number required for Eagle.
Chandler is the 70th Eagle from Troop 150, sponsored by Westminster Presbyterian Church and chartered some 40 years ago. Chandler has been in scouting since he was a first grader in Tiger Scouts.
Watching his older brother earn an Eagle, Chandler knew he wanted to follow that lead. "I knew that if I earned my Eagle, I would be just like him, the coolest person in the world."
Scouting has enriched the lives of youth for over 100 years.
Lord Robert Baden Powell
, the founder of Scouting, was quoted as saying "the uniform makes for brotherhood. When universally adopted it covers up all differences of class and country." Scouting is now in 216 countries world wide.
Later this week 30,000 scouts will meet in Japan for the 23rd International Jamboree. A Michigan International Camporee is held every four years and an International Scout Rally is held annually in Hessel, Michigan.
Chandler talked about the Scouting Program and the lessons it teaches. He quoted words of the first scout to become President, John F. Kennedy.
In conclusion Chandler said "because of my experience in Scouting I'm not afraid of a challenge. When I become President of the United Stated I will not shy away from a challenge. I will solve the problem they my Scouting years taught me."
For more information visit
MichiganScouting.org
.
---
CLUB NEWS and ANNOUNCEMENTS
OFF SITE MEETINGS
Next week, August 4, meet at the Pere Marquette Depot downtown.

Wendy Dore said that the Zombie Walk event is going well. It is being publicized on Runner web sites. Some runners have already signed up. Sponsor packages and brochures will be ready very soon. Volunteers are needed so if you want to help, please see Wendy.

Members, family and friends are reminded that Brenda is leading a "Rotary Wednesday Walkout" at Wenonah Park each Wednesday evening at 6:15. The objective is to get in shape for the Fall ZOMBIE RUN (and Walk). Meet at the top of the park across from the planetarium.

Reminder: District Governor Mike Kelly will attend the August 11 board meeting then speak to the club's regular meeting. Everyone is welcomed to that, and all, board meetings. And we would like a large turnout for the meeting.

Note that DG Kelly will present a 100% Paul Harris fellow award to the club. Please wear your PH pin to that meeting.

Congratulations to the Bay City Optomists for being named Optomist Club of the Year!

Note that the Doubletree has raised the meal price. Starting this term, members are asked to pay $12 at the door. Members may alternatively pre-pay meals with their dues.

The current and past DISTRICT DISPATCH newsletters are available in the LINKS section below.


---
DATES TO REMEMBER
"Rotary Wednesday Walkout" every Wednesday at 6:15. Meet Brenda at Wenonah Park. Bring your family and friends. Get in shape for the ZOMBIE RUN (and Walk).

August 4, 2015: Off-site meeting at Pere Marquette Depot.

October 10, 2015: ZOMBIE RUN!

November 10, 2015: Vocational Day


---
Upcoming Programs
(See the official schedule at RotaryBayCity.org )


August 4, 2015: Meet RI President Ravi Ravindran. A Rotary International Video presented by programmer Andreas Teich.
Off-site meeting at Pere Marquette Depot.

August 11, 2015: District Governor Mike Kelly.



---

Current and past DISTRICT DISPATCH newsletters are available on the District site shown in the LINKS section below.







Rotary Bay City on Facebook!
Click on the Blue Facebook to visit us there.

Remember! Check attendance sheets at the front desk.
---
LINKS
---
---

Stephen Kent




Steve Kent and his family have lived in Bay City for 40 years. He is VP of Technical Services at MMCC which produces MyBayCity.Com. Kent is active in many Bay City civic organizations.

More from Stephen Kent
---
Send This Story to a Friend!
Letter to the editor
Link to this Story
Printer-Friendly Story View
---
--- Advertisments ---