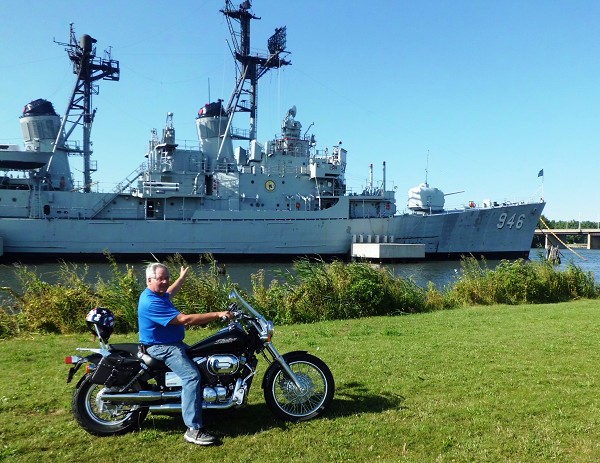 Steve Boerner astride his Honda motorcycle waves farewell to fellow Edson volunteers as he heads home to Washington.
---
EDSON ADVENTURE: West Coast Veteran Heads Home After 10 Weeks on Ship Here
"Don't Know How We Did Without Him," Says Edson Chief Mike Kegley
August 3, 2015 Leave a Comment
By: Dave Rogers
When Steve Boerner volunteers, he does it right.
Navy veteran Boerner, 69, rode his motorcycle 2,500 miles from Bremerton, Washington, in May and spent two and a half months shaping up the USS Edson, destroyer museum ship docked near Independence Bridge in Bangor Township.
Bright and early Monday morning, 4:30 a.m. to be exact, (as befits a sailor), Boerner will take his Honda 750 out of the shed in back of the Edson's trailer offices and will putt-putt westward.
He will head for Muskegon on M-46 and then hop the Lake Express ferry for Milwaukee. Ten days later he will be home in Bremerton.
"We tried to keep him here," exclaimed Mike Kegley, retired Navy chief petty officer who heads the Edson project. "I don't know how we did without him."
Boerner, believe it or not, slept aboard ship just like he did during his three years in the Navy, including 9 months in Viet Nam, 1965-1968.
"I didn't see the ghost, but some folks claim there is one," he said, referring to the periodic ghost events held aboard by a Detroit area ghost-hunters group.
Job One for Boerner was stopping a major leak in the No. 1 engine room aboard the Edson.
Then, with help from John Adams, a volunteer from the USS Ranger, Forrestal class super carrier docked in Portland, Oregon, they straightened the big radar antenna that had somehow gotten cockeyed. Adams flew here with his 12-year-old son from Oregon and spent a few days helping out Boerner on the Edson.
Performing maintenance on the ship's reduction gear of the main engine was the next task he was able to accomplish.
After banging his head on the low-hanging forward 5-inch gun, Boerner and mates removed a big angle iron to allow them to raise the gun 18 inches using an air motor.
The last week here Boerner had lots of help: five former sailors who served aboard the Edson showed up, moved into their old bunks and went back to work like they were still 18-years-old.
Is there a future for the Edson as a tourist attraction? You Bet! Boerner says, "but it will take a lot of work." He said it's important to involve as many volunteers as possible."
According to Boerner, the best asset the Edson has is its location where it can be readily seen from cars crossing the Independence Bridge. "It will take a little time and you need to get the word out more."
Really dedicated volunteers are the key, he said. Having been here when the Edson arrived he observed: "I couldn't believe how much has been accomplished in two years, also the toll the cold in Michigan has taken on the ship's paint job.
As you may have guessed, Boerner is no neophyte around mechanical things. He volunteered 17 years on the USS Turner Joy, including 8 years as director. That ship is a similar Forrest Sherman class destroyer docked in his hometown of Bremerton.
The ship in Bremerton is named for Admiral Charles Turner Joy, (1895-1956) naval leader in World War II and Korea.
One of the strategies Admiral Turner Joy developed was the concept of "island hopping" in which sizable Japanese garrisons were cut off and bypassed to let them "whither on the vine" as U.S. forces moved from island to island, using each as a base for capturing the next.
Boerner will be hopping from state to state enroute home; after Wisconsin he'll pass through Minnesota, South Dakota, Wyoming, Montana and Idaho before reaching Washington and Bremerton.
He hopes he avoids the storms and tornado that followed him on the way here. "I stayed two days ahead of them but it was a real concern, especially being on the bike."
In Bremerton he will be welcomed by his wife, Barbara, who suggested he take a long vacation and advised "take your time." Such an understanding wife every man should have.
Barbara, a retired retail store clerk, ran the gift shop on the Turner Joy for 12 years. So she understand the need for guys with Steve's talent aboard a destroyer like the Edson.
Luckily there are many former Navy men, including onetime Edson sailors, who find it fulfilling to join the volunteer fraternity about the ship.
###
---
---

Dave Rogers




Dave Rogers is a former editorial writer for the Bay City Times and a widely read,
respected journalist/writer in and around Bay City.
(Contact Dave Via Email at carraroe@aol.com)

More from Dave Rogers
---
Send This Story to a Friend!
Letter to the editor
Link to this Story
Printer-Friendly Story View
---
--- Advertisments ---