Bay City Players Cast of RENT Sings for Rotary
August 4, 2015 Leave a Comment
By: Stephen Kent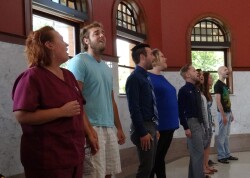 RENT Cast Members
Rob Clark introduces Mike Wisniewski from the Bay City Players. Mike has produced and directed a number of shows at the Players and is currently doing RENT.
According to Mike, the Players normally end the season in the Spring then present their "Stages of Discovery" program for youth. This year they are trying something new by presenting one more show, an adult themed, or at least not entire family oriented show. If this works out they will try it again in upcoming years.
The Players' web site describes RENT as "an inspiring musical about friends and artists struggling with addiction, poverty, AIDS and most of all, love ... set in the East Village of New York City." The show won a TONY Award for Best Musical and a Pulitzer Prize for Drama. The show contains mature themes and strong language. As such it is recommended to audiences aged 17 and older.
In July and August, Bay City Players hold their "Stages of Discovery" workshop series for youth. These workshops are designed to explore performance and technical skills including acting, movement, creative thinking & problem solving, awareness of the world around us, and theatre technology.
Mike concluded by introducing an ensemble from the cast of 20. The group sang the iconic song "
525,600 Minutes
" from the production.
For more information visit
BayCityPlayers.com
---
CLUB NEWS and ANNOUNCEMENTS
The board meets this week
August 11 at 11:00 before the regular meeting.
District Governor Mike Kelly will visit.
Everyone is welcomed.
Rotary net off site at the historic Pere Marquette Depot downtown. Lunch was prepared by Intermission Deli. There was no flag at the front of the room, but the flag on the County Building was visible and Rotarians faced that direction for the Pledge.
Bob Chadwick
spoke about the
Community Grants
. The Fall cycle is open and the club has $5,000 to distribute. The committee prefers to receive applications electronically. Complete information is on the club web site at
http://www.rotarybaycity.org/rot-a400.cfm
.
Tim Holsworth
said that the club's local
foundation
has opened a brokerage account. That means that if a person has stock and anticipates a large gain, they can donate to the foundation rather than paying taxes on that gain.
Brenda
read a thank you card from the Bruce Sparks of the Boy Scouts, who spoke last week. He also sent a "friends of scouting" patch (badge). Brenda suggested we might come up with a sash or banner just for mementos like this.
Bob Chadwick
and
Andrea Hales
spoke about the
Zombie Walk
coming up Saturday, October 10. The event will run all day and have many events, including walking for those who don't run. There will be things for all ages including kids and families.
Andrea
says that she has sponsorship forms then listed some of the major amounts including the $250 "Bucket of Blood" sponsor, the $500 "Blood and Guts" sponsor, the $1,000 "Arm and a Leg" sponsor. $5,000 sponsors get the coveted "All You Can Eat Brains" designation.
Members, family and friends are reminded that Brenda is leading a "
Rotary Wednesday Walkout
" at Wenonah Park each Wednesday evening at 6:15. The objective is to get in shape for the Fall
ZOMBIE RUN
(and Walk). Meet at the top of the park across from the planetarium.
Reminder:
District Governor Mike Kelly
will attend the August 11 board meeting then speak to the club's regular meeting. Everyone is welcomed to that, and all, board meetings. And we would like a large turnout for the meeting.
Note that DG Kelly will present a 100% Paul Harris fellow award to the club. Please wear your PH pin to that meeting.
Note that the Doubletree has raised the meal price. Starting this term, members are asked to pay $12 at the door. Members may alternatively pre-pay meals with their dues.
As Sargent at Arms, Eric Jylha accepted happy and hard luck bucks, plus announcements. He then gave a brief history of the Pere Marquette Depot, the restoration of which Rotary contributed significant fund.
At one time, the depot saw 49 trains a day come and go, partly because the depot marked the end of two different lines. People would come to Bay City on one line then change to another to continue their trip. The ride to Detroit went over some very bad tracks so the speed limit was 30 mph. A rider of the time wrote "it was a dirty, sooty and crowded with tired mothers, fretty children and lunch boxes". Everyone hated the building when it was opened because it was so plain. At the time, architecture was coming off the ornate building era.
Eric's question for the day was how much did a train ticket from Bay City to Detroit cost around 1905. The answer two dollars and eighteen cents!
The current and past
DISTRICT DISPATCH
newsletters are available in the LINKS section below.
---
DATES TO REMEMBER
Board Meeting
- Aug 11 - 11:00 am before regular meeting - Everyone invited. District Governor will visit and later present the day's program.
"Rotary Wednesday Walkout" every Wednesday at 6:15. Meet Brenda at Wenonah Park. Bring your family and friends. Get in shape for the ZOMBIE RUN (and Walk).
October 10, 2015: ZOMBIE RUN!
November 10, 2015: Vocational Day
---
Upcoming Programs
(See the official schedule at RotaryBayCity.org )
August 11, 2015: District Governor Mike Kelly.
August 18, 2015: Michigan Health Improvement Alliance (MiHIA)
Presented by Beth Roszatycki
August 25, 2015: Bay City Food Cooperative.
Jessica McQuarter will speak about the efforts of the Bay City Food Cooperative Steering Committee including an update on progress toward finding a site for the coop. Jessica is a member of the Northern Bay and Arenac Rotary Club.
September 22, 2015: Launch Detroit
A Rotary International video shows how the Rotary Club of Detroit provides support to Detroit entrepreneurs as they seek to bring economic development to that city.
November 2, 2015: Hospice 101
November is National Hospice and Palliative Care Month. Bonnie Marsh will talk about hospice care and palliative care - how they differ from and complement one another.
---
Current and past
DISTRICT DISPATCH
newsletters are available on the District site shown in the LINKS section below.


Rotary Bay City on Facebook!
Click on the Blue Facebook to visit us there.

Remember! Check attendance sheets at the front desk.
---
LINKS
---
---

Stephen Kent




Steve Kent and his family have lived in Bay City for 40 years. He is VP of Technical Services at MMCC which produces MyBayCity.Com. Kent is active in many Bay City civic organizations.

More from Stephen Kent
---
Send This Story to a Friend!
Letter to the editor
Link to this Story
Printer-Friendly Story View
---
--- Advertisments ---