Rotary Hears From Michigan Health Improvement Alliance (MiHIA)
August 18, 2015 Leave a Comment
By: Stephen Kent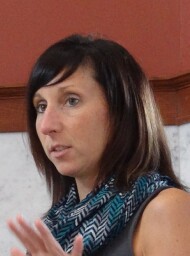 Beth Roszatycki
Beth Roszatycki
from the
Michigan Health Improvement Alliance (MiHIA)
spoke to Rotary about the Alliance, an organization that exists to facilitate a healthier community and region. The vision is for the "region to become the healthiest thriving community with the best quality and value in health care."
With a mission of improving health, MiHIA works to collect and use information and to collaborate with providers and people to foster a "comprehensive focus on population health, patient experience and cost of care." It provides a platform for "building relationships, shared learning, reducing duplication of efforts and fostering innovative solutions."
MiHIA serves 14 counties in the central Michigan area with a population of 800,000. That includes all eight counties in the "Prosperity Region 5", which is one of nine "medical trading areas" defined by the State of Michigan's Department of Community Health.
By providing representation at a national level, MiHIA can change the "conversations and landscape" in the region. This can lead to the region becoming a national leader and model for health leading to a positive economic impact.
Roszatycki outlined the history of MiHIA from 2007 to the present. She talked in particular about the "Triple Aim" initiative of the Institute for Health Improvement.
The overview stated that "by producing a call to action across multiple programs and organizations, our region can become a national leader and a model for health that leads to a positive economic impact in our region."
---
CLUB NEWS and ANNOUNCEMENTS
The club met at the Pere Marquette Depot this past week.
President Brenda
recapped last week's visit by
District Governor Mike Kelly
, who presented the club's 100% Paul Harris Fellow banner. DG Kelley also showed up for the Wednesday Night Walkout. Everyone is invited to make this walk every Wednesday night in preparation for the Zombie Run and Walk.
Bob Chadwick
reminded everyone that the current
Community Grants
cycle is open. At this time there are no applicants for part of the $5,000 the club will award. "We really want to give this money away" said Bob. The committee prefers to receive applications electronically. Complete information is on the club web site at
http://www.rotarybaycity.org/rot-a400.cfm
.
"On a lighter note", The
Zombie Race
committee is making
t-shirts
for the event. If you want one now, contact Bob or any member of the committee. The cost is $7 each. Information is available on the club web site. See the link on the front page.
On Wednesday, August 26, there will be a
Press Conference by the Running Dead
at the Saginaw Valley Public Golf Course (formerly the Bay City Country Club). The event starts at 11:00 and will include a "
Body Buffet
" feast. This is the chance for the media to learn about the exciting plans for the Rotary Club of Bay City?s Inaugural Running Dead Races and Family Fun Walk. (Please RSVP at 714-8783 or e-mail Wendy Dore at wldore@yahoo.com.
Don Carlyon
, as a member of the Saginaw Symphony Board, has several
season tickets to the Saginaw Symphony
, which will be given away to Rotarians. If you are interested, and will use the tickets, there will be a drawing next Tuesday. Please submit your names to Brenda, Steve, or Don. It is not required, but if you are so inclined, you may make a contribution to the Rotary Foundation.
Thanks to the
Bay City Public Schools
for providing the lunch Tuesday.
Tim Holsworth
announced that additional Golf Outing money has come in and the total to the schools for technology is now over $11,000.
As
Sargent at Arms, Eric
related that he lead a group of Handy Alumni, in town for their 50th reunion, on a tour of the city. Everyone was very impressed. Eric noted that you almost have to take a tour that shows everything to realize just how much has changed in the last few years.
Mark Jaffe
came forward to tell the story of a Rotary Exchange student from South Africa that Mark and his wife hosted 42 years ago. After becoming a doctor,
Alan Gordon
and his wife, with the help of the Jaffe's, immigrated back to the US and moved into psychiatry. He has since won many awards. The Jaffe's are going to an engagement party for Dr. Gordon's daughter. Mark wanted us to know of the far reach of the Rotary Exchange program.
Andrea
has sponsorship forms. Levels include a $250 "Bucket of Blood" sponsor, $500 "Blood and Guts", $1,000 "Arm and a Leg", and the coveted $5,000 "All You Can Eat Brains" sponsor.
Members, family and friends are reminded that Brenda is leading a "
Rotary Wednesday Walkout
" at Wenonah Park each Wednesday evening at 6:15. The objective is to get in shape for the Fall
ZOMBIE RUN
(and Walk). Meet at the top of the park across from the planetarium.
The current and past
DISTRICT DISPATCH
newsletters are available in the LINKS section below.
---
DATES TO REMEMBER
Wednesday, August 26 at 11:00 am.
Running Dead Press Conference
at the Saginaw Valley Public Golf Course (formerly the Bay City Country Club). The event will include a "Body Buffet" feast.
"
Rotary Wednesday Walkout
" every Wednesday at 6:15. Meet Brenda at Wenonah Park. Bring your family and friends. Get in shape for the ZOMBIE RUN (and Walk).
October 10, 2015:
ZOMBIE RUN
!
November 10, 2015:
Vocational Day
---
Upcoming Programs
(See the official schedule at RotaryBayCity.org )
August 25, 2015: Bay City Food Cooperative.
Jessica McQuarter will speak about the efforts of the Bay City Food Cooperative Steering Committee including an update on progress toward finding a site for the coop. Jessica is a member of the Northern Bay and Arenac Rotary Club.
September 22, 2015: Launch Detroit
A Rotary International video shows how the Rotary Club of Detroit provides support to Detroit entrepreneurs as they seek to bring economic development to that city.
November 2, 2015: Hospice 101
November is National Hospice and Palliative Care Month. Bonnie Marsh will talk about hospice care and palliative care - how they differ from and complement one another.
---
Current and past
DISTRICT DISPATCH
newsletters are available on the District site shown in the LINKS section below.


Rotary Bay City on Facebook!
Click on the Blue Facebook to visit us there.

Remember! Check attendance sheets at the front desk.
---
LINKS
---
---

Stephen Kent




Steve Kent and his family have lived in Bay City for 40 years. He is VP of Technical Services at MMCC which produces MyBayCity.Com. Kent is active in many Bay City civic organizations.

More from Stephen Kent
---
Send This Story to a Friend!
Letter to the editor
Link to this Story
Printer-Friendly Story View
---
--- Advertisments ---