REDISTRIBUTE WEALTH? Many Americans Think Riches Amassed Unfairly
Public Now More Approving of Unions, Skeptical of Large Corporations
August 27, 2015 Leave a Comment
By: Dave Rogers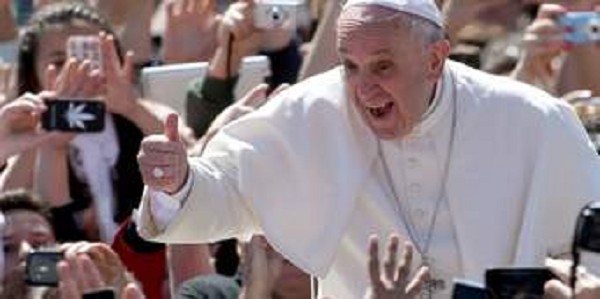 Pope Francis has urged world leaders to redistribute wealth.
The rich are getting richer and the poor are getting poorer.
And hardly anybody likes it much, polls show.
Gallup in April found that 63 percent of respondents believed that wealth in the United States should be distributed more evenly.
A New York Times/CBS News poll May revealed that 66 percent of Americans favored the redistribution of "the money and wealth in this country."
Why this trend toward egalitarian thinking?
Many Americans think that riches are amassed unfairly.
A Pew Research Center survey in January 2014 found that 60 percent of respondents believed that "the economic system in this country unfairly favors the wealthy." Asked about why someone was wealthy, 51 percent said: "Because he or she had more advantages."
The New York Times/CBS News poll reported that 61 percent of respondents believed that "just a few people at the top have a chance to get ahead."
Despite billions of dollars U.S. corporations lavish on public relations toward a positive image, Americans are remarkably wary of these giant economic enterprises.
Gallup in June 2014 found only 21 percent of Americans had a great deal of confidence in big business. By contrast, 40 percent of respondents said they had very little or no confidence in it. A survey done by the public relations industry in 2014 reported that, although Americans valued corporate products, 47 percent of the public said that, when it came to ethics, they had little or no trust in major corporations.
Health insurance companies, pharmaceutical companies, banks, and energy companies were viewed as the least trustworthy.
The June 2015 Gallup survey found a higher rate of public confidence in unions and, especially, in small businesses. In August 2014 Gallup found that Americans approved of unions by 53 to 38 percent. That was a shift in five years, when 48 percent approved and 45 percent disapproved of them.
The New York Times/CBS News survey found 74 percent of respondents believing large corporations had "too much influence" in American life and politics today. When it came to unions, however, only 37 percent said they had too much influence, while 54 percent said they had too little influence or about the right amount of influence.
What's to be done? Presidential candidates take notice. The government should step in to create more economic equality, several polls show.
Pew Research Center found that 82 percent of respondents favored government action to reduce poverty and 69 percent supported government action ?to reduce the gap between the rich and everyone else.?
The New York Times/CBS News survey reported that, by 57 to 39 percent, Americans favored using government to ?reduce the gap between the rich and the poor in this country.?
Furthermore, most Americans back specific government programs along these lines.
The New York Times/CBS News survey found broad public support for the following programs:
*raising the minimum wage (71 percent);
*increasing taxes on the rich (68 percent); and
*requiring employers to provide paid family leave (80 percent).
Even the more unusual approach of limiting the pay of top corporate executives received the backing of 50 percent.
Other recent polls reveal: *between 71 percent (CNN/ORC) and 73 percent (Pew) of Americans favor raising the federal minimum wage;
*52 percent favor "heavy taxes on the rich" (Gallup);
*54 percent support raising taxes on the wealthy and the corporations (Pew);
*70 percent support federal funding of pre-school education (Gallup). ###
---
---

Dave Rogers




Dave Rogers is a former editorial writer for the Bay City Times and a widely read,
respected journalist/writer in and around Bay City.
(Contact Dave Via Email at carraroe@aol.com)

More from Dave Rogers
---
Send This Story to a Friend!
Letter to the editor
Link to this Story
Printer-Friendly Story View
---
--- Advertisments ---