Food Co-op Topic of Rotary Program
August 25, 2015 Leave a Comment
By: Stephen Kent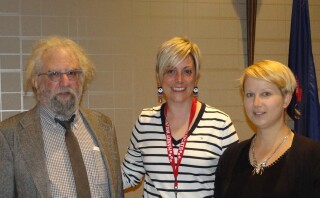 Dennis Rosenblum, Christa Schubert, Jessica McQuarter
Organizers from the new
Bay City Food Co-op
spoke to Rotary about the current status of the Co-op and their vision of creating a "non-corporate, community-owned cooperative that provides locally grown and organic food and product options from socially and environmentally-conscious sources".
Citing a number of statistics, the presenters noted that the average co-op nationally purchases from 51 local farms and 106 local product producers. They talked about the meaning of "local", which by definition can be grown up to 400 miles from the seller, or anywhere in the state. 20% of the typical co-op;s products are truly local vs. 6% for a conventional retailer.
Co-ops also give back more to the community, citing 13% of profits donated to charity as opposed to the more common 4%.
Co-ops also assert that their employees benefit from higher wages, including bonuses and profit sharing, and more eligible for health insurance. On average, a co-op will spend 19% of revenue on local wages and benefits vs 13% for conventional stores.
With other co-ops in Ann Arbor, East Lansing and Kalamazoo, there are ample examples of successes in the state. A recent survey indicated that there is definitely a local interest.
The Bay City Co-op is still in the planning stage, but many of the steps toward start up have been accomplished. The group is being assisted by MSU, they have retained an attorney, incorporated, established bylaws, opened a credit union account, etc. They are quickly working their way down the list of things to be done.
Anyone can shop at the co-op store, but those who choose to be members and share holders will receive various benefits and incentives. Membership cost $200.
The plans are to locate the store in the downtown area, which is considered by USDA to be a food wasteland in that people have no source for fresh food within a 2 mile area.
For more information visit
strongertogether.coop
---
CLUB NEWS and ANNOUNCEMENTS
The club was back on home turf meeting at the Doubletree.
Jim Griffiths
performed the induction ceremony for three new members:
Nina Suchy, Tara Welch
, and
Bridget Looby Staffileno
. Welcome to our newest members!
President Brenda
reminded everyone that the current
Community Grants
cycle is open. $5,000 is available. Complete information is on the club web site at
http://www.rotarybaycity.org/rot-a400.cfm
.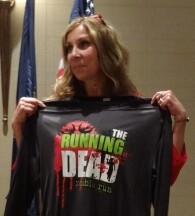 Wendy Dore
reminded everyone of the
Running Dead
marathon press conference, which was held the following day at the Saginaw Valley Public Golf Course (formerly the Country Club). Wendy held up T-shirts for the event and invited members to purchase the yellow variety after the meeting. Information is available on the club web site. See the link on the front page.
Andrea Hales
talked about the sponsor opportunities for the event. Levels include a $250 "Bucket of Blood" sponsor, $500 "Blood and Guts", $1,000 "Arm and a Leg", and the coveted $5,000 "All You Can Eat Brains" sponsor.
The
Running Dead
press conference was held on Wednesday.
Wendy, Andrea Hales and Bob Chadwick
were made up in "zombie face" for the event. Several members of the media were on hand as well as City Manager Rick Finn who made comments. TV-12 took video and ran a very entertaining piece on the 5:30 pm news.
Don Carlyon
, a member of the Saginaw Symphony Board, held a drawing for six season tickets to the Symphony. Winners were Jim Griffiths, Anne Trahan and Rod Sundstrom.
Tim Moulthrop
noted the passing of long time Rotarian
Al Hicks
. Al joined the club in 1971 and served as president in 1978-79. A Paul Harris Fellow, Al was a joy to have in the club. Members will remember his sense for fun and some of the stories he would stand up to tell, stories that often had a twist at the end that would receive a laugh or a groan then a laugh. Al's last recorded meeting was in December of 2013. He said he planned to be back, but when we heard that he had entered a nursing facility we knew his return was unlikely. Al passed away at Brookdale Meridian in Haslett, Michigan. Services were held on Saturday August 29 at First Presbyterian Church.
The current and past
DISTRICT DISPATCH
newsletters are available in the LINKS section below.
---
DATES TO REMEMBER
"
Rotary Wednesday Walkout
" every Wednesday at 6:15. Meet Brenda at Wenonah Park. Bring your family and friends. Get in shape for the ZOMBIE RUN (and Walk).
October 10, 2015:
ZOMBIE RUN
!
November 10, 2015:
Vocational Day
---
Upcoming Programs
(See the official schedule at RotaryBayCity.org )
September 1, 2015: YWCA Great Lakes Bay Region
Lisa Grills will present an update on the organization and what they are doing in the community.
September 8, 2015: Saginaw Bay Symphony Orchestra
CEO Dan Mcgee will present an overview of the programs offered and about the organization.
September 22, 2015: Launch Detroit
A Rotary International video shows how the Rotary Club of Detroit provides support to Detroit entrepreneurs as they seek to bring economic development to that city.
November 2, 2015: Hospice 101
November is National Hospice and Palliative Care Month. Bonnie Marsh will talk about hospice care and palliative care - how they differ from and complement one another.

Rotary
is an intimate affiliation of carefully selected business and professional people,
having as its objective the promotion of high ethical standards in private, commercial
and civic life, and dedicated to the ideal that the basis of all worthy endeavor is unselfish service.
---
Current and past
DISTRICT DISPATCH
newsletters are available on the District site shown in the LINKS section below.


Rotary Bay City on Facebook!
Click on the Blue Facebook to visit us there.

Remember! Check attendance sheets at the front desk.
---
LINKS
---
---

Stephen Kent




Steve Kent and his family have lived in Bay City for 40 years. He is VP of Technical Services at MMCC which produces MyBayCity.Com. Kent is active in many Bay City civic organizations.

More from Stephen Kent
---
Send This Story to a Friend!
Letter to the editor
Link to this Story
Printer-Friendly Story View
---
--- Advertisments ---