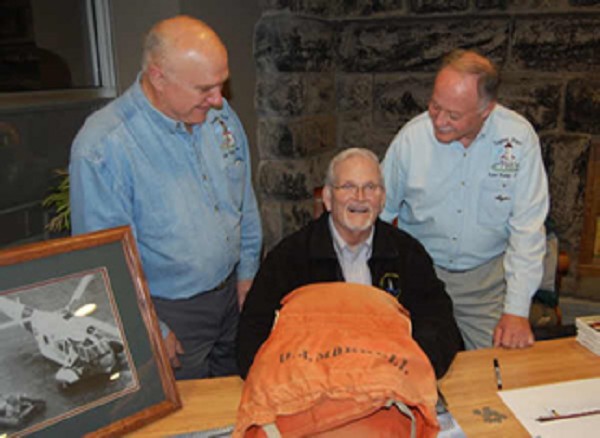 Dennis Hale, center, with historic lifejacket and sponsors of 2010 talk here, Donald Comtois, left, and Don Morin, of the Saginaw River Marine Historical Society. (Photo by Dave Rogers)
---
DELIVERED BY GOD? Dennis Hale's Talk Here Revealed Ship Sinking Mysteries
September 7, 2015 Leave a Comment
By: Dave Rogers
Just luck, or mercy of the Lord?
Like the biblical Enoch, father of Methusalah, who did not die but was taken by God, Dennis Hale lived for nearly half a century after he cheated death in Lake Huron in 1966.
Hale died last Wednesday at age 75 of cancer at the home of a daughter in his hometown of Ashtabula, Ohio.
The story's Bay City connection is inherent in the ship that spelled doom for 28 sailors but spared 26-year-old Hale: it was the Daniel J. Morrell, built by the Wheeler yard here in 1906.
The 603-foot freighter Morrell, steel hull brittle after 60 years afloat, snapped in two in a raging storm 20 miles northeast of Harbor Beach on the night of Nov. 29, 1966.
Hale survived a day and a half freezing on a pontoon liferaft bounding on 30-foot waves driven by 65-mile-per-hour winds in a snowstorm, as his three raft mates died -- a tale recounted several times in Bay City venues.
In a memorable Saginaw River Marine Historical Society presentation in 2010 that brought 300 to hear him in the First Presbyterian Church, Hale mused about so many mysteries:
*Why did he live when at times he wanted to die?
*What physical phenomenon caused him to live 38 hours aboard a raft in icy temperatures while others quickly perished?
*What happened to three of the 29 shipmates who disappeared without a trace?
*Why did the Leviathan, one of the longest ships on the lakes, snap in two?
*Why didn't residents of a nearby farm house on the shore in Sanilac County not see one of the six flares he fired from the raft?
*Was he saved to tell his story and give faith to other humans in distress?
*And, most of all: who was that strange, white, bearded ghostly figure who gave him advice after three companions on a small raft had frozen to death? The man had bushy eyebrows, a white complexion with a bluish tint and a neatly trimmed white moustache, he recalled.
The ghostly apparition told him not to eat the ice off his jacket, explaining that would lower his body temperature dangerously.
He theorized that he was near death when in his mind he was hovering above the raft looking down at his body and those of his dead shipmates.
"Suddenly I was spinning and very happy; I felt surrounded by love and was pulled backward into a bright light. There was a vivid green field and his mother beckoned him over a footbridge toward a fence where his relatives waited.
One dreamlike figure wearing a crown said: "Let's see what you learned," he heard them say. My whole life passed before me. My mother told me "I have waited so long to meet you." Shipmates also were at the bottom of a hill, "so innocent and childlike, laughing, crying and hugging me."
A Bay City Times reporter was on hand at Harbor Beach Community Hospital to hear the thawed out Hale ask Father Cornelius McEachern, a priest, "Why am I alive?" The priest responded: "Because God wants you to be alive."
His skin was blue with purple splotches, he was given the last rites of the Catholic Church and the priest heard his confession three times.
Doctors told him his heart was 94 degrees -- the same temperature that causes stoppage. You can't get closer than that to death.
Hale theorized that while God may have had a hand in it, his survival may have been due to a more mundane twist of fate: since he had no pants on, as his crewmates did, his legs didn't freeze -- lowering his body temperature -- as happened to the others, contributing to their demise.
When Hale clambered aboard the four foot by eight foot raft he was wearing only his undershorts, a Navy pea coat and a life jacket. The heavy kapok of the life jacket and the pea coat kept his lungs from freezing, as he thought killed his mates on the raft.
As it was, he lost a couple of toes and part of his left foot from frostbite.
Despite surviving the ordeal, he later questioned his faith because the priest who heard his confessions told him not to talk about his out-of-body experiences.
Thankfully, he ignored the priest's admonition, so now we know more of the tenuous connection and the feelings we all some day may experience in the netherworld between life and death.
###
---
---

Dave Rogers




Dave Rogers is a former editorial writer for the Bay City Times and a widely read,
respected journalist/writer in and around Bay City.
(Contact Dave Via Email at carraroe@aol.com)

More from Dave Rogers
---
Send This Story to a Friend!
Letter to the editor
Link to this Story
Printer-Friendly Story View
---
--- Advertisments ---