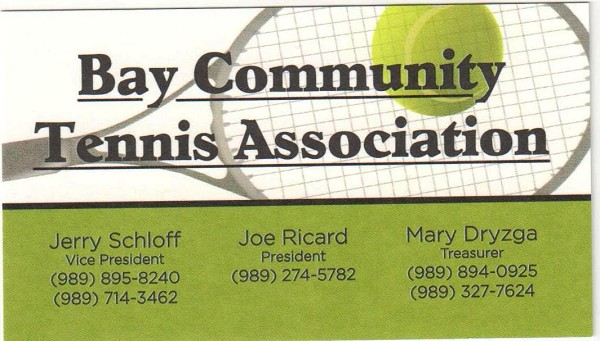 The Bay Community Tennis Association (BCTA) has applied for IRS 501-c-3 tax exempt status.
---
TENNIS TOUTED: Group Backs New Court Complex To Replace Many Removed
Bay City's Lost Athletic Facilities Spark Community Tennis Association
September 12, 2015 Leave a Comment
By: Dave Rogers
Athletics and academics have proven to be a winning combination in the long history of education in America.
Communities across the land, recognizing that important connection, have long supported improvement and maintenance of athletic facilities from football and baseball fields to gymnasiums, running tracks, swimming pools and tennis courts.
Everywhere, it seems, except Bay City -- at least where tennis courts are concerned.
Dr. Gerald Schloff, a retired dentist, and his Boehringer Court neighbors are hoping to reverse a trend that has seen 16 tennis courts in Bay City plowed under or turned into parking lots in the past few years.
Together with Joe Ricard, tennis coach at Central High School, the group is determined to provide a quality eight court tennis facility that can serve as a destination for players of all ages. The courts will be available for use by community members at no charge.
Dr. Schloff stressed that all the money, estimated at $500,000, for the courts will be raised from private sources. One Central alumnus, told of the project, immediately wrote out a chack for $10,000 to support the tennis courts, he said.
The Bay Community Tennis Association (BCTA) has applied for IRS 501-c-3 tax exempt status.
With support from the U.S. Tennis Association (USTA), the BCTA will handle administration of programs on the site, including lessons, outreach, tournaments, school competition, court maintenance, etc., said Dr. Schloff.
Grant applications are being made to foundations and corporations for construction of the tennis courts. Site preparation is to begin in the spring of 2016, with construction to bne completed by fall.
Members of the group also include Rick and Mary Dryzga, retired county officials; Beth Trahan, director of the Bay County Community Center; Morley Fraser, Central High athletic director; Pauline Helmling, Bay City Board of Education trustee; her husband Greg Helmling, graphic artist; parents Brenda Konkle and Kevin Light, City Manager Rick Finn, Harold Holcomb, retired Garber High tennis coach, George Lowe, U.S. Tennis Association regional representative; and John West, former Central High tennis coach.
Partner organizations include the Central High Athletic Fund, the new Bay Community Tennis Association, the U.S.T.A., the Bay City Public Schools and the Dow Bay Area Family Y.
The Park Place Tennis Complex is proposed to be located on the site of Thomas Jefferson Elementary School, 325 Park Avenue. Bids for demolition of the closed school will be opened Monday night at the Bay City Board of Education meeting.
Site planning and construction specifications prepared by Civil Engineering Consultants, Auburn, under guidance from the U.S.T.A., include two courts specially built to accommodate persons with physical limitations, including those in wheelchairs, and children below the age of 10. The plans have drawn broad support from neighbors of the site, situated in a quiet residential area on Park Avenue in a quiet residential area.
Thomas Jefferson School, opened in 1949, was closed in 2006 due to falling enrollment. About five years ago two non-profits, Toys for Tots and Do-All, Inc., occupied the building and paid the utilities but no rent. Several proposals for using the building as offices and a social service center were turned down by city officials.
"We have research that shows that athletics is a definite complement to academics," said Schloff. "The fact that every school from middle grades through university level uses the draw of sports to attract students and encourage them to achieve is just one reason to support the Park Place Tennis Facility."
The past several years have seen a steady decline in outdoor athletic facilities around Bay City," said Dr. Schloff, adding: "Tennis has been particularly hard hit. Tennis courts at Kolb Elementary, MacGregor Elementary and Handy Middle School have been turned into parking areas. The only two courts at Central High School were plowed under last year to make room for track and field competition. Courts at Veterans Memorial Park will soon be removed due to their poor condition. What was once a fun, inexpensive family activity is quickly becoming a dinosaur in a community just minutes away from Midland Tennis Center."
Midland has several dozen indoor and outdoor courts in the facility on Wackerly Road that, together with outstanding programs and multiple tournaments up to the Dow Corning Classic for women professionals, in 2009 earned the designation "America's Top Tennis Town."
In the case of the eight courts formerly alongside the school at Handy, the late George Stevenson, when he was principal of the school, converted a concrete parking lot into an acceptable tennis facility by drilling holes in the concrete for net posts and having nets and fence enclosures installed. Now the Handy courts have retrogressed to parking lots again after 40 years.
---
---

Dave Rogers




Dave Rogers is a former editorial writer for the Bay City Times and a widely read,
respected journalist/writer in and around Bay City.
(Contact Dave Via Email at carraroe@aol.com)

More from Dave Rogers
---
Send This Story to a Friend!
Letter to the editor
Link to this Story
Printer-Friendly Story View
---
--- Advertisments ---