Rotary Hears About Saginaw Symphony
September 8, 2015 Leave a Comment
By: Stephen Kent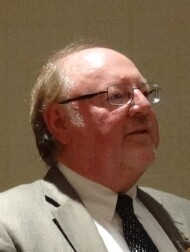 Dan McGee
Dan McGee
, CEO of the
Saginaw Bay Symphony Orchestra
(SBSO), spoke to Rotary about the Symphony, its search for a new conductor, and other interesting facts about the organization.
The SBSO is a mid-size to large orchestra ("class 7"). At their level they don't have a full time conductor and orchestra like some of the very large orchestras might. Rather they contract with a conductor for several years and that person comes to town for to rehearse and conduct a performance then will go a different orchestra. That's just the way the business works at this level.
Like the conductor, the orchestra brings in musicians from around the state and nation. These are some of the best performers and allow the orchestra to present high level performances. Many of the musicians are still long time members of the orchestra. Rotarian Ashley Anderson's mother Mary was with the orchestra for over fifty years and was principal flutist.
Among the outreach and community programs is the well known Saginaw Bay Youth Orchestra. Some of the best youth from the region audition for positions. They rehearse and learn together then do a public performance. Other programs include free teaching concerts for young people.
This year will be an audition season. For the next year, six finalists for the position of conductor will each conduct one concert. The audiences will be ask to vote with their opinion. At the end of the year the position of conductor will be offered to one of these six conductors.
For more information visit
SaginawBayOrchestra.com
---
CLUB NEWS and ANNOUNCEMENTS
The Club board met today. One resignation (an intended move to the Morning club) and two new member nominations were accepted. The proposed names will be read at club meetings.
Andrea Hales
reported on the
Running Dead
zombie race. Sponsorships have exceeded $10,000. And there are close to 100 preregistered runners at this time. That is considered great this far in advance.
Note the members are not being asked to buy tickets to the event, unless they are runners. But the club does
NEED VOLUNTEERS
for the event.
Please also note that the
Running Dead REPLACES International Night
this year. Results will help determine what is done next year.
Additional T-Shirts
are being ordered. If you want one in advance, please contact Cindy Chadwick.
Thanks to
Maier & Associates
for their major sponsorship of the Running Dead race. That is a huge step toward a successful event.
Andrea reminded members about the new fun event called "
Rotary Night Out At the Brewery
". This will be on September 30 from 7:00 to 9:00 pm at the
Tri-City Brewing Company
, 3020 N. Water St. The
Gypsy Wagon Band
will provide entertainment and there will be free snacks to compliment the many types of beer and soft drinks you can purchase. This is a time to relax and kick up your heels and get to know fellow Rotarians in a very relaxed setting.
The current
Community Grants
cycle is closed. The committee will meet soon to review applications for some of $5,000 that is available.
Matt Felan reminded everyone that Vocational Days has been moved to November 10 at the requests of the schools. This date does not interfere with test schedules and other events in the Spring. The major organizing push starts next week. Rotarians are asked to start thinking about hosting students for the day.
Andrea Hales needs a second host family for our exchange student, Print. This will be for the Spring half of the year. Please contact Andrea if you can help.
Ed Clements
reports that the
dictionaries and thesauruses
are here. Labels are being affixed by students. Please sign up to deliver books.
The Club will
MEET OFF-SITE
at the Depot on October 6 and 27. The ad hoc meeting location committee is in the process of
reviewing our current meeting location
. This occasional review was suggested the last time the club moved. If you have comments or suggestions, please contact Brenda Scramlin.
Members are encouraged to bring correct change for lunches and 50/50 tickets. Please don't expect the ticket table staff to make change for a $100 bill.
The current and past
DISTRICT DISPATCH
newsletters are available in the LINKS section below.
---
DATES TO REMEMBER
"
Rotary Wednesday Walkout
" every Wednesday at 6:15. Meet Brenda at Wenonah Park. Bring your family and friends. Get in shape for the ZOMBIE RUN (and Walk).
September 30, 2015:
Rotary Night Out at the Brewery
October 6, 2015:
OFF-SITE Meeting
at the Pere Marquette Depot
October 10, 2015:
ZOMBIE RUN
!
October 27, 2015:
OFF-SITE Meeting
at the Pere Marquette Depot
November 10, 2015:
Vocational Day
---
Upcoming Programs
(See the official schedule at RotaryBayCity.org )
September 15, 2015: Great Lakes Bay Veterans Coalition
Brad Blanchard, a Veteran who works at Dow Chemical, will talk about the 8 county Great Lakes Bay Region Veterans Coalition.
September 22, 2015: Launch Detroit
A Rotary International video shows how the Rotary Club of Detroit provides support to Detroit entrepreneurs as they seek to bring economic development to that city.
September 29, 2015: Rotary Foundation
Speaker: Eileen Jennings
October 6, 2015: STEM Education in the Great Lakes Bay Region
Presented by Carolyn Wierda, SVSU, and Matt Felan, Great Lakes Bay Regional Alliance.
October 13, 2015: Polio Update
presented by Chuck Cusick
November 2, 2015: Hospice 101
November is National Hospice and Palliative Care Month. Bonnie Marsh will talk about hospice care and palliative care - how they differ from and complement one another.

Rotary
is an intimate affiliation of carefully selected business and professional people,
having as its objective the promotion of high ethical standards in private, commercial
and civic life, and dedicated to the ideal that the basis of all worthy endeavor is unselfish service.
---
Current and past
DISTRICT DISPATCH
newsletters are available on the District site shown in the LINKS section below.


Rotary Bay City on Facebook!
Click on the Blue Facebook to visit us there.

Remember! Check attendance sheets at the front desk.
---
LINKS
---
---

Stephen Kent




Steve Kent and his family have lived in Bay City for 40 years. He is VP of Technical Services at MMCC which produces MyBayCity.Com. Kent is active in many Bay City civic organizations.

More from Stephen Kent
---
Send This Story to a Friend!
Letter to the editor
Link to this Story
Printer-Friendly Story View
---
--- Advertisments ---