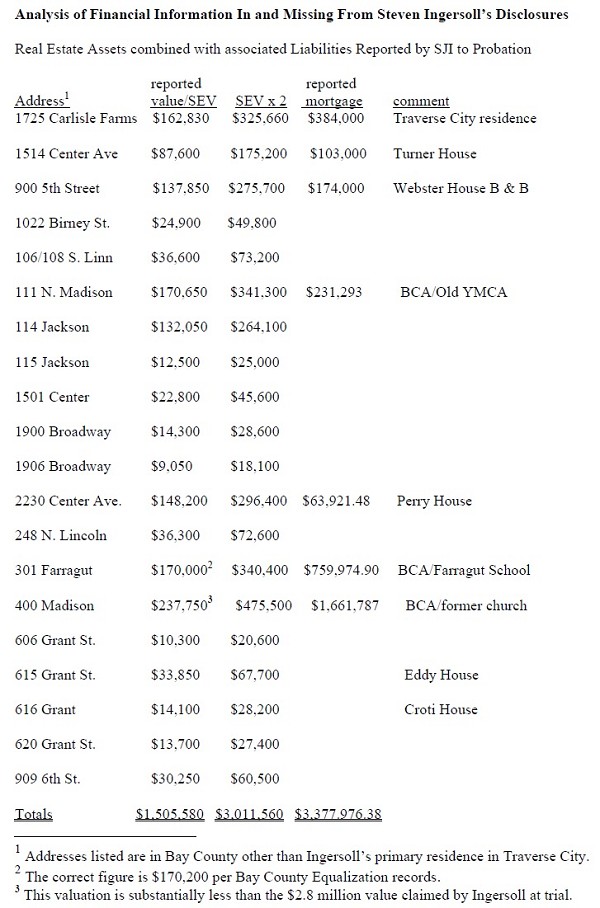 Government's list of Ingersoll properties in Bay City.
---
PROSECUTORS BORE IN: Steve Ingersoll Still Under the Federal Microscope
Sentencing Held Up While Feds Dig Into Properties Here and in Florida
September 24, 2015 Leave a Comment
By: Dave Rogers
Miss Fortune, aka Anita Senkowski, investigator extraordinary, has done it again.
In her blog, improbably entitled "Glistening, Quivering Underbelly," the investigator who once crossed swords with hedge fund maestroes on Wall Street, reported:
"In a supplemental brief filed yesterday (September 21, 2015), government prosecutors asserted that Steven Ingersoll 'may have interests in real property that he has not reported to his probation officer and the court. It appears that some of those properties may be in Bay County, Michigan.' (Ingersoll is facing a September 24 presentence motion hearing.)
"But here's the shocker: At least one real property interest in Boca Raton, Florida appears to be unreported by Ingersoll.
"The supplemental brief was filed yesterday in support of motion for order requiring Ingersoll to provide complete and accurate financial information for his presentence report. On June 19, 2015, the government filed a motion asking the court to require Steven Ingersoll to provide complete and accurate financial information for inclusion in his presentence report. That information is to be used by the court in fashioning the financial component of Ingersoll's sentences."
"In its brief, the government stated 'Ingersoll apparently has not given any information regarding the value of his many business concerns, including but hardly limited to his interests in Smart Schools Incorporated (SSI), Smart Schools Management (SSM), Smart Schools Bay City (SSBC), his 'bed and breakfast' operations (other than the real property values of those enterprises), his intellectual property, his optometric practice, and a long list of limited liability corporations or LLCs.'
"The prosecution has asked Judge Thomas L. Ludington to order Steven Ingersoll to provide complete and accurate financial information to his probation officer, including his assets, liabilities, and current household income and expenses.
"The government has ask that the order provide for sanctions, including but not limited to a revocation of Ingersoll's bond, if Ingersoll fails to fully comply with the order by the date specified by the court."
###
---
---

Dave Rogers




Dave Rogers is a former editorial writer for the Bay City Times and a widely read,
respected journalist/writer in and around Bay City.
(Contact Dave Via Email at carraroe@aol.com)

More from Dave Rogers
---
Send This Story to a Friend!
Letter to the editor
Link to this Story
Printer-Friendly Story View
---
--- Advertisments ---