STEM Group Presents Program to Rotary
October 6, 2015 Leave a Comment
By: Stephen Kent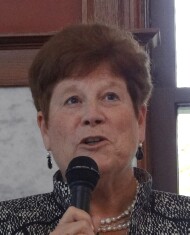 Carolyn Wierda
Carolyn Wierda
, director of SVSU's STEM program, and
Matt Felan
of the Great Lakes Bay Regional Alliance (GLBRA), talked to Rotary about the STEM Impact Initiative, which is a eight county effort.
STEM was one of the first programs Matt worked on when he came to the Alliance. He, Carolyn, and others initially considered a 3 county effort. That was soon expanded to 5 counties and finally to an 8 county effort.
Among the findings was that, "Nationwide, out education and workforce system is failing to keep pace with out economy." Statistics show that 60% fo first time college students need remediation. 54% of BA degree holders under 25 are jobless and/or underemployed. Yet there is a backlog of unfilled STEM positions, which typically pay a premium over non-STEM jobs.
STEM is defined as jobs in the "Science, Technology, Engineering, and Math" related areas. Locally the group is trying to better define that term by showing that many other jobs are STEM related because they require math, computer skills, and creative thinking.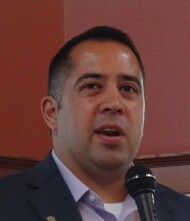 Matt Felan
To answer the needs, the GLBRA Educational Council in 2015 expanded its membership to include more business and education leaders and identified STEM as a priority. They have commissioned a STEM study and recently presented the results and made recommendations aimed at ways to impact the "STEM Talent Pipeline".
The STEM definition for the Great Lakes Bay region is occupation driven. The occupation classifications are
Analysts/Accounting, Engineering/Skilled Trade, Healthcare, Information Technology, and Sciences
. The GLBR employees STEM talent at a higher rate than the rest of the country. Restating the guiding points "The GLBR requires an effective STEM pipeline if it is to retain existing jobs and attract new businesses."
Felan and Wierda offered more statistics and talked about initiatives of the group. One question was "is government getting in the way." In response, Felan said that the eight county region include a large number of influential legislators, educators, and businesses. That voice is one that State government will listen to.
---
CLUB NEWS and ANNOUNCEMENTS
Tim Holsworth
, Chair of the club's Golf Outing, presented a check for $11,000 to
Janet Greif
, new Superintendent of Bay City Schools. Thanking the club, Greif said "This is the best meeting I've been to since I came to Bay City".
Chuck Cusick
announced that his wife Nancy is going to India with the Rotary Polio immunization efforts, her fifth trip. Chuck won't be going this time, but there are openings for other Rotarians. The trip will be Feb 12 to 27. Besides immunizations, the group will do some touring and will help build a dam in village to help collect monsoon floods for watering crops later.
Matt Felan
gave an update on
Vocation Day coming November 10
. He and Trevor Keyes have been working very hard to add more spots this year.
Michigan Sugar
will take seven students for the first time.
Bay City Public Safety
has joined with seven slots. Dow Corning in Bay City should also join the program. Delta College returns this year and McLaren Bay will have 50 to 60 slots for health care.
Studio 23
is coming on board and hosting a few students. "That said, we still need more opportunities. Rotarian efforts are incredibly important." The committee hopes to have all slots assigned in the next few weeks.
The club had it first evening social gathering, called "
Rotary Night Out At the Brewery
", last week. Thanks to
Andrea Hales
for putting that together. It was very successful. The next gathering will be in a few months at the "Governor's Quarters" in Arbeitor Hall.
Andrea Hales
gave a final announcement for the "
Running Dead Zombie Race".
That race, held on October 10 at the Bay Aera Public Golf Course, has already happened as of this newsletter. It was a great success and the club owes thanks to all the organizers and sponsors!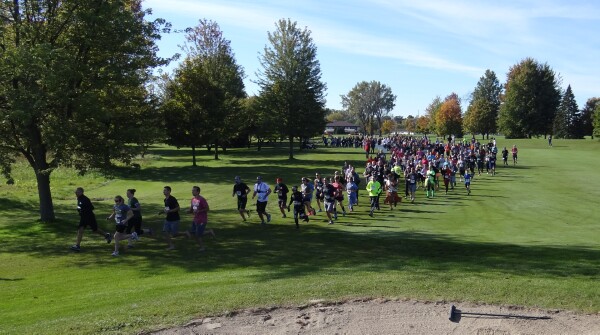 Running Dead 5k Start
Thanks to
Maier & Associates
for their major sponsorship of the Running Dead race.
The Club will
MEET OFF-SITE
at the Depot on October 6 and 27. The ad hoc meeting location committee is in the process of
reviewing our current meeting location
. This occasional review was suggested the last time the club moved. If you have comments or suggestions, please contact Brenda Scramlin.
Members are encouraged to bring correct change for lunches and 50/50 tickets. Please don't expect the ticket table staff to make change for a $100 bill.
The current and past
DISTRICT DISPATCH
newsletters are available in the LINKS section below.
---
DATES TO REMEMBER
October 27, 2015:
OFF-SITE Meeting
at the Pere Marquette Depot
November 10, 2015:
Vocational Day
---
Upcoming Programs
(See the official schedule at RotaryBayCity.org )
October 13, 2015: Polio Update
presented by Chuck Cusick
November 2, 2015: Hospice 101
November is National Hospice and Palliative Care Month. Bonnie Marsh will talk about hospice care and palliative care - how they differ from and complement one another.
---
Current and past
DISTRICT DISPATCH
newsletters are available on the District site shown in the LINKS section below.


Rotary Bay City on Facebook!
Click on the Blue Facebook to visit us there.

Remember! Check attendance sheets at the front desk.
---
LINKS
---
---

Stephen Kent




Steve Kent and his family have lived in Bay City for 40 years. He is VP of Technical Services at MMCC which produces MyBayCity.Com. Kent is active in many Bay City civic organizations.

More from Stephen Kent
---
Send This Story to a Friend!
Letter to the editor
Link to this Story
Printer-Friendly Story View
---
--- Advertisments ---