Congressman Dan Kildee Speaks to Rotary Vocational Day Guests
Over 125 Students Participage In Annual Job Shadowing Event.
November 10, 2015 Leave a Comment
By: Stephen Kent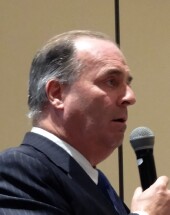 Congressman Dan Kildee
Congressman Dan Kildee
(MI-05) was Rotary's guest speaker for the annual Vocational Day program. Well over a hundred students were in attendance to hear the Congressman speak. These students had spent the morning, or were to spend the afternoon, job shadowing with local businesses.
Prior to hearing from the Congressman, school counselors, principals and other officials were introduced. These people each selected one student to stand and tell about their experiences for the day. Perhaps the most unusual one was the student who sat in on an autopsy. "I almost fainted" was the key comment.
Kildee spoke of his schooling and early career plans. The Congressman started in politics at a young age being elected to the school board at age 18. "If you could only have seen me... I had hair down to about here [and] I had a big beard." His college studies were in social work and for about eight years he was, in fact, a social worker. "That was the chosen path I decided to follow at a younger age."
Political work was not Kildee's plan. But that's where he ended up. He was a County Commissioner, county treasurer, and now he's been in the US Congress for three years. "You might think I didn't do a really good job of preparing myself. Nothing could be farther from the truth."
Kildee went on to say that at this point in the lives of the students, it's not so important to decide the eventual path your career will take. When a student thinks of his or her education, whether college, trades or whatever, it's important to not think that you're being tied down.
"What I learned is that a career is not so much the application of specific skills, rather was developing the habit of re-educating myself, to seek information and knowledge, and to integrate that into my daily life."
Kildee went on to take questions. He opened by quipping "So, I'm a member of Congress, so that means I am officially part of the problem." He then addressed actions of congress, his thoughts on the funding of college education and several other questions.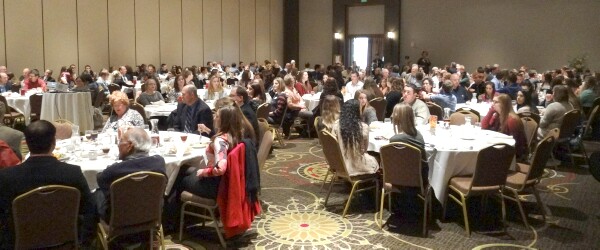 Vocational Day students are Rotary's guests for lunch
---
CLUB NEWS and ANNOUNCEMENTS
The Board Meeting has been moved
from the second Tuesday (Nov 10) to next Tuesday (Nov 17) due to Vocation Day.
The district Rotary Gala is coming up on Nov 20 in Frankenmuth. For tickets and information contact Bob Chadwick. We hope to fill two tables.
Nov 24 will be the club's annual Homecoming day. The Rotary Outstanding Service and Excellence (ROSE) award will be presented. Wear your school colors and bring a guest!
Andrea needs a second host family for the Spring school session. She also says that the exchange for next year is being scheduled now and she needs a first host family on file so they can get busy on obtaining a passport.
The current and past
DISTRICT DISPATCH
newsletters are available in the LINKS section below.
---
DATES TO REMEMBER
Board Meeting
- November 17 - 11:00 am before regular meeting - Everyone invited.
November 20, 2015:
Rotary Gala in Frankenmuth
- Make reservations with Bob Chadwick.
November 24, 2015:
Rotary Homecoming
- Hosted by Rob Clark. Wear your school colors. Rotary Outstanding Service and Excellence (ROSE) award will be presented.
---
Upcoming Programs
(See the official schedule at RotaryBayCity.org )
November 17, 2015: Bay Arenac Community High School
presented by Superintendent Erin Sullivan. The presentation will highlight students, faculty and staff and their efforts to lead the State of Michigan as the only High School to obtain 'Great Expectations' status.
BOARD MEETS AT 11:00 - one week later than usual.
November 24, 2015: Rotary Homecoming
Hosted by Rob Clark. Wear your school colors. Rotary Outstanding Service and Excellence (ROSE) award will be presented.
December 1, 2015: MSU College of Veterinary Medicine
presented by J. Marie Seddon.
December 8, 2015: Special Olympics Area 9 - Bay & Arenac Counties
presented by Barb Gourd, Director of Area 9. Barb is going to give the Club an update about Special Olympics programs and competitions in Bay and Arenac counties. Barb also wants to highlight a new event in downtown Bay City, the 2016 Polar Plunge being held at Wenona Park.
December 15, 2015: A Place for Grace and the Autism Center
presented by Jenny Dumont.
---
Current and past
DISTRICT DISPATCH
newsletters are available on the District site shown in the LINKS section below.


Rotary Bay City on Facebook!
Click on the Blue Facebook to visit us there.

Remember! Check attendance sheets at the front desk.
---
LINKS
---
---

Stephen Kent




Steve Kent and his family have lived in Bay City for 40 years. He is VP of Technical Services at MMCC which produces MyBayCity.Com. Kent is active in many Bay City civic organizations.

More from Stephen Kent
---
Send This Story to a Friend!
Letter to the editor
Link to this Story
Printer-Friendly Story View
---
--- Advertisments ---