Forecast for Bay, Lake Ice: Wavy, Soft, Squishy; Year-Round Shipping Eyed
New Coast Guard Cutter Mackinaw Crashes Into Breakwall, Captain Fired
January 20, 2006 Leave a Comment
By: Dave Rogers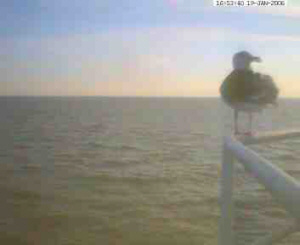 Lonely gull stands watch over open water in Lake Erie at Toledo harbor in this webcam shot taken recently.
Q: What do ice breaking ships do when there's almost no ice?
A: Same as ice fishermen and snowmobilers; they sit in port waiting for ice to form. It's kind of like watching paint dry.
Cheboygan is where two ships, the old 290 foot Coast Guard Cutter Mackinaw and the new 240 foot Cutter Mackinaw, have been languishing at the dock for about the past month. Two other Coast Guard cutters, the Katmai Bay sits at the Soo and the Biscayne Bay in St. Ignace.
There's no ice at allon Lake Huron and only a wavy mess of deteriorating and dangerous mush on Saginaw Bay, according to reports by Lt. (jg) Gerall Lawrence at the Coast Guard 9th District headquarters in Cleveland. (For up to date government ice reports access http://coastwatch.glerl.noaa.gov/modis/region_map.html)
The old Mackinaw may find that going out in a blaze of glory in its final season is an empty dream because there's very little ice to break. And the forecast for ice is uncertain.
The lack of ice has awakened calls for year-round shipping on the Great Lakes even though the Soo Locks, Welland Canal and the St. Lawrence Seaway may be closed as normal. Basic commodities could move between lakes ports without using the locks and canals, observers pointed out. This year the Seaway closed Dec. 29 and the Soo Locks shut down last weekend.
Meanwhile the new Mackinaw's career has started off with a bang that led to a new skipper.
The new Mackinaw had a "fender bender" Dec. 15 against a breakwall in Grand Haven, apparently because of crew difficulty using a new "propulsion" steering device that replaces the old wheel.
The collision did only minor damage to the Mackinaw but an estimated $1 million to the Grand Haven breakwall, authorities reported.
As a result of the accident, Capt. Donald Triner was relieved from command of the new Mackinaw by Rear Adm. Robert Papp of the Ninth Coast Guard District, headquartered in Cleveland. Adm. Papp then recommended that Triner be permanently relieved of command.
A Coast Guard news release Jan. 12 says Adm. Papp "made the decision to recommend permanent relief, citing loss of confidence in Triner's ability to command. He reached this conclusion after reviewing investigations concerning the collision and subsequent reports of inappropriate use of alcohol by Triner and some members of his crew at an event in Cheboygan on Dec. 17.
"After reviewing both investigfations, I have concluded that Capt.Triner gave insufficient attention to navigation and ship-haldling training during the ship's shakedown cruise, thus contributing to the collision in Grand Haven," said Papp. "With respect to the event in Cheboygan, Capt. Triner has exhibited personal behavior and conduct inconsistent with service norms and expectations for the commanding officer of a Coast Guard cutter."
Triner is temporarily assigned to Sector Lake Michigan in Milwaukee. Capt. Michael Hudson is now in command of the cutter, a position he assumed following Triner's temporary relief.
The commanders of the two Mackinaws and other Coast Guard cutters Katmai Bay and Biscayne Bay have no sailing orders but the skippers are planning for ice they feel eventually will form. Crews are undergoing maintenance and ship handling drills wile awaiting ice.
The new Mackinaw will be undergoing training and testing with lake ice if, or as soon as, it develops, according to Coast Guard sources.
Ice is expected first in the St. Marys River where the Soo Locks connect lakes Huron and Superior at Sault Ste. Marie, Michigan. The locks closed on schedule last weekend even though they could have remained open because of the lack of ice.
Unless the weather changes and ice forms, the reopening of the Seaway in March could be something of a non-event.
Meanwhile, as of last week, ships were still moving on the lakes, bay and river, apparently breaking whatever weak ice there is by themselves.
Last Sunday Todd Shorkey reported to boatnerd.com that the tug Barbara Andrie and tank barge called in the Saginaw River at the Bit-Mat dock, unloaded, and headed back out Monday night.
Shorkey is one of a team of shipping enthusiasts who report and photograph shipping activity from around the Great Lakes and post results on the website boatnerd.com. The marine communication network is a non-profit venture and donations may be posted at the site.
Meanwhile, Coast Guard officialscaution ice fishermen and snowmobilers to be extremely cautious about any venture offshore.
Little more than shore ice prevails as mild winter weather continues, Lt. Eric Hoernemann, captain of the icebreaking tug Katmai Bay, based in Sault Ste. Marie, told the Sault Evening News.
Many or most inland lakes likely offer safer ice than the big water but, even there, hidden springs and creek beds can make even fast ice dangerous.
The Coast Guard suggests several common sense precautions for anyone planning to use the ice for recreation even when ice is fast and many inches or feet thick in places. They include:
- Know the weather and ice conditions before going out. Know how to call for help if you should need itand never go out alone. Be sure someone ashore knows where you are going and when you expect to return.
- Dress in clothing warm enough to prevent hypothermia. Generally, several layers are better than a heavier, single-thickness garment.
- Carry appropriate safety gear for a day on the ice. That includes two ice picks, screwdrivers or even barn spikes for pulling yourself out of the drink in case you go through. A spike of some sort is much more effective for pulling yourself out than bare hands on slippery, wet ice.
The hand spikes should be carried close at hand for ready access in case you go through the ice.
- Carry a whistle or other noisemaker to alert people nearby to your distress.
A cellular phone or marine band radio in a waterproof case may also be a good idea for calling in help in case of emergency.
If, despite all your precautions, you go through the ice, here are some tips for improving survival chances:
- Devoteall effort toward climbing back out of the water. Act quickly before the cold deprives you of full use of hands.
- Don't remove clothing. Instead, buckle, zip up or button collars, cuffs, shoes and hoods. If possible, cover your head. In cold water as much as half a body's heat loss comes from the head.
- Do not try to swim unless it is to a nearby boat or ice shelf for climbing out. Swimming releases warm water trapped in clothing layers and sends body heat to extremities; it can cut survival time by as much as half.
- Even if it is painful, remain as still as possible in the water to retain as much core body heat as possible. Intense shivering and severe pain in cold water are natural body reflexes. These will not kill;severe core heat loss or hypothermia can.###
---
---

Dave Rogers




Dave Rogers is a former editorial writer for the Bay City Times and a widely read,
respected journalist/writer in and around Bay City.
(Contact Dave Via Email at carraroe@aol.com)

More from Dave Rogers
---
Send This Story to a Friend!
Letter to the editor
Link to this Story
Printer-Friendly Story View
---
--- Advertisments ---