Alternative High School Topic Of Rotary Talk
November 17, 2015 Leave a Comment
By: Stephen Kent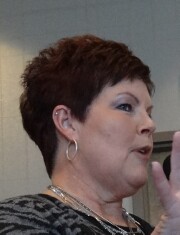 Erin Sullivan
Superintendent Erin Sullivan
, spoke to Rotary to offer an overview of the Bay-Arenac Community High School, sometimes knows as the "Alternative High School".
Started thirty years ago, the school was an effort of two teachers to reach out to students who, for one reason or another, did not fit into the traditional high school. Today they educate about 200 at risk students and graduate around 30 students each year. "So that's 30 kids each year for 30 years who would not have gotten a diploma, who would not have gotten the opportunity to go on to maybe higher education and/or be employable. So that's a big deal and we really take that seriously."
The school was started by Shelly Kennedy and Gary Liner, who were teaching at the juvenile home in 1985. Seeing kids get cycled through the juvenile home, they decided there had to be an alternative. They started a school in the old St. Stans school with one room, two teachers and 20 kids.
The school came to be called the Alternative High School and quickly grew. With more students they moved to the old St. John school in Essexville where they ran for 26 years. By 2011 there were about 150 kids.
At risk students are referred to the Alternative High school and there is a waiting list. The school can take about 200 students now. Were they to take more it might change the "community" feel of the school, where teachers know the kids and take a personal interest in their success.
"We do things very differently. We are considered an innovative program by the State of Michigan." That designation makes it possible to have a couple of waivers from the state. One is an "hours of the day" wavier that allows a flexible schedule. Monday to Thursday follows a normal 8 to 3 schedule. Friday is an enrichment day that takes a different approach with speakers, labs, field trips, etc.
Sullivan continue with other examples than ran a video, made by students, which featured a number of the students who expressed what the school means to them. That video illustrated well the impact the school has on students who might otherwise fall through the cracks.
For more information visit
www.bachs.us
---
CLUB NEWS and ANNOUNCEMENTS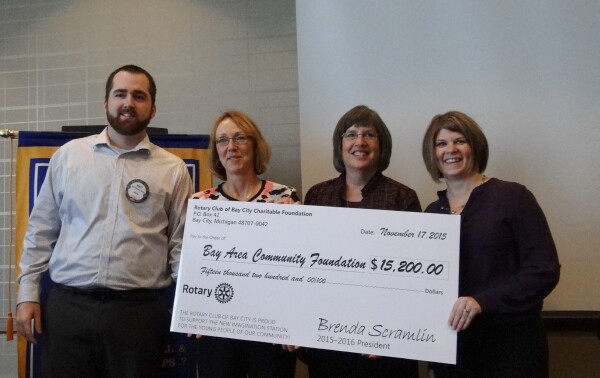 Rotary presents check to the Imagination Station Committee
A highlight of the day was the presentation of a check for $15,200 to the Bay Area Community Foundation to be used for the Imagination Station rebuild project. This check represents proceeds of the recent Zombie Run and it completes a match which will bring in an additional $15,000. The committee received the check and Rotarian Matt VanNortwick thanked the club for the contribution. The final decision on a location will be made soon.
The monthly
Board Meeting
was held before today's meeting. It had been moved from the normal second Tuesday to accomodate Vocation Day held on the 10th.
The board voted to extend the Doubletree contract for an additional 6 month term. A committee has been formed to evaluate the meeting place. If you have comments, please see Brenda.
A short report was given for Vocational Day held last week. Thanks to Matt Felan and Trevor Keyes for all their hard work putting it together.
If you have signed up to deliver dictionaries and thesauruses, please do that. There only a few left to go.
Brenda announced that we are working on a facelift for the club web site. If you have ideas, please tell Brenda or Steve Kent.
Brenda noted that the recent appeal for bottled water for the Flint schools netted $250 from the club plus another $250 from her work place for a total contribution of $500.
Nov 24 will be the club's annual Homecoming day. Rob Clark reminded the club that the Rotary Outstanding Service and Excellence (ROSE) award will be presented that day. The program will be an interview format with several local polio patients from the last epidemic who were featured in the series printed in a recent Bay City Times article. You are reminded to bring a guest and to wear your school colors!

Andrea still needs a second family to host our exchange student for the Spring school session. She also says that the exchange for next year is being scheduled now and she needs a first host family on file so they can get busy on obtaining a passport.

The current and past DISTRICT DISPATCH newsletters are available in the LINKS section below.


---
DATES TO REMEMBER


November 24, 2015: Rotary Homecoming - Hosted by Rob Clark. Wear your school colors. Rotary Outstanding Service and Excellence (ROSE) award will be presented.

January 5, 2015: Off Site meeting at the Pere Marquette depot.


---
Upcoming Programs
(See the official schedule at RotaryBayCity.org )


November 17, 2015: Bay Arenac Community High School presented by Superintendent Erin Sullivan. The presentation will highlight students, faculty and staff and their efforts to lead the State of Michigan as the only High School to obtain 'Great Expectations' status.
BOARD MEETS AT 11:00 - one week later than usual.

November 24, 2015: Rotary Homecoming Hosted by Rob Clark. Wear your school colors. Rotary Outstanding Service and Excellence (ROSE) award will be presented.

December 1, 2015: MSU College of Veterinary Medicine presented by J. Marie Seddon.

December 8, 2015: Special Olympics Area 9 - Bay & Arenac Counties presented by Barb Gourd, Director of Area 9. Barb is going to give the Club an update about Special Olympics programs and competitions in Bay and Arenac counties. Barb also wants to highlight a new event in downtown Bay City, the 2016 Polar Plunge being held at Wenona Park.

December 15, 2015: A Place for Grace and the Autism Center presented by Jenny Dumont.

January 5, 2016: Off site meeting at the Pere Marquette Deopt.



Rotary
is an intimate affiliation of carefully selected business and professional people,
having as its objective the promotion of high ethical standards in private, commercial
and civic life, and dedicated to the ideal that the basis of all worthy endeavor is unselfish service.
---

Current and past DISTRICT DISPATCH newsletters are available on the District site shown in the LINKS section below.




Rotary Bay City on Facebook!
Click on the Blue Facebook to visit us there.

Remember! Check attendance sheets at the front desk.
---
LINKS
---
---

Stephen Kent




Steve Kent and his family have lived in Bay City for 40 years. He is VP of Technical Services at MMCC which produces MyBayCity.Com. Kent is active in many Bay City civic organizations.

More from Stephen Kent
---
Send This Story to a Friend!
Letter to the editor
Link to this Story
Printer-Friendly Story View
---
--- Advertisments ---