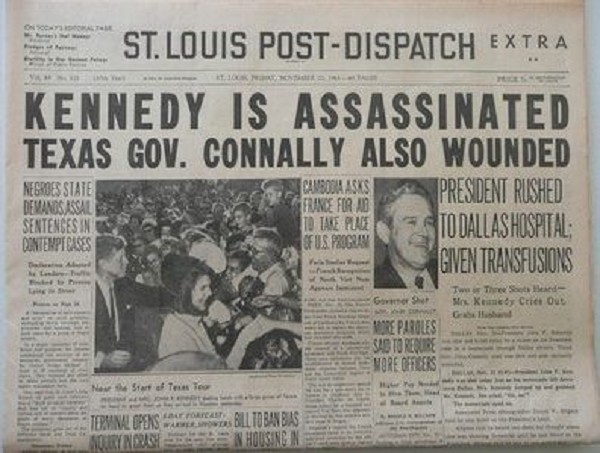 Were we really duped by the so-called Military/Industrial Complex that Ike warned us about?
---
WAIT FOR IT...CIA Now Admits JFK Killing Coverup, Details in 2017
November 22, 2015 Leave a Comment
By: Dave Rogers
November 23 is the day everybody recalls the assassination of President John F. Kennedy 52 years ago.
The latest supermarket tabloid headline that screamed at me while at Meijer Sunday night was "Nixon Had Kennedy Killed!." Never heard that one before, or about the involvement of former President George H.W. Bush when he was a CIA operative.
There is an emerging consensus among some writers that JFK was killed because he had begun the withdrawal of troops from Vietnam, and was going to end all U.S. involvement in foreign wars -- a theory of vital concern to all military veterans from Vietnam and one which should interest all citizens.
Were we really duped by the so-called Military/Industrial Complex that Ike warned us about?
And have we been sold a bill of goods continually for half a century about the dangers of invasion?
Have we expended lives and trillions of dollars at the behest of profiteering war mongers manipulating Congress and the executive branch leaders, Nixon, Johnson, Bush I, Clinton, Bush II, perhaps even Obama?
I remember, as a 29-year-old sergeant in the Army Reserve here, having to lecture young soldiers heading to Vietnam in the mid 1960s about the "domino theory," stating that once the Communists took Vietnam then Cambodia and Laos would fall and eventually this would threaten our country.
So did I unwittingly become a pawn for the Military/Industrial Complex? -- it seems that was so. At least if all the theories are borne out when the CIA documents are released.
Conspiracy theories continue to fly across all media but recently the National Archives has announced all the previously undisclosed CIA documents about the JFK murder will be released in October 2017.
The CIA historian David Robarge now concedes the CIA really isn't sure that Lee Harvey Oswald killed JFK. Just that that was the "best truth" they could find at the time.
An excellent summary of one of the most convoluted cases is given by a website you can access at: http://jfkfacts.org/assassination/cia-our-jfk-story-is-no-longer-operative/
"With some artful spin, the Agency spokesmen are now conceding an important point first made by CIA critics:
*that the Warren Commission report about the assassination of JFK is fundamentally inaccurate because of CIA misconduct.
"Robarge's declassified history, reported by Politico, claims the official inquiry still managed to locate the one and only guy responsible for the ambush of the presidential motorcade on November 22, 1963. But Robarge acknowledges the Commission's understanding of key issues was blinded by the actions of certain high-ranking CIA officials.
"In Washington-speak, the U.S. government and the CIA are acknowledging something important that the JFK research community has been saying for a long time: The U.S. government in 2015 cannot say with much confidence who killed JFK in 1963 because the agency withheld key information: about plots to kill Castro and what certain top officers learned about Oswald six weeks before JFK was killed.
"And a spokesman for the CIA, the agency's own historian, is willing to say this publicly.
"During the Watergate scandal, factual disclosures forced the Nixon White House to walk back a long line of White House statements denouncing the Washington Post. Previous statements, said spokesman Ron Zeigler, were 'no longer operative.' I think we are inching closer to the moment when the CIA acknowledges that its previous statements on JFK are no longer operative."
In any case, the agency's evolving position on the JFK conspiracy question is evolving into national news story as we draw closer to October 2017.
Source: CIA: There Was a JFK Assassination Cover-Up | Maxim
---
---

Dave Rogers




Dave Rogers is a former editorial writer for the Bay City Times and a widely read,
respected journalist/writer in and around Bay City.
(Contact Dave Via Email at carraroe@aol.com)

More from Dave Rogers
---
Send This Story to a Friend!
Letter to the editor
Link to this Story
Printer-Friendly Story View
---
--- Advertisments ---