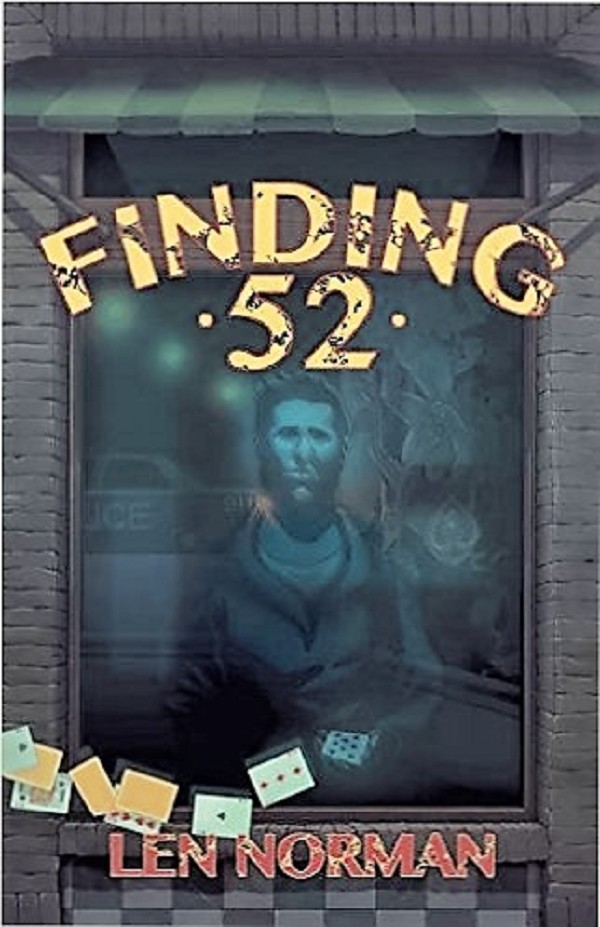 The theme of the book, if you can call it that, is "don't be surprised at anything you encounter on life's pathway.
---
HORROR UNLEASHED: Local Author Goes Stephen King One Better
Ex-Policeman Len Norman Scores With "Finding 52"
November 28, 2015 Leave a Comment
By: Dave Rogers
The world of literature has never seen anything like Stephen King, the horror writer whose books have sold 350 million copies.
At least, that is, until Bay City's Leonard Norman came along.
Norman's protagonist (albeit an evil one) Harley Ames, kills mindlessly throughout the startlingly realistic 270 pages of "Finding 52," casually but strategically dropping a different playing card at each murder scene until the deck is depleted.
The theme of the book, if you can call it that, is "don't be surprised at anything you encounter on life's pathway," the viewpoint policemen eventually come to after long careers.
No doubt Harley Ameses' activities are fantasies, horrific fantasies to be sure, but events that certainly could have happened gathered in an unending skein in one horror book.
After a long career as a Bay City policeman, Norman headed up Bay County 9-1-1 and after retirement finally got a chance to put down his recollections of working at the edges of society, the fringes of morality and civility where respect and decency are unknown. If you read the book you will see the seamy side of the lives of the characters police officers encounter. Obviously, the experience causes one to be jaded and unsurprised by anything, that will quickly become clear when turning the pages of "Finding 52."
Bay Cityans will relate to Riverside and the Franklin River, thinly disguised pseudonyms for Bay City and the Saginaw River. You may even be able to pick out the styles and characters of some of Bay City's most colorful policemen of four decades ago. "Their only allegiance was to each other," Norman describes "the Regulators--the Unholy Ones."
"The oldtimers feared only one thing and that was change," he portrays the passing of an era in law enforcement that was marked by nearly all male officers and union representation that gave them virtually unchallenged autonomy.
The mad serial killer Harley Ames is no doubt a literary figmented composite of John Norman Collins, Ted Bundy, Charles Manson -- with Jack the Ripper thrown in for good measure.
Historical occurrences are matched up with Harley's gruesome, macabre doings. The Vietnam War, Jimmy Hoffa's disappearance, the Kennedy-Nixon debates and a myriad of familiar events and celebrities parade through the book, recalling their own unbelievable foibles.
Will you enjoy "Finding 52"? available on Amazon $12.99? I can't guarantee that, unless you are a Stephen King kind of person who revels in the occult life of criminals and maniacs. But rest assured, if you can slog through the blood and gore of this book, no matter what your state of mind, you will be amused and enlightened about the world police officers must deal with.
###
---
---

Dave Rogers




Dave Rogers is a former editorial writer for the Bay City Times and a widely read,
respected journalist/writer in and around Bay City.
(Contact Dave Via Email at carraroe@aol.com)

More from Dave Rogers
---
Send This Story to a Friend!
Letter to the editor
Link to this Story
Printer-Friendly Story View
---
--- Advertisments ---