2002 FireArm Season Comes To A Close
Winter Outdoor Sportsmen Favorites
December 4, 2002 Leave a Comment
By: MyBayCity Staff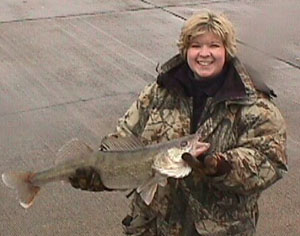 One Year Ago This Week - From The Shiawassee River - What An Eye!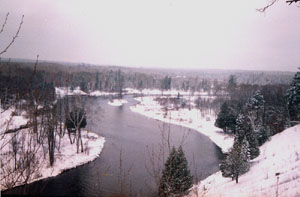 One of the many rivers in the area to enjoy Winter Fishing
Well, another Rifle season has come and gone. For those of you who had a successful year, CONGRATULATIONS! For those of you who came back empty handed. . . there's always a few more weeks left of bow season.
The weather didn't quite cooperate the second week of deer camp unless you went to fly a kite. Mother Nature was blowing hard enough to spook everything in the woods, including the squirrels.
From what I hear, the last week of rifle season was a bit slow. We were fortunate enough to have snow on the last day of the season but. . . a tad bit too late for me.
Speaking of Mother Nature. . . she's definitely wrapped us in her blanket of winter early this year! I'm sure most of you have noticed the river isn't full of the familiar Walleye fisherman that usually congregate into the river at this time of year.
In fact, the Walleye tournament had to be cancelled last weekend due to the fact the river was iced over. But, don't let the early ice fool you. . . IT'S NOT SAFE YET! There was a ship in the river on Tuesday (December 3) and there is still open water near the bridges.
If you are going to try pokin' a hole in the ice, use common sense. ALWAYS take a buddy, a personal floatation device and a rope. If you are going to try it alone, please let someone know where and when you are going.
If you are a Winter Sportsman you are aware of the great hunting opportunities that Bay County has to offer! The late pheasant hunting season and the ruffed grouseseason reopened on December 1st. The pheasant season stays open until December 15th in seleceted areas of southern Michigan - check out the DNR's site at http://www.michigan.gov/dnr.
Bunny Season is open through March 31st, 2003!!! I know I'm looking forward to a little hausenfeffer stew! Bunny hunting is always a ton of fun and is certainly challenging. It's much easier if you are accompanied by a good beagle but, if you've got a hunting buddy that can run fast, that works too! You just need to take caution when you take that shot!
On a side note: I heard a couple of bear hunting reports from around the area. There were 2 sows taken out of Oscoda County, one was 350 lbs and the other 450 lbs. Another one was taken in Iosco County thatweighed in at 250 lbs. Yes, there are bear to be found not to far North on 23. I've been lucky enough to see a few in the last few years but never while hunting.
Remember, if you have any great hunting stories, which I'm sure you do, please
email them to me
and you will be mentioned and your picture posted on MyBayCity.com.
---
---
---
Send This Story to a Friend!
Letter to the editor
Link to this Story
Printer-Friendly Story View
---
--- Advertisments ---