Rotary Celebrates Homecoming
Faces of Polio - Survivors from the 50's Interviewed
November 24, 2015 Leave a Comment
By: Stephen Kent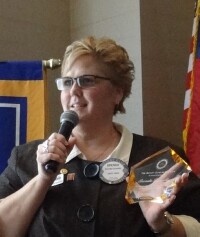 Brenda Scramlin
The Rotary Club of Bay City celebrated its annual
Homecoming Day
on Tuesday the 24th. The annual event sees members wearing their school colors, bringing guests, and enjoying a special program.
Homecoming is also the occasion for the presentation of the
Rotary Outstanding Service and Excellence (ROSE)
award. Each year the club honors one Rotarian who has shown the spirit of Rotary in their life and their service to the community and the club. This year's ROSE went to current
Club President Brenda Scramlin
. Since joining the club, Brenda has shown all of those qualities that make her the type of member that deserves the ROSE and the recognition of the club.
For many years, the
Rotary Foundation
, and other organizations, has focused on the eradication of
Polio
from the world. After many years and many millions of dollars, that goal has almost been achieved with only a few middle-eastern countries sill seeing cases of the once dread disease.
Around the time of World Polio Day this year,
Rob Clark
in his role as editor of the Bay City Times, wrote a series of articles focusing on the lives of Bay County residents who survived Polio in the last wave before the Salk and Sabine vaccines became a standard in the US. For this special day, Rob invited three of the survivors to come to Rotary and share their stories.
Polio durvivors
Steven Matich, Anne Barnard, and Jim Kozubal
joined Rob for an interview style program. After an introduction and short slide show by Rob, he sat with the three guests and ask questions about their experience. The answers were both moving and inspirational.
Many members of the club are of an age where they remember the fear and emotion of parents before the 60's. Polio was a terrible disease that struck in awful ways. Young patients might end up in an iron lung, or hospitalized for many months. Some underwent extreme treatments and surgery's. Many survived, but many didn't. Some survivors were crippled for life.
Today the disease is almost unheard of in the US. Younger Rotarians do not relate to the emotions that older members remember. There are few signs of the disease now, although post-polio syndrome does affect some survivors even now.
Common to all three of the panel members was the tremendous impact the disease had when they were youngsters and the way all have adjusted in their lives today. No pity was asked or expected. In each case, Polio was a thing of their past.
Today the efforts of Rotary and other organization have almost won the battle. The donations of time and money by Rotary members is our way of wiping out this scourge forever.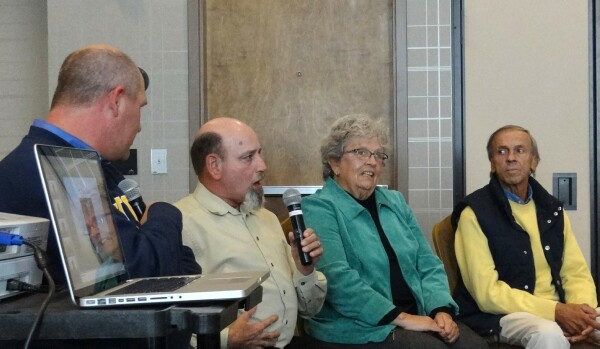 Polio Survivors Steven Matich, Anne Barnard, Jim Kozubal
---
CLUB NEWS and ANNOUNCEMENTS
The club welcomes new member
Charlie Englehardt
who was inducted today by Andreas Teich.
Andrea Hales
announced that the next "
Rotary Night Out At The Brewery
" will be held January 14, 2016 at the Governor's Quarters, 1304 S. Wenona Street. Jeff Yantz will be the featured entertainment that evening. Food and drinks of all types will be avalible for purchase. This is a time to relax and kick up your heels and get to know fellow Rotarians in a very relaxed setting.
The club will
meet off-site
at the Depot on January 5.
Andrea still needs a second family to host our exchange student for the Spring school session. She also says that the exchange for next year is being scheduled now and she needs a first host family on file so they can get busy on obtaining a passport.
The current and past
DISTRICT DISPATCH
newsletters are available in the LINKS section below.
---
DATES TO REMEMBER
November 24, 2015:
Rotary Homecoming
- Hosted by Rob Clark. Wear your school colors. Rotary Outstanding Service and Excellence (ROSE) award will be presented.
January 5, 2016:
Off Site meeting
at the Pere Marquette depot.
January 14, 2016:
Rotary Night Out at the Brewery
.
6:00 pm to 9:00 pm
Governor's Quarters
1304 S. Wenonoa St.
(989) 893-6111
---
Upcoming Programs
(See the official schedule at RotaryBayCity.org )
December 1, 2015: MSU College of Veterinary Medicine
presented by J. Marie Seddon.
December 8, 2015: Special Olympics Area 9 - Bay & Arenac Counties
presented by Barb Gourd, Director of Area 9. Barb is going to give the Club an update about Special Olympics programs and competitions in Bay and Arenac counties. Barb also wants to highlight a new event in downtown Bay City, the 2016 Polar Plunge being held at Wenona Park.
December 15, 2015: A Place for Grace and the Autism Center
presented by Jenny Dumont.
January 5, 2016: Off site meeting at the Pere Marquette Deopt.



Rotary
is an intimate affiliation of carefully selected business and professional people,
having as its objective the promotion of high ethical standards in private, commercial
and civic life, and dedicated to the ideal that the basis of all worthy endeavor is unselfish service.
---

Current and past DISTRICT DISPATCH newsletters are available on the District site shown in the LINKS section below.




Rotary Bay City on Facebook!
Click on the Blue Facebook to visit us there.

Remember! Check attendance sheets at the front desk.
---
LINKS
---
---

Stephen Kent




Steve Kent and his family have lived in Bay City for 40 years. He is VP of Technical Services at MMCC which produces MyBayCity.Com. Kent is active in many Bay City civic organizations.

More from Stephen Kent
---
Send This Story to a Friend!
Letter to the editor
Link to this Story
Printer-Friendly Story View
---
--- Advertisments ---