Congressman Dale Kildee Addresses Rotary Club
January 22, 2006 Leave a Comment
By: Stephen Kent
THIS WEEK:
Great Lakes shipwrecks with diver and TV producer Ric Mixter
VOCATIONAL DAYS:
Mar. 14, Mar. 21. Sign up now to host a student. See Griff Acker or Ralph Knop.
PHOTO DIRECTORY
The club will printa photo directory within the next few weeks. The print version will probably be updated annually. A computer version of the directory, in Acrobat PDF format, is available at any time to members. Send an e-mail to the secretary at
support@mmcctech.com
to request the PDF.
---
UPCOMING PROGRAMS

Jan 24Great Lakes shipwrecks with
diver and TV producer Ric Mixter


Feb 7Rotary Foundation


Feb 14Saginaw Bay Symphony Orchestra


Feb 21Tentative: SVSU


Feb 28Saginaw SpiritHockey


Mar 7Open


Mar 14Vocational Day #1


Mar 21 Vocational Day #2


Special Guest
Member Deb Lutz
and daughter Danielle

---
Congressman Dale Kildee, Michigan's 5th District, Addresses Club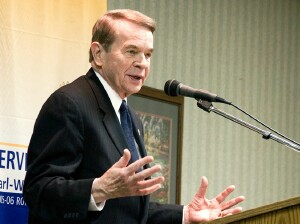 Congressman Dale Kildee was Tuesday's guest speaker. Kildee opened his remarks by saying that his exposure to Rotary began in the late 1950's when he was a Rotary Fellowship Scholar to Pakistan. Since then he has spoken to Rotary clubs in almost every country except the former Soviet Union which did not have Rotary Clubs.
The political climate in 2006 is "very discouraging", said Kildee. The recent resignation of Tom DeLay is a symptom of what's happening. The two ends of Pennsylvania Ave. are continually at odds with each other, the level of debate has reached new lows of crudeness, and with the coming election year things promise to get worse.
Kildee's started his career studying for the priesthood. Later he became a school teacher then eventually moved into public service and ran for office. Each of these professions deal with the future. The priesthood prepares people for the next life, teachers prepare youth for their adult lives. The politician looks to the future of the country. Despite the current political climate, Kildee feels that the majority of congress is made of good people who have the country's best interest at heart.
Kildee expressed concern with the attitudes toward free trade agreements. He said that the concept of free trade is fundamentally flawed. The policy is based on ideas from 1817 when developing an industry and building the factories to support it was difficult. It made sense to encourage free trade to efficiently move goods around the world. Today it is common to move entire factories anywhere in the world. In a somewhat perverse example, Kildee cited cases where the move of a factory out of the country was treated as an export to make free trade numbers look better.
---
--- Advertisements ---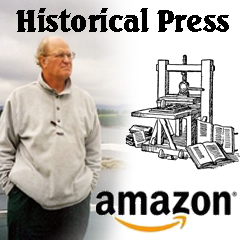 ---
Kildee's position is that the country should impose a two year moratorium on any more free trade agreements. He is a sponsor of HR 4407 which proposes to make this law. He also commented that it is unlikely to pass.
Commenting on the Iraq war, Kildee noted that he had voted against the war but once it was started he has voted to support the effort. He said that we must do that because troops are in harm's way and the country must support them.
Concerning the war, Kildee would, in good faith, ask the President:
What is the nature of the threat?


What is our mission?


How broad is international support?


What is the exit strategy?


Will our actions increase or decrease terrorism? (Kildee contends it will increase.)


Kildee responded to a number of questions from the audience including:
There seems to be a disconnect between exporting jobs overseas and the aparrent desire of people to come to this country in search of jobs.

The moving of jobs is not new. Years ago, jobs migrated from northern states to southern ones for, among other things, lower labor costs. That migration continues to occur as jobs move overseas. The current move of US jobs represents a small fraction of the workforce overseas. Most of those people make so little that they can still do better by coming to the US.


More and more citizens are being impacted by the AMT (alternative minimum tax) which is not what it was intended to do.

Kildee noted that it is in fact a problem. He said that the AMT caught him as well. The idea was good, but the implementation is flawed. Some changes are coming but will mostlybe cosmetic. The solution may be to keep the AMT but move the numbers higher.


What can be done about the ridiculous energy prices?

We must put more emphasis on growing our own energy. An alternative to the finite supply of fossil fuel is essential. Brazil is fueled mainly by alcohol. In Michigan the Caro ethanol plant is a move in that direction. Fuel cells may be the best alternative and Kettering University is doing significant research in that are. Domestic auto makers have been slow to embrace hybrids but that is changing. The situation will only get worse as China becomes a significant consumer of fossil fuel.


Reports show that the technical excellence of American students continues to decline while that of students overseas is increasing.

If the US loses it's technical edge, the country is on the downslope. Congress is largely lawyers but does include a couple of scientists as members. Recent cuts of twelve billion dollars in student aid is the wrong way to go. China is training more scientists than the US and that is not good.


Is there any way to control government spending.

The current state of things has become a bit confused. Republicans traditional aversion to spending is not as strong. Democrats, the historical spenders, are saying hold it! A lot will depend on how things shake out after Tom DeLay's replacement is chosen as speaker of the house.