Special Olympics Topic of Rotary Program
December 8, 2015 Leave a Comment
By: Stephen Kent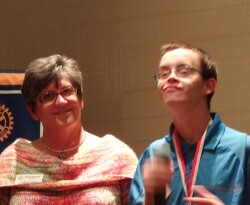 Barb and Cody
Tuesday's program was introduced by Rotarian
Matt Felan
, who's first job when he returned to Michigan was as Chief Development Officer for Special Olympics in Mt. Pleasant. Matt introduced
Barb Groud
who is the Director of Special Olympics Area 9, a post she's held for some 8 years. Rotarian
Bob Chadwick
is also a Special Olympics board member.
Barb became involved with Special Olympics when her daughter (now 34) was 12 and a neighbor invited her to play basketball on a Special Olympics team. Their involvement grew to the point that Barb is the Director.
Cody Kilpatrick
is a Special Olympian and a Global Messenger for Area 9. Barb introduced Cody who spoke about what the program means to him. When asked his favorite sport he said "I love snow shoeing because I love the snow and running through the snow. I also like going to meets."
Barb described several programs including "
Project Unify
". Not running at Bay City Central, this program integrates special students with the general student body. Barb related a story by a parent who said her son once walked down the hall and was a little bit bullied, a little bit ignored. Today he walks the hall and high fives students and participates in student activities.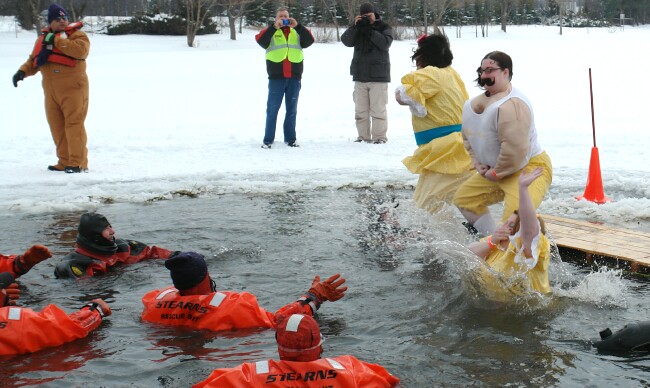 2013 Saginaw Plunge
For a number of years, Bay City and Saginaw have jointly held the annual "
Polar Plunge
" at Haithco Park in Saginaw. This year the event comes to Bay City's Family Y. An above ground pool will provide the icy water outside but the participants can then run inside for a hot shower. Brave souls are encouraged to sign up early and start designing the familiar wild outfits!
Cody wrapped up what Special Olympics stands for by repeating the athlete Oath: "Let me win, but if I can't win, let me be brave in the attempt."
For more information visit
somi.org/area9
---
CLUB NEWS and ANNOUNCEMENTS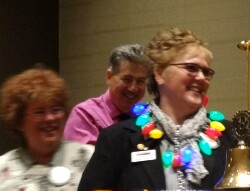 Blinking Lights!
Dee Dee Wacksman began the meeting by presenting a necklace of blinking Christmas lights to President Brenda. A festive way to enjoy a meeting!
Reporting on the morning Board meeting, Brenda noted that several members attended a recent Rotary Summit. Among the topics was the behavior of clubs, membership, and programs. Past District Governor Elieen Jennings talked about the "Every Rotarian Every Year" giving program. Her challenge was not the customary $100 per year, instead any amount helps. On that note, the "Polio Jar" was passed around to collect pocket change to change lives.
Tim Holsworth made a local Club Foundation report to the board. Uses of available funds was discussed. Members are encouraged to think about pet projects that would benefit from grants. A future meeting will address the topic.
President-elect Andrea Hales presented her slate of proposed officers and board. Trevor Keyes wrapped up the successful Vocational Day and the board gave a round of thanks to committee for their hard work.
The nomination of Brian Campbell for membership was approved. His name will be read at the next two meetings for comments.
Dues invoices have been mailed. Your prompt attention to this matter is appreciated.
Anne Trahan
will bring her camera, lights and backdrop to Rotary at
11:45 am on Jan. 12
. She'll take Rotary Directory photos at no charge. Directory pictures are free. Retouched digital photos and portraits for your own use are available for a small charge
Two special events are coming soon. On
December 22
we will hold our annual
joint holiday meeting
with the Optimist and the Morning Rotary. The Bay Brass will perform. Rob Clark and Jeff Yantz will lead members in seasonal carols.
December 29
, the Tuesday between Christmas and New Year, the club will enjoy fellowship rather than inviting a speaker. Everyone is encouraged to attend, share the meal, and enjoy the company of your fellow Rotarians.
Members are reminded that the next "
Rotary Night Out At The Brewery
" will be held January 14, 2016 at the Governor's Quarters, 1304 S. Wenona Street. Jeff Yantz will be the featured entertainment that evening. Food and drinks of all types will be available for purchase. This is a time to relax and kick up your heels and get to know fellow Rotarians in a very relaxed setting.
The club is partnering with the
Bay County Library
to collect new or gently used
HATS, GLOVES and SCARVES
. These items will be left in trees and other areas around the libraries to be freely used by homeless and those otherwise in need. Bring your items to the meeting on the 22nd!
The club will
meet off-site
at the Depot on January 5.
Andrea still needs a second family to host our exchange student for the Spring school session. She also says that the exchange for next year is being scheduled now and she needs a first host family on file so they can get busy on obtaining a passport.
The current and past
DISTRICT DISPATCH
newsletters are available in the LINKS section below.
---
DATES TO REMEMBER
December 22, 2015:
Holiday Music
- Bring new or gently used hats, scarves and gloves to give away!
December 29, 2015:
Rotary Fellowship Meeting
- Happy Holidays!
January 5, 2016:
Off Site meeting
at the Pere Marquette depot.
January 14, 2016:
Rotary Night Out at the Brewery
.
6:00 pm to 9:00 pm
Governor's Quarters
1304 S. Wenonoa St.
(989) 893-6111
---
Upcoming Programs
(See the official schedule at RotaryBayCity.org )
December 15, 2015: A Place for Grace and the Autism Center
presented by Jenny Dumont.
December 22, 2015: Holiday Music - Bring new or gently used hats, scarves and gloves to give away!

December 29, 2015: Rotary Fellowship - Happy Holidays!

January 5, 2016: Off site meeting at the Pere Marquette Deopt.

---

Current and past DISTRICT DISPATCH newsletters are available on the District site shown in the LINKS section below.




Rotary Bay City on Facebook!
Click on the Blue Facebook to visit us there.

Remember! Check attendance sheets at the front desk.
---
LINKS
---
---

Stephen Kent




Steve Kent and his family have lived in Bay City for 40 years. He is VP of Technical Services at MMCC which produces MyBayCity.Com. Kent is active in many Bay City civic organizations.

More from Stephen Kent
---
Send This Story to a Friend!
Letter to the editor
Link to this Story
Printer-Friendly Story View
---
--- Advertisments ---