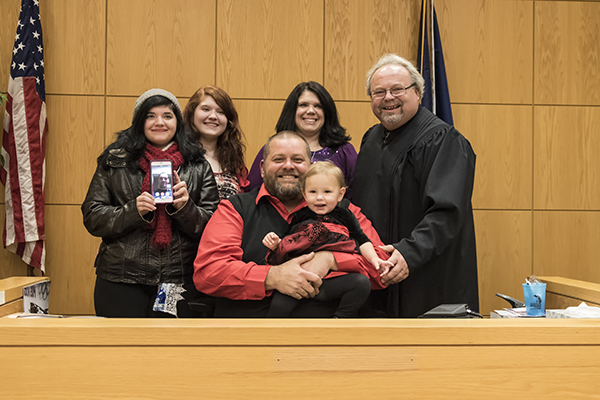 Judge Keuvelaar joins in on the new Dunn Family Picture.
(MyBayCity Photo by John Keuvelaar)
---
Adoption Day- A Bright Light For All
Adoption Gives New Life for Children
December 13, 2015 Leave a Comment
By: John Keuvelaar
In keeping with a holiday tradition for many Michigan courts, the Bay County Probate Court participated in Michigan Adoption Day on Tuesday November 24. Smiles, cheers and genuine love and excitement abound the courtroom as three young girls received the perfect Christmas present, a forever family.
Adoption Day is part of the month long celebration of Michigan Adoption Month held in November to bring awareness of the benefits of adopting children. Michigan sets aside the Tuesday before Thanksgiving each year as Adoption Day highlighting the importance of adoption and the needs of the children in foster care.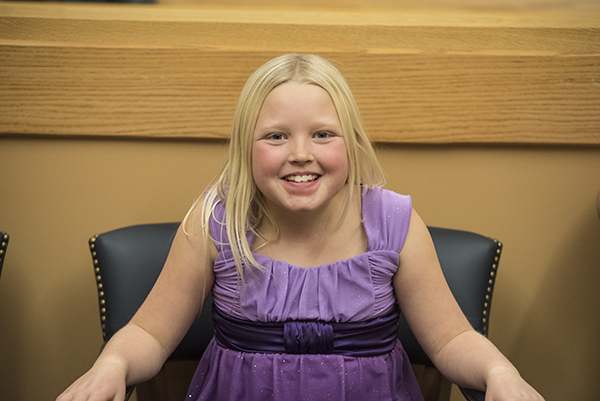 Cassidy was excited to be adopted by her step-dad.
(MyBayCity Photo by John Keuvelaar)
A joyous event for mom and her girls.
(MyBayCity Photo by John Keuvelaar)
"Adoption Day is one of the most joyous events in our courtroom," proclaimed Probate Judge John C. Keuvelaar. "Tuesday, November 24th, we celebrated in our courtroom the joining of three children with their forever families. It is both an honor and a privilege to be a part of this joyous event."
This year's adoptions highlighted the two most common types of adoptions the court has the pleasure of handling. The first adoption saw a step-father accept his wife's children as his own. Joshua Smith adopted Cassidy and Josephine, both children of his wife, Tiffani.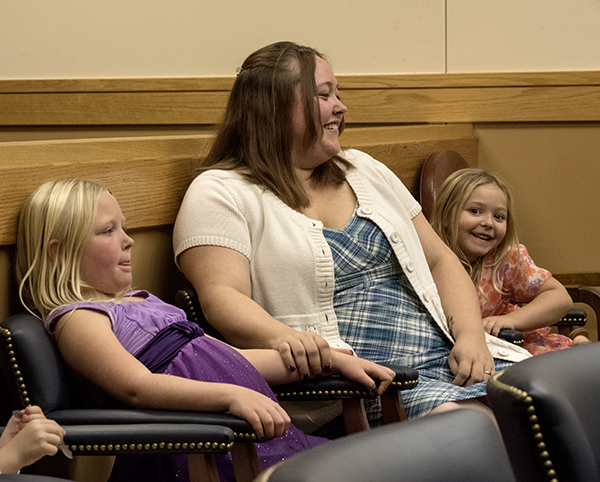 Tiffani couldn't have been happier as her constant smile shows.
(MyBayCity Photo by John Keuvelaar)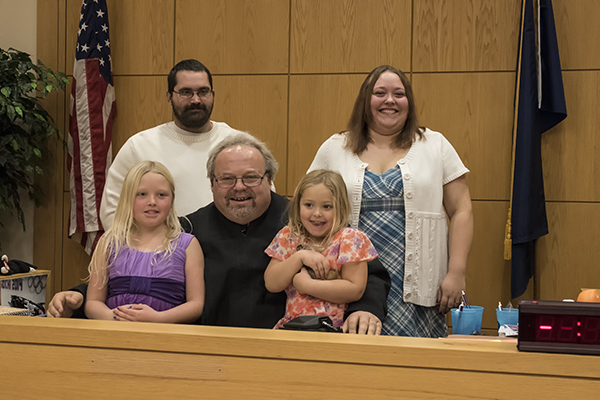 Judge Keuvelaar shares a moment with the newest forever family.
(MyBayCity Photo by John Keuvelaar)
Having been a father figure in their lives over the last five years, Joshua officially took on the title of Dad. "Nothing has changed except their last names," Joshua announced. "They were always my kids. I haven't seen them any other way."
The second ceremony was truly a family celebration. A packed courtroom of friends and family members witnessed David and Nancy Dunn adopted their 19 month old foster child, AnnaMaria Pearl Dunn. Dressed in matching red and black outfits, AnnaMaria sat on her new father's lap while Judge Keuvelaar made it all official. "This was really a special adoption. Seeing all the family and friends in the courtroom shows the love and support this child will receive." It was even more special being able to have her new brother participate by Facetime on the phone as he serves our Country as a member of the U.S. Air Force stationed in San Antonio, Texas.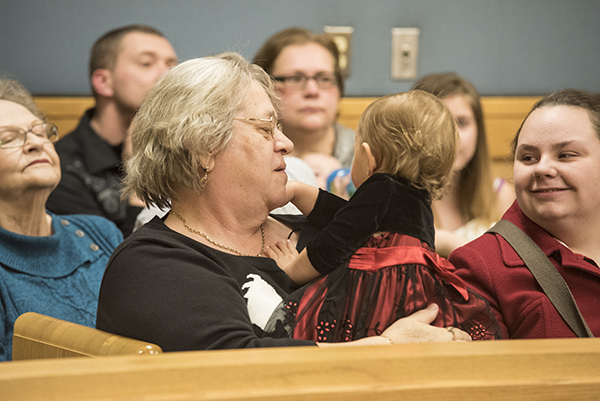 Grandma Dunn enjoying the energy of her newest granddaughter, AnnaMaria.
(MyBayCity Photo by John Keuvelaar)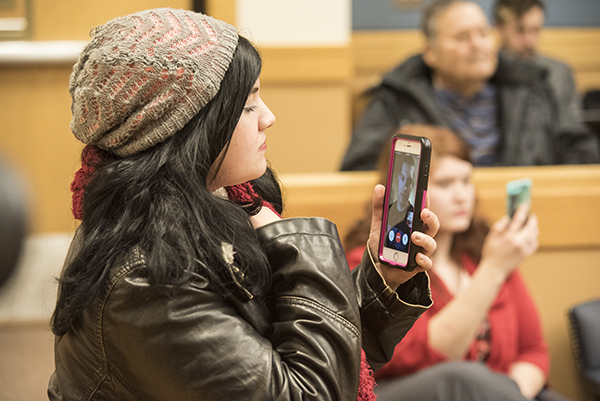 Technology allows everyone to participate.
(MyBayCity Photo by John Keuvelaar)
As of September 30th, there are about 13,000 children in Michigan's foster care system. 2400 of those kids have had their parents' rights terminated and have a goal of adoption. If you would like to open up your home even temporarily to a needy child, contact DHHS for more information.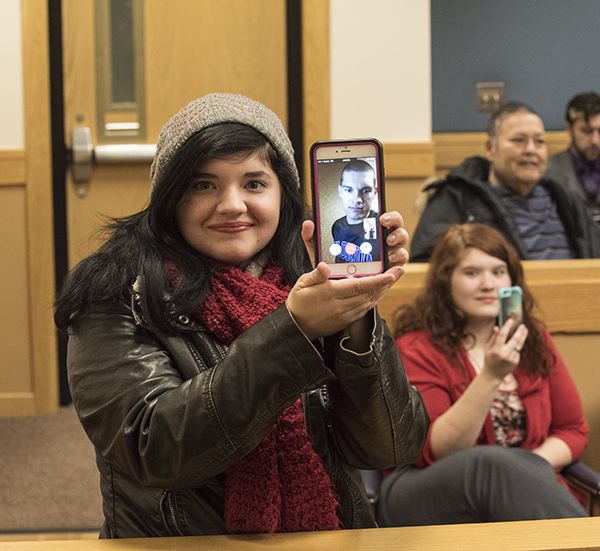 Facetime allows brother David Dunn of the U.S. Air Force to enjoy the ceremony from San Antonio, Texas.
(MyBayCity Photo by John Keuvelaar)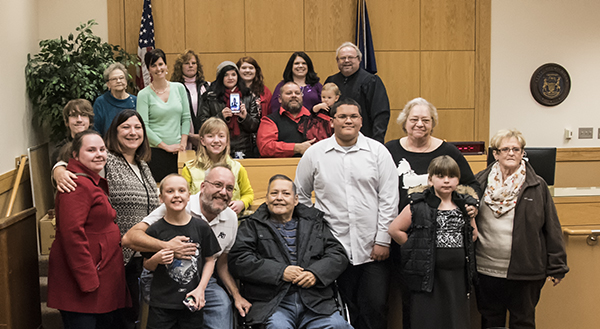 They say it takes a village to raise a child,. This village will see that the job gets Dunn.
(MyBayCity Photo by John Keuvelaar)
---
---

John Keuvelaar




John Keuvelaar is a college student at Midwest Photography Workshops and Delta College.

More from John Keuvelaar
---
Send This Story to a Friend!
Letter to the editor
Link to this Story
Printer-Friendly Story View
---
--- Advertisments ---