Rotary Hears Report On Autism Spectrum and Therapy Options
December 15, 2015 Leave a Comment
By: Stephen Kent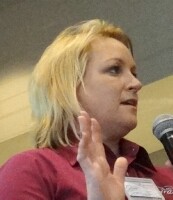 Jenny Dumont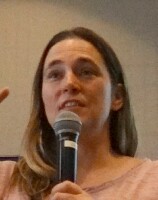 Leasa Androl
While many people think they know what Autism is, they may not, really. Autism can be a social disorder, a neurological disorder, a behavioral disorder of a combination ot those. In fact, autism is a spectrum characteristics.
Individuals diagnosed may be classified as "high functioning", which could be anyone, even successful professionals. Others are called "low functioning" and exhibit the characteristics most people associate with the "autistic".
Besides the generally recognizable traits, the autistic spectrum may exhibit other conditions such as gastrointestinal disorders, sensory problems, seizures and epilepsy, intellectual disability, ADHD, bipolar disorder, OCDC, anxiety and depression.
Statistics show that 50% of children diagnosed before 3 years can become indistinguishable from peers. 56% of autistic children engage in aggression. 49% engage in "elopement" (wandering). 91% of autism related deaths are due to drowning after wandering. (Autistic individuals seem to be drawn to water.)
Most striking is that only 14% of parents receive adequate guidance from their doctors. Both of the speakers remarked that early diagnosis and treatment are crucial for development. Having a doctor say "we'll give it a year and see what happens" may result in significant time lost.
Both speakers are the parents of autistic children. Each started a treatment center and today are recognized as an important option for parents. Dumont runs "A Place For Grace" in Saginaw. Androl operates the Spectrum Autism Center in Freeland.
For more information visit
www.SpectrumAutismCenter.com
www.aPlaceForGraceChildCare.org
---
CLUB NEWS and ANNOUNCEMENTS
President-Nominee
Bob Chadwick
presided on Rotary's regular luncheon meeting. After welcoming guest and the newest club member, Bob read the name of proposed member
Brian Campbell
for the second time.
Two special events are coming soon. On
December 22
we will hold our annual
joint holiday meeting
with the Optimist and the Morning Rotary. The Bay Brass will perform. Rob Clark and Jeff Yantz will lead members in seasonal carols.
The club is partnering with the
Bay County Library
to collect new or gently used
HATS, GLOVES and SCARVES
. These items will be left in trees and other areas around the libraries to be freely used by homeless and those otherwise in need. Bring your items to the meeting on the 22nd!
On
December 29
, the Tuesday between Christmas and New Year, the club will enjoy fellowship rather than inviting a speaker. Everyone is encouraged to attend, share the meal, and enjoy the company of your fellow Rotarians.
Deb Lutz
is looking for club service volunteers to sell 50/50 tickets, take lunch money, and act as greeter next month. Sign up if you can help.
Cherri Burzinski
reported on her recent trip to Nairobi. She was impressed with and expressed thanks for all that we have in our country. In many areas she visited she was struck by the lack of utilities like electricity and common sanitation that we take for granted.
Dues invoices have been mailed. Your prompt attention to this matter is appreciated.
Anne Trahan
will bring her camera, lights and backdrop to Rotary at
11:45 am on Jan. 12
. She'll take Rotary Directory photos at no charge. Directory pictures are free. Retouched digital photos and portraits for your own use are available for a small charge
Members are reminded that the next "
Rotary Night Out At The Brewery
" will be held January 14, 2016 at the Governor's Quarters, 1304 S. Wenona Street. Jeff Yantz will be the featured entertainment that evening. Food and drinks of all types will be available for purchase. This is a time to relax and kick up your heels and get to know fellow Rotarians in a very relaxed setting.
The club will
meet off-site
at the Depot on January 5.
Andrea still needs a second family to host our exchange student for the Spring school session. She also says that the exchange for next year is being scheduled now and she needs a first host family on file so they can get busy on obtaining a passport.
Current and past
DISTRICT DISPATCH
newsletters are available in the LINKS section below.
---
DATES TO REMEMBER
December 22, 2015:
Holiday Music
- Bring new or gently used hats, scarves and gloves to give away!
December 29, 2015:
Rotary Fellowship Meeting
- Happy Holidays!
January 5, 2016:
Off Site meeting
at the Pere Marquette depot.
January 14, 2016:
Rotary Night Out at the Brewery
.
6:00 pm to 9:00 pm
Governor's Quarters
1304 S. Wenonoa St.
(989) 893-6111
---
Upcoming Programs
(See the official schedule at RotaryBayCity.org )
December 15, 2015: A Place for Grace and the Autism Center
presented by Jenny Dumont.
December 22, 2015: Holiday Music - Bring new or gently used hats, scarves and gloves to give away!

December 29, 2015: Rotary Fellowship - Happy Holidays!

January 5, 2016: Off site meeting at the Pere Marquette Deopt.

---

Current and past DISTRICT DISPATCH newsletters are available on the District site shown in the LINKS section below.




Rotary Bay City on Facebook!
Click on the Blue Facebook to visit us there.

Remember! Check attendance sheets at the front desk.
---
LINKS
---
---

Stephen Kent




Steve Kent and his family have lived in Bay City for 40 years. He is VP of Technical Services at MMCC which produces MyBayCity.Com. Kent is active in many Bay City civic organizations.

More from Stephen Kent
---
Send This Story to a Friend!
Letter to the editor
Link to this Story
Printer-Friendly Story View
---
--- Advertisments ---