10th Annual Invitational Boxing
Bay City & Area Boxers
gear up for upcoming fight!
February 3, 2006 Leave a Comment
By: Julie McCallum, Entertainment Editor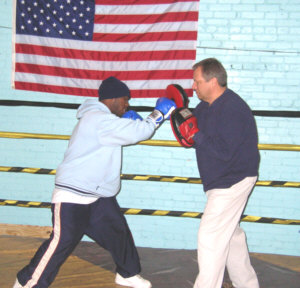 Coach Robert Arsenault
readying
Milton Watkins of Saginaw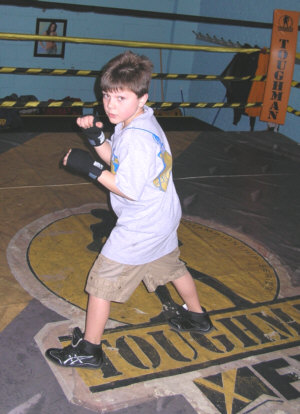 Devin Tomkins, of Bay City
Coach Bob Arsenault has his hands full, preparing his boxers for the upcoming 10th Annual Invitational Boxing Match, being held at the Michigan National Guard Armory on Wilder Rd. in Bay City on Saturday the 11th of February.
Showtime
is 7:30 p.m.There will be 15 bouts featuring the best boxers in the state. The event is being presented by the A.B.A.A. (The American Boxing and Athletic Association) & The Greater Bay Area Boxing Center.
Advanced Tickets are available at the following local businesses:
New Body Health & Fitness
Big House Bar & Grill
Barney's Bar & Grill
"Everything is safely run. All the fighters have physicals before and after the bouts," Arsenault said. "Doctors will be at ringside. We travel all over the state, we have alot of great talent!" Arsenault added.
The training gym for Arsenault's boxing team is located at 107 N. Henry, Bay City. (Next door to New Body Health & Fitness) and is owned by Art Dore who donates the building and the equipment to the A.B.A.A.
"It's a good thing we have here, the kids develop the right attitude, and it gets them off the streets and keeps them out of trouble," said Arsenault. "We have agreat bunch of kids here." Arsenault added.
Anthony Lebron, 22, Light-Heavy Weight, says this will be his first fight. Lebron says he's "trained hard and is fired up for his upcoming bout on Saturday."
(Above, Left)
Bob Arsenault is a Registered & Certified Level 2 Coach with USA Boxing and has been a member since 1971. He trained Murray Sutherland, (former Super Middle Weight Champion) in 1984. Arsenault says, "I was in his corner when he won the title and in his corner when he lost the title". Arsenault and his wife Brenda are members of St. Mary's Church in Bay City.
Chasen Filcek, 19, of Midland(Light-Heavy Weight), says "Bob is a Great Coach!" A.J. Johnson, 14, says of Arsenault, "He treats us with respect."
Arsenault gets plenty of help from volunteer trainers, including, Josh Arsenault, Branden Arsenault, Phillip Galavez, Murray Sutherland, John Gottschling & Steve Samborn who donate many hours of their time in the gym and travel with the team to local, regional and national events with the boxers.
Anyone who is interested in joining, the cost is $35.00 a year to register with USA Boxing, call 684-7532 for details. (Ages 12 & up, and girls are welcome, too.
Arsenault says, "We have a female boxer right now, Amber Paine, 23. Amber was Golden Gloves State Champion in 2005. She started boxing about 3years ago."
Below: Amber is pictured during a workout.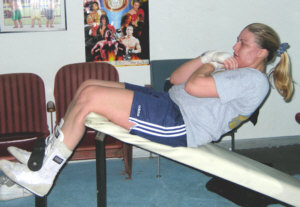 Below:(Left)
Paine's brother Jordan Westphal, 18 (2005 Heavy Weight Golden Gloves State Champion) has been boxing for 6 years.
Below:(Right)
Westphal says he and his sister (Paine) train together everyday.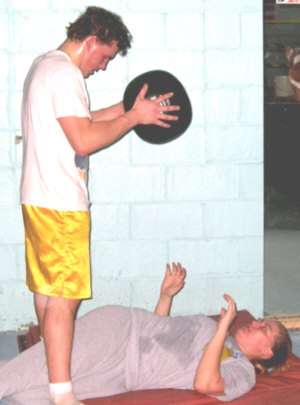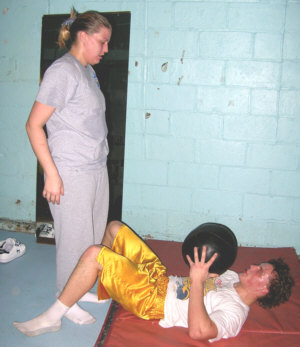 Below: (Left)
Devin Tomkins, 9 and Corey Chaperon, 11, work out together. Looks like fun, but its hard work! Tomkins, also includes one-armed push-ups in his workouts.
Below: (Right)
Tomkins and Chaperon duke it out in the ring. You can't tell they are friends here.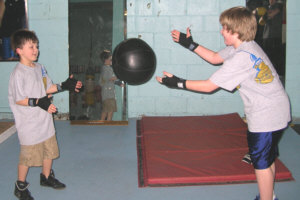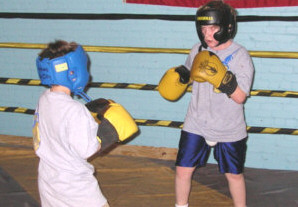 Below: (Left)
Dakota Lowe, 10, of Bangor Township puts on his mean face, on command.
Below: (Right)
Lowe, jumps rope, with his brother Jaymes, 14.
(Jumping Rope produces competitive advantages in speed, quickness, agility, balance, coordination, explosiveness, leg,knee, ankle andfoot strength, it is also an excellent conditioner and warmup. It is a total body activity that incorporates all the muscles and quickly warms them before stretching, while helping to prevent injuries.)
Coach Bob says of the Lowe's, "These two brothers are very dedicated, they work hard and are here everynight we are open. "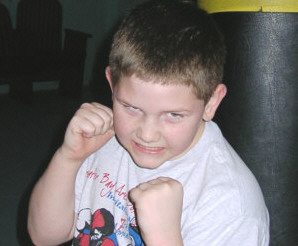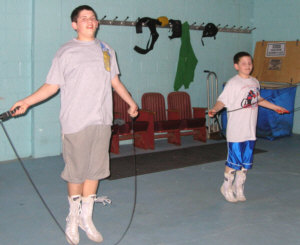 Below: (Left)
Milton Watkins, 23, sparring with Tommy Chamberlain, of Mt. Pleasant. Watkins says he guarantee's the state title!
Below: (Right)
Westphal, and Rick Dufty, 29 of Sebewaing, spar. Wesphalsays, "Rick's a great sparring partner."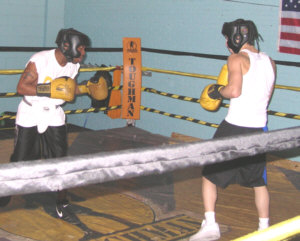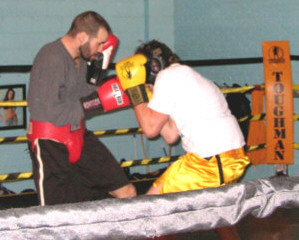 Below: (Left)
Ryan Kingham, 14 quotes " Champions Never quit and Never do drugs."
Below: (Right)
From top left: Tommy Chamberlain, Jordan Westphal, Rick Dufty, Milton Watkins, A.J. Johnson, Jaymes Lowe, Chasen Filcek, Dakota Lowe, Devin Tomkins.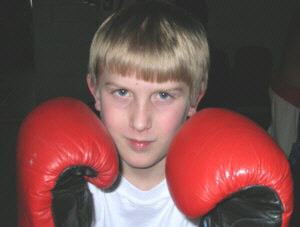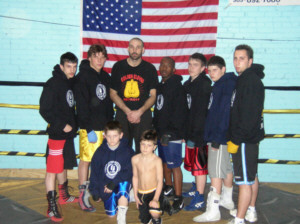 ---
---
---
Send This Story to a Friend!
Letter to the editor
Link to this Story
Printer-Friendly Story View
---
--- Advertisments ---