SAILING INTO HISTORY: Meade & Jan Gougeon Join Legends in Hall of Fame
Recognition of Brothers Includes Contribution to Boat Building Technology
December 28, 2015 Leave a Comment
By: Dave Rogers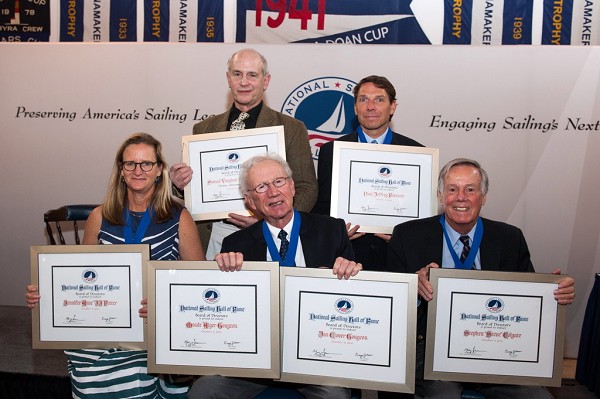 Left to Right: 1st row: JJ Fetter, Meade Gougeon (accepting for both himself and brother Jan Gougeon), Steve Colgate. 2nd row: Gregory Merrick (accepting for his father, Sam Merrick), Paul Foerster.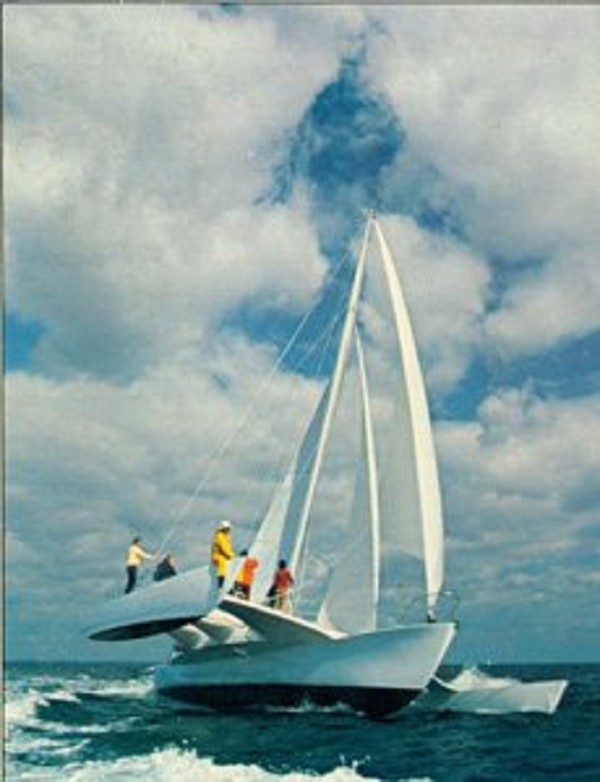 Gougeon-built 60-foot long trimaran Rogue Wave. (Photo by Polly Brown).
Sailing legends of the nation like Dennis Conner, Ted Turner and Bus Mosbacher were joined this year in the National Sailing Hall of Fame by Bay Cityans Meade Gougeon and the late Jan Gougeon, innovators in boat construction through their W.E.S.T. System epoxy as well as numerous victories in sailing.
Bay City has been a sailing mecca since Louis Tromble, ancestor of the pioneer Trombley family, built two sailing vessels at the mouth of the Saginaw River just after the American Revolution.
The merchant vessels Saginaw and Esperanza reportedly were built on the bay shore in 1787, although shipbuilding did not begin in earnest until the mid-1800s. A total of 888 ships of all types were built here over the years, including a dozen vessels during World War I and 170 warships during World War II for the U.S. Navy by the Defoe Shipbuilding Company.
Sailing vessels came off the stocks at shipbuilding firms here for more than a century and a half, culminating in construction of some of the world's fastest triple hull sailboats and iceboats by the Gougeon Brothers firm.
Now Bay City's place in the world of sailing has been recognized for the technology developed here as well as the skill of local sailors.
The Gougeon brothers and four other members of the 2015 National Sailing Hall of Fame (NSHOF) were honored during ceremonies in October at Bay Head Yacht Club, Bay Head New Jersey.
The 2015 Class of Inductees, six of the sport of sailing's significant contributors, are as follows, sailing school founder Steve Colgate (Ft. Myers, Fla.), Olympic medalist Paul Foerster (Rockwall, Texas), Olympic medalist and author JJ Fetter (San Diego), boat building innovators and brothers Meade and Jan Gougeon (both Bay City, Mich.) and U.S. Olympic Yachting Committee Director Samuel V. Merrick (Medford, N.J.), the recipient of the NSHOF's 2015 Lifetime Achievement Award.
The NSHOF website presents several documentary films produced by the late James R. Donaldson III, son of native Bay Cityan Clarisse LaFramboise and Dr. James R. Donaldson II of New York City.
The Donaldson films include "Ghosts of Cape Horn," narrated by Jason Robards, with principal sponsorship by the Dow Corning Corporation of Midland, and the history of Dennis Conner's famed America's Cup victory of 1987, narrated by Walter Cronkite, documenting the recapturing of America's Cup from Australia, a watershed event in American sailing. The films' copyrights were donated to the NSHOF by Mr. Donaldson, who died in 2007. "Ghosts" premiered in 1970 at the Circle Theater in Midland.
- See more at: http://www.thelog.com/Racing/Article/National-Sailing-Hall-of-Fame-inducts-sailing-s-significant-contributors#sthash.mrQcnsMg.dpuf
NSHOF is located at 67 Prince George Street, Annapolis, Maryland. It is open most weekdays 10 a.mn. to 4 p.m., and may be accessed by vehicle or boat. Directions are posted on the NSHOF website, www.nshof.org.
The Gougeon firm history states: "With the help of friends who worked at Dow Chemical in Midland, Michigan, the Gougeons formulated an epoxy system ideally suited to their boat building needs.
"The first complete boat built incorporating West System epoxy and composite construction techniques was Adagio, a 35-foot offshore trimaran the Gougeons designed, launched in 1970.
"Another notable boat they built in this manner was the Holland-designed Golden Dazy, which won the Canada's Cup Regatta in 1975. The success of these wood/epoxy composite boats led to a "mini-revolution" among builders and designers. They realized that they could build stiffer and stronger hulls with wood and epoxy than they could with fiberglass, and do so without increasing the weight.
"Other important boats built by Gougeon Brothers include Accolade, a Bruce Kirby-designed 30' half-ton monohull in 1974; a production version of the Olympic Class Tornado catamarans they built during 1975 and 1976 -- one of which earned a Silver Medal in the 1976 Olympics; Hotflash, a Gary Mull-designed 32' half-ton monohull in 1976; Phil Weld's Rogue Wave, a Dick Newick-designed 60' Trimaran, in 1977; Patient Lady, a C-Class catamaran they built, won the 1977 Little America's Cup; and Slingshot, a Georg Thomas-designed 60-foot proa in 1978.
###
---
---

Dave Rogers




Dave Rogers is a former editorial writer for the Bay City Times and a widely read,
respected journalist/writer in and around Bay City.
(Contact Dave Via Email at carraroe@aol.com)

More from Dave Rogers
---
Send This Story to a Friend!
Letter to the editor
Link to this Story
Printer-Friendly Story View
---
--- Advertisments ---