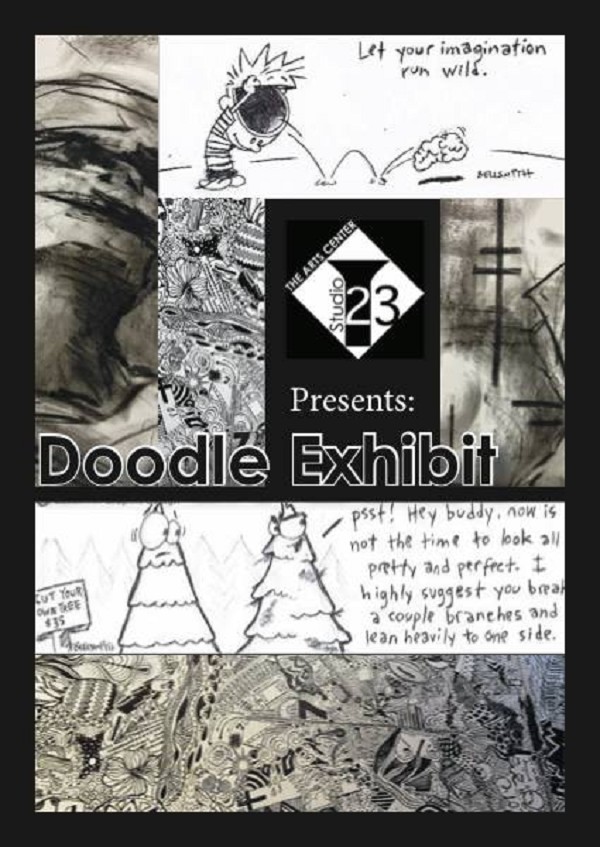 Doodling Exhibit to Feature MyBayCity Friend John Bellsmith
January 2, 2016 Leave a Comment
By: Josh Sharrow
A Doodling Exhibit is set to take place at Studio 23 on Thursday, January 7 at 5pm. Featuring local artist and MyBayCity friend John Bellsmith.
Doodling is one of the most charismatic forms of art that an artist can create. When an artist is doodling their inhibition no longer exists; many artists use doodles as a pure representation of their psyche, a sort of meditation. The Doodle exhibit that Studio 23 will be hosting is no different, the artists exhibiting perfectly represent the various styles of what this art form can take on.
The first artist John Bellsmith has been creating cartoons for his daughter everyday for school and putting them in her lunch box. They are works of love meant to have a charismatic uplifting effect on his daughter Cali Bellsmith. Some are lighthearted and sarcastic with images of made up characters, and some are messages of compassion with characters we all know. Either way his work can be enjoyed by people of all ages.
Katelyn Heins and Ryan McKinney have created a monumental doodle installation that is eight feet by ten feet, you might have seen this piece at this years Art Prize in Grandrapids. They are best friends that have known each other for many years, and it shows, as the piece flows sinuously from each artist style into the other. The piece titled DoYOUdle is a whimsical, imaginatively random and complex doodle meant to spark the imagination in every viewer. When looking at it they challenge you to find all of the hidden images, and find images they don't even know about.
Adam Stuart is a recent graduate from SVSU and over the last seven months he has created an entirely new body of work for this exhibition. What is so interesting about his work is his use of the human form as a story telling device. He incorporates an internal external balance with his drawings, allowing the audience to view the human form in a new light. He also is a well established ceramicist, and he has created ceramic doodles that take this art form in a new direction many normally would never think of creating.
The last piece to this exhibit are the doodles done by the Tri-City Brewery's Drink N' Doodle group. Once a month this group gets together, has a few beers, and in the spirit of camaraderie creates large doodles.
Studio 23 will be doing something similar, starting for 2016 some of our Artist Receptions will give guests a chance to create artwork in the way the artist work. So to commemorate the new year, and our new year of exhibitions, we will have live doodling stations where anyone can come in and create artwork that will be hung up on the gallery walls. They will be up through the remainder of the exhibition as well so if on your lunch break you feel like drawing come in, grab a marker, and draw your heart out.
---
---

Josh Sharrow




Sharrow is the Sales Manager, columnist, writer, coffee maker for O.J. Advertising and an on-air personality for 98 KCQ.

More from Josh Sharrow
---
Send This Story to a Friend!
Letter to the editor
Link to this Story
Printer-Friendly Story View
---
--- Advertisments ---