Genetically Modified Organism (GMO) Topic of Rotary Talk
January 5, 2016 Leave a Comment
By: Stephen Kent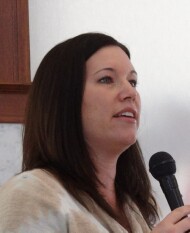 Alyson Maxwell
Alyson Maxwell
, Sugar Spokeswoman fro Michigan Sugar Company, spoke to Rotary on the topic of Genetically Modified or GMO crops. Alyson is the wife of a sugar beet farmer and knows the industry from the ground up. As she says, "sugar beets are a bear to grow without using a GMO variety".
GMO is a controversial topic. There are those who insist that GMO should not be allowed into the food chain, that it may cause unknown problems down the road. Alyson spoke to the other side citing the studies and test by the FDA and many others that show GMO foods to be no different from any other food.
She pointed out that everything is genetically modified. The traditional way is through selective breeding, which may take many generations and many years before producing a trait that is advantageous. She showed pictures of common crops like corn and bananas where the original crop was nothing like what one sees today. Traditional methods produced today's variety.
GMO is a method of speeding up the process by manipulating the actual genes of plants and animals. Although it's a huge topic, in fact only 10 plants have been modified and approved to date. In the animal world, the salmon is the latest to be approved.
She addressed questions such as regulation and oversight, long-term human health issues, which crops are genetically engineered, the labeling issue, and the environmental impact. The position of the agricultural community and organizations like the Michigan Sugar Company, is that GMO crops are both safe and beneficial. They lower cost, increase yield, and reduce herbicide use.
For more information Alyson suggested several web sides including
gmoanswers.com
academicsreview.org
cast-science.org
thesweettruth.net
---
CLUB NEWS and ANNOUNCEMENTS
Dues invoices have been mailed. Your prompt attention to this matter is appreciated.
Anne Trahan
will bring her camera, lights and backdrop to Rotary at
11:45 am on Jan. 12
. She'll take Rotary Directory photos at no charge. Directory pictures are free. Retouched digital photos and portraits for your own use are available for a small charge
Members are reminded that the next "
Rotary Night Out At The Brewery
" will be held January 14, 2016 at the Governor's Quarters, 1304 S. Wenona Street. Jeff Yantz will be the featured entertainment that evening. Food and drinks of all types will be available for purchase. This is a time to relax and kick up your heels and get to know fellow Rotarians in a very relaxed setting.
Andrea still needs a second family to host our exchange student for the Spring school session. She also says that the exchange for next year is being scheduled now and she needs a first host family on file so they can get busy on obtaining a passport.
Current and past
DISTRICT DISPATCH
newsletters are available in the LINKS section below.
---
DATES TO REMEMBER
Board Meeting
- January 12 - 11:00 am before regular meeting - Everyone invited.
January 14, 2016:
Rotary Night Out at the Brewery
.
6:00 pm to 9:00 pm
Governor's Quarters
1304 S. Wenonoa St.
(989) 893-6111
---
Upcoming Programs
(See the official schedule at RotaryBayCity.org )
January 12, 2016: McLaren Bay Region New Initiatives.
Speaker: Ellen Talbot VP & Chief Nursing Officer McLaren Bay Region
January 19, 2016: Heroin and our Community.
Speaker: Sgt. Potts, Bay City Department of Public Safety
January 26/2016 Saginaw Bay Symphony Orchestra.
Bulgarian-born master conductor Stilian Kiror will speak about his music.
February 09, 2016 Super Bowl Commercials.
Speaker: Dr. Rama Yelkur, Dean College of Business and Management, SVSU
February 16,2016 Unsung Hero Award Luncheon with the Optimist Club.
We will be joining the Bay City Optimist Club at the Doubletree to celebrate the youth and the Unsung Hero's of our community.
---
Current and past
DISTRICT DISPATCH
newsletters are available on the District site shown in the LINKS section below.


Rotary Bay City on Facebook!
Click on the Blue Facebook to visit us there.

Remember! Check attendance sheets at the front desk.
---
LINKS
---
---

Stephen Kent




Steve Kent and his family have lived in Bay City for 40 years. He is VP of Technical Services at MMCC which produces MyBayCity.Com. Kent is active in many Bay City civic organizations.

More from Stephen Kent
---
Send This Story to a Friend!
Letter to the editor
Link to this Story
Printer-Friendly Story View
---
--- Advertisments ---