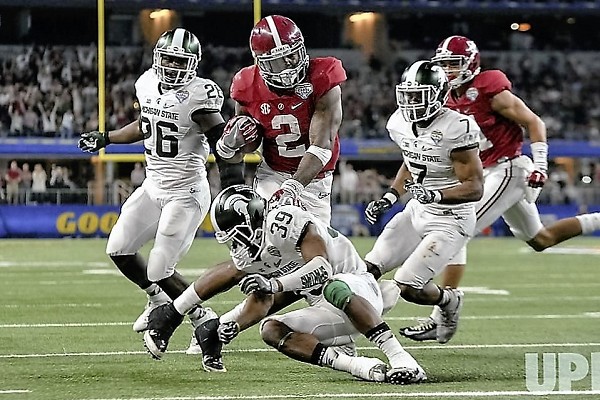 Alabama running back Derrick Henry races through a group of Spartan defenders enroute to his only Cotton Bowl TD.
---
'BAMA BOOM: "Greatest College Team & Coach, in History"?
Recruiting, Recruiting, Recruiting Pays Off on the Field
January 10, 2016 Leave a Comment
By: Dave Rogers
Alabama is close to completing the greatest seven-year run in college football history," writes Pad Forde of Yahoo Sports.
Michigan State fans who came sheepishly back home after the 38-0 pasting of their Spartans may reluctantly agree.
"If the Crimson Tide defeats unbeaten No. 1 Clemson, it could stack that trophy on top of hardware won in 2009, 2011 and 2012. And with a victory here Monday, you could make a great argument that Nick Saban is the greatest coach in the history of the game.
"Some Southerners with long memories will maintain that Saban isn't even the best coach in the history of Alabama. But Bear Bryant never won four in seven seasons. Neither did Woody Hayes, Bud Wilkinson, John McKay, Tom Osborne, Bobby Bowden nor Joe Paterno. Only Frank Leahy did at Notre Dame, and those were squirrelly times in the sport (1946-1949).
How is it that the Big Ten champion Spartans couldn't even score one point against Alabama? I queried a friend in Huntsville who is a graduate of U-A. He replied:
"I think the SEC has a recruiting advantage over the northern teams because of our milder climate and football is a religion in most of the southern states. Every year Florida has a truck-load of high school players everyone in the country is after and I don't think we put the same emphasis on academics as you do. Please don't let me get started on the salaries coaches make. I'm sure you heard that Texas offered Sabin $100m to be their coach."
How did 'Bama destroy the Spartans?
DUDE -- DEFENSE!!!
Fully a dozen 300 pound plus bone crushers platooned MSU, breaking the will of the MSU guys in the first half and polishing them off in the second.
"We've never had one this deep," Alabama defensive coordinator Kirby Smart said of the front line. "This group is pretty deep. They can roll in and out and not drop off a lot. They take pride in that."
Alabama leads the nation in run and scoring defense and sacks, and is second in total defense.
No Nick Saban defense has averaged this many sacks (3.57 a game) since his 1999 Michigan State team anchored by Julian Peterson (3.73 per game).
The 'Bama line held LSU's heralded back Leonard Fournette to 31 yards on 19 carries The Spartans invested much of their energy in stopping Heisman Winner Derrick Henry -- which they did, holding him to a puny 39 yards -- but the big offensive line kept them from sacking the 'Bama QB who pecked away and went up top for a couple of scores to the speedy wideouts.
Henry still got a rushing TD, shedding NFL-bound Shalique Calhoun on the way to the end zone.
Keep in mind Alabama has had the nation's top-ranked recruiting class like five years in a row.
Subjective judgment, yeah, but the beef adds up and the speed is telling without a doubt.
No team has won more AP national championships than Alabama's nine. The Crimson Tide were national champs in 2009, 2011 and 2012, after having not won a title since 1992 before that.
Alabama led the nation in recruiting for 2015. The Tide was No. 1. MSU - No. 22.
Next year, LSU is ranked No. 1 and No. 2 is??? MEEECHIGAN!
MSU is 12th ranked for 2016, ahead of Alabama that is ranked No. 13, not too shabby but nowhere near the talent glut heading to Ann Arbor.
In 2014, Alabama was, of course, No. 1 in recruiting and MSU languished at No. 22. Michigan was not even on the charts as it completed the sorry reign of, what was his name?
The recruiting rankings for 2013 again saw "Bama No. 1 with Ohio State and Notre Dame No. 2 and No. 3 respectively. Michigan was No. 5, wonder of wonders. Michigan State was stuck down at No. 40.
Same with 2012 and 2011, Alabama stocked up with talent, ranked No. 1 again, and MSU was way down the list.
So, you get the picture; talent wins and not so great talent doesn't.
Seems like, in most things, money talks and BS walks, as the boys say at the poker table...
Clemson has been ranked down in the second dozen teams in recruiting for the past four or five years.
If Clemson is able to stay with the Tide, it will be a magical, unexpected outcome. If recruiting tells all about a team's performance on the field, the Cats don't have a chance and shine up another crown for Nick Saban.
###
---
---

Dave Rogers




Dave Rogers is a former editorial writer for the Bay City Times and a widely read,
respected journalist/writer in and around Bay City.
(Contact Dave Via Email at carraroe@aol.com)

More from Dave Rogers
---
Send This Story to a Friend!
Letter to the editor
Link to this Story
Printer-Friendly Story View
---
--- Advertisments ---