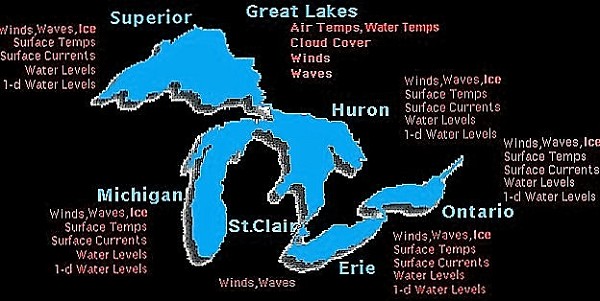 New Great Lakes forecasting tool is available through NOAA.
---
ICE COVER THIN: Great Lakes Barely Frozen, Saginaw Bay Open
Scientists in Ann Arbor Studying Effects of Global Warming
January 15, 2016 Leave a Comment
By: Dave Rogers
It's been very cold and snowy in the Great Lakes area as of late, but despite that, the lakes themselves remain remarkably ice-free for this time of year, according to Scott Sutherland of the Weather Network.
"One indication of how cold any winter has been so far in the United States is to take a look at exactly how much of the Great Lakes have frozen over," Sutherland wrote
Only 3.8 percent of the water is frozen over, compared to 22.5 percent in 2015 and 38.3 per cent in 2014. Other sources indicate ice coverage may be as high as 6.6 percent.
"Look back just a year or two, and the Lakes were already well on their way to being in the top five years on record for annual ice coverage," according to Sutherland.
Ice coverage on the Great Lakes so far this winter is only slightly behind 2012, when a mild winter meant that ice coverage had only reached around 3.7 percent by January 15, and maxed out 12.9 percent for the year.
The Great Lakes Environmental Research Laboratory (GLERL) National Ice Center, Ann Arbor, reports that ice cover on the lakes is barely perceptible. Saginaw Bay is almost ice free.
"Understanding the major effect of ice on the Great Lakes is crucial because it impacts a range of societal benefits provided by the lakes, from hydropower generation to commercial shipping to the fishing industry," NOAA (National Oceanic and Atmospheric Administration) scientists explain.
The amount of ice cover varies from year to year, as well as how long it remains on the lakes. GLERL scientists are observing long-term changes in ice cover as a result of global warming. Studying, monitoring, and predicting ice coverage on the Great Lakes plays an important role in determining climate patterns, lake water levels, water movement patterns, water temperature structure, and spring plankton blooms.
Since detailed record keeping began in 1973, Winter 1979 still maintains its record high ice coverage on the Great Lakes, at 94.7 per cent. Winter 2014 finished in 2nd place at 92.5 percent, while 2015 came in as the 5th highest, after 1994 (3rd) and 1977 (4th).
Will year's ice coverage get down that low again? Will we see the biggest 2-year dip in ice coverage since the 1996-1998 period (when the last "super" El Niño occurred)?
Or will chilly weather bring about ice growth like was seen in 2013, which was in the 3-4 percent range in January and then climbed to a total of 38.4 percent by mid-February, before gradually melting away?
On Friday, Jan. 15, the Soo Locks on the St. Mary's River in Sault Ste. Marie closed -- an annual occurrence that allows winter maintenance before shipping begins again when the locks re-open March 25.
The Soo Locks are the last Great Lakes locks to close each year. On Dec. 30, the Welland Canal through Ontario closed. On Dec. 31, the St. Lawrence Seaway locks on the St. Lawrence River closed. Stay tuned for more updates on the state of Great Lakes ice coverage in the weeks to come.
###
---
---

Dave Rogers




Dave Rogers is a former editorial writer for the Bay City Times and a widely read,
respected journalist/writer in and around Bay City.
(Contact Dave Via Email at carraroe@aol.com)

More from Dave Rogers
---
Send This Story to a Friend!
Letter to the editor
Link to this Story
Printer-Friendly Story View
---
--- Advertisments ---