Police Dectetives Speak On Heroin And Our Community
January 19, 2016 Leave a Comment
By: Stephen Kent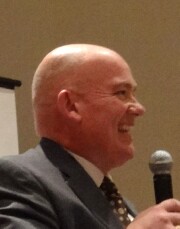 Mike Cecchini
Public Safety Director Michael J. Cecchini introduced Bay City Detectives Greg Potts and Chad Warren who spoke on the growth of heroin as the drug of choice in the Bay Area and elsewhere.
Just a few years ago, most drug arrests were for cocaine sales and use. As the drug trade evolved, and older drugs changed, heroin began to replace those. The detectives noted that it's somewhat amazing that a drug produced from opium grown in Afghanistan is shipped through Mexico then ends up in Bay City.
The detectives talked about the types of heroin seen in the area, the street names, how it's delivered and the cost. The effect of the drug allows a user to function somewhat normally until it wears off. After that the user experiences severe sickness and only wants to get high again to instantly stop the pain.
One delivery method is to take a user's dose of about a tenth of a gram and shake it into the corner of a plastic sandwich bag. The dose is tied off and the corner ripped off the bag. "It really helps us when we go into a house with a search warrant and find three or four hundred sandwich bags with ripped off corners. It's easy for me to testify in court, I don't have that in MY house."
Addicts were described as rather normal looking. It could be anyone. Hard core users, however, are somewhat apparent to people like the detectives who work this crime. Users, they said, seem to be in slow motion. They also said that parents should be observant. "If you see your teen's behavior changing, or begin to find money and valuables missing from the house, you should look again." Help is available. The most important thing is to talk to the person. Treat them like a normal person. Try to understand their problem.
For more information visit
baycitymi.org/departments/public-safety
---
CLUB NEWS and ANNOUNCEMENTS
Thanks to all members for their generous gifts of hats, gloves, mittens, scarves which were distributed through the Bay County Library Sharing Tree Program.
The Club Service committee may ask your opinion about
Venue & Lunch review
Membership Nurture process review
Club Project, funding and selection process review

Last week's Rotary Night Out At The Brewery, held at the Governor's Quarters, was a great success with over 20 people attending. Jeff Yantz was the featured musician. Watch for announcement of the next "night out".

Say hello and welcome to our newest members, Brian Campbell, who was inducted into Rotary last week by Jim Griffiths.

On February 16 the club will share a joint meeting with the Bay City Noon Optimist Club for their annual Unsung Hero Award Presentation.

Andrea Hales still needs a second family to host our exchange student for the Spring school session. She also says that the exchange for next year is being scheduled now and she needs a first host family on file so they can get busy on obtaining a passport.

Dues invoices have been mailed. Early collections have been excellent. For those who have not yet paid, your prompt attention to this matter is appreciated.

Current and past DISTRICT DISPATCH newsletters are available in the LINKS section below.


---
DATES TO REMEMBER
Feb 16 We will meet with the Bay City Noon Optimist Club to celebrate their Unsung Hero Award Presentation

April 28 Rotary Rocks Concert


---
Upcoming Programs
(See the official schedule at RotaryBayCity.org )


January 26, 2016 Saginaw Bay Symphony Orchestra. Bulgarian-born master conductor Stilian Kiror will speak about his music.

February 02, 2016 ArtWave The Great Lakes Bay Region is going to launch ArtWave in 2016 via the Great Lakes Bay Regional Alliance. Mike Bacigalupo, Great Lakes Bay Regional Alliance Art & Entertainment Chair will talk about this new regional concept.

February 09, 2016 Super Bowl Commercials. Speaker: Dr. Rama Yelkur, Dean College of Business and Management, SVSU

February 16,2016 Unsung Hero Award Luncheon with the Optimist Club. We will be joining the Bay City Optimist Club at the Doubletree to celebrate the youth and the Unsung Hero's of our community.

---

Current and past DISTRICT DISPATCH newsletters are available on the District site shown in the LINKS section below.







Rotary Bay City on Facebook!
Click on the Blue Facebook to visit us there.

Remember! Check attendance sheets at the front desk.
---
LINKS
---
---

Stephen Kent




Steve Kent and his family have lived in Bay City for 40 years. He is VP of Technical Services at MMCC which produces MyBayCity.Com. Kent is active in many Bay City civic organizations.

More from Stephen Kent
---
Send This Story to a Friend!
Letter to the editor
Link to this Story
Printer-Friendly Story View
---
--- Advertisments ---