Let's Make History Together, Governor Says in State of the State
Plan to Create Jobs, Protect Families Better Than Any State: Gov. Granholm
January 27, 2006 Leave a Comment
By: Dave Rogers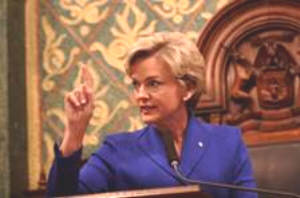 Governor Jennifer Granholm exudes confidence in her State of the State Address.
"I invite you to join me in believing in that next chapter of Michigan's history," she said, "and then join me in writing it."
In the fourth and final State of the State address of her first term, Governor Jennifer M. Granholm, sounding more confident than ever, led the cheers of bravado for Michigan's shaky Rust Belt economy.
Even as she spoke in Lansing on Wednesday night, the minds of Michiganians couldn't help but wonder: Will multi-billionaire Amway heir Dick DeVos throw enoughmoney into a campaign to dash Granholm's confidence and junk her furious attack on the state's economic woes.
If so, and Devos becomes governor in November, Michigan would no doubt be made over into an anti-union, right-to-work, low tax, minimal service state like Texas as fast as a cowboy's bullwhip flicking a horsefly.
Whether that would be good or bad depends on your point of view, but the contrasts in approach will be starkly outlined in the looming gubernatorial campaign.
The hoorahs of Granholm's carefully crafted speech were mainly hopeful, but some came legitimately because of successes.
The future may not be as uncertain as it looks on the surface, the governor trumpeted.
Getting recalcitrant Republicans in the State Legislature to give her some support for economic programs may have been her main achievement, according to some observers.
"Michigan has the most far-reaching economic plan of any state in the country,"Granholm told a joint session of the Legislature. "It's an aggressive $6 billion plan to grow jobs today and jobs tomorrow. And it's about to get even more aggressive."
Granholm said 99,000 more people are working today than when she took office, but noted that people are still being impacted by the economic transition.
Granholm's year old Jobs Today, Jobs Tomorrow plan has created or retained 327,000 jobs, she claimed.
The plan's hopeful aspects include:
$2 billion that will be invested in diversifying our economy,
the 19,000 out-of-work citizens who have been matched with jobs through the MI Opportunity Partnership,
And the nearly $3 billion ininfrastructure projects that are being accelerated over the next three years.
Granholm noted that 99,000 more people are working today than when she took office, but noted that because people are still being impacted by the economic transition, there is still much work to do.
"We have been working the plan," said Granholm. "We have been consistent, disciplined, and unwavering in executing it. And tonight, we will move this plan – and our state – forward. We must protect the everyday way of life that Michigan citizens have worked so hard to build."
Granholm outlined four specific steps her administration will take this year to continue the work begun by the Jobs Today, Jobs Tomorrow plan. Specifically, the Governor called for:
• investing in our 21st century economy by going anywhere and doing anything to create jobs and fighting to protect the jobs we have;
• investing in the health of our citizens by dramatically increasing the number of people who have access to affordable insurance;
• investing in education and the quality of our schools to ensure all of Michigan's children have an opportunity for a quality education, access to higher education, and that Michigan has the best-educated workforce in the nation;
• investing in the safety and security of our families by calling for an increase in the minimum wage, giving every worker an opportunity to save for retirement, protecting our seniors in nursing, demanding new standards of corporate accountability and ethics laws for elected officials.
To expand on the initial successes of the Jobs Today, Jobs Tomorrow plan, Granholm pledged to continue traveling across the country and around the globe.
The Governor outlined her plan to make Michigan a national leader in the development of alternative energies attracting these growing businesses to Michigan.
She also pledged to continue her efforts to force Washington leaders to partner with us to help the state's struggling manufacturers by crafting a national health care plan, promoting fair trade policies, and reforming pension laws.
In addition, the Governor said she would continue to make Michigan friendly to business by continuing to reduce the time necessary to receive permits for construction or improvements to businesses.
Governor Granholm also proposed a revolutionary new health care plan to provide access to affordable health insurance to more than 500,000 uninsured citizens. The Michigan First Health Care Plan will make affordable private health plans available to small business employees, the self-employed, and the working poor without access to traditional employer-based health insurance or government-run programs. The Governor noted that cutting the state's uninsured population by half will create significant savings for businesses and citizens who subsidize uninsured health care.
To give every child an opportunity for a quality education and access to higher education and to ensure that Michigan has the nation's best-educated workforce, the Governor proposed a series of measures to strengthen our schools.
The Governor called for quick action on her proposal for a tough core curriculum and her new $4,000 Merit Award scholarship to ensure that every student has the tools they need to succeed and the opportunity to continue their education beyond high school.
The Governor indicated she would call for significant new investments in education, after school programs, and early childhood education in her upcoming budget.
In addition, the Governor called for measures to protect children from bullying, engage parents in the educationprocess, and ensure that teachers receive training in maintaining discipline in the classroom.
Continuing her efforts to protect Michigan's families, the Governor outlined a series of new measures to protect their financial and personal security. The Governor called on the Legislature to allocate the additional $25 million she called for to help provide home heating assistance, to raise the minimum wage, to cut insurance rates by 20 percent, to pass tough new ethics standards and demand corporate responsibility, to provide workers access to pension savings plans, and to require criminal background checks for employees in nursing homes and elder care settings.In closing, the Governor asked all Michigan residents to believe in our collective future.
It was a plaintive plea to reverse the trend of history of a Rust Belt state undergoing manufacturing retraction. Her peroration included a number of innovative thrusts that just might work.
The governor's challenge now isto stand up and cheer loud enough to keep Republicans and moderates believing that she, not Mr. DeVos, is the right person to lead us over the rainbow.
May the best plan for the future of Michigan, and the best communicator, not the one who just has the most money, win.###
---
---

Dave Rogers




Dave Rogers is a former editorial writer for the Bay City Times and a widely read,
respected journalist/writer in and around Bay City.
(Contact Dave Via Email at carraroe@aol.com)

More from Dave Rogers
---
Send This Story to a Friend!
Letter to the editor
Link to this Story
Printer-Friendly Story View
---
--- Advertisments ---