Saginaw Bay Symphony Orchestra Conductor Candidate Speaks to Rotary
January 30, 2016 Leave a Comment
By: Stephen Kent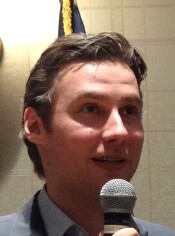 Stilian Kiror
Bulgarian-born master conductor
Stilian Kiror
spoke to Rotary Tuesday about his music, the job of a conductor, and the upcoming concert of the Saginaw Bay Symphony Orchestra on January 30, 2016. At that concert the SBSO will play Beethoven's Leonore Overture No. 1, Corigliano's Voyage for String Orchestra, Bartok's Romanian Folk Dances, and Brahms' - Symphony No. 1
"I'm very very fortunate to be a musician" said Kiror, "because music was really my hobby, my passion, and in time became my profession. They say when your job is your passion or hobby, you never have to work a day in your life."
Concerning music, Kiror said that there are two ways to listen to music. One is listening to forget. "We all do this. You get home, you had a bad day at work, the dentist, your mother-in-law, a letter from the IRS that wasn't a check..." A piece you really like lets you relax.
The other way is when we listen to grow. This requires a certain amount of work we all need to do. This is when you go to the concert hall and you hear the very first note of music and you hang on to it throughout the whole piece and it takes you on a journey. Why do this? "It has something to do with the wiring of our brains, a way of seeing the world through a higher perspective. And you may still forget your mother-in-law".
Kiror said one of the most common questions he gets is what does a conductor do. His answer was "I really don't know". After a laugh he said "let's all clap". He held up his hand and when he brought it down everyone clapped. He did it again to another clap, then just held his hand up and nothing happened. "You see", he said. He then went on to talk about the conductor's job to impart an interpretation and energy to a performance of the orchestra.
Kiror went on to talk about his background, the program for the upcoming January 30 concert, the composers, and how he rehearses with the orchestra. He then answered a number of questions from the audience.
For more information visit
saginawbayorchestra.com
---
CLUB NEWS and ANNOUNCEMENTS
Note that the board meeting has been moved back one week. We will meet before the regular meeting on February 16 at 11:00 am. Everyone is welcomed.
That Tuesday, February 16 is also a joint meeting with the Bay City Noon Optimist where they will celebrate their "Unsung Hero Award" presentation.
The Club Service committee may ask your opinion about
Venue & Lunch review
Membership Nurture process review
Club Project, funding and selection process review

Andrea Hales still needs a second family to host our exchange student for the Spring school session. She also says that the exchange for next year is being scheduled now and she needs a first host family on file so they can get busy on obtaining a passport.

Dues invoices have been mailed. Early collections have been excellent. For those who have not yet paid, your prompt attention to this matter is appreciated.

Current and past DISTRICT DISPATCH newsletters are available in the LINKS section below.


---
DATES TO REMEMBER
Feb 16 Board meets. This is one week later than normal.

Feb 16 We will meet with the Bay City Noon Optimist Club to celebrate their Unsung Hero Award Presentation

April 28 Rotary Rocks Concert


---
Upcoming Programs
(See the official schedule at RotaryBayCity.org )


February 02, 2016 ArtWave The Great Lakes Bay Region is going to launch ArtWave in 2016 via the Great Lakes Bay Regional Alliance. Mike Bacigalupo, Great Lakes Bay Regional Alliance Art & Entertainment Chair will talk about this new regional concept.

February 09, 2016 Super Bowl Commercials. Speaker: Dr. Rama Yelkur, Dean College of Business and Management, SVSU

February 16,2016 Unsung Hero Award Luncheon with the Optimist Club. We will be joining the Bay City Optimist Club at the Doubletree to celebrate the youth and the Unsung Hero's of our community.

---

Current and past DISTRICT DISPATCH newsletters are available on the District site shown in the LINKS section below.







Rotary Bay City on Facebook!
Click on the Blue Facebook to visit us there.

Remember! Check attendance sheets at the front desk.
---
LINKS
---
---

Stephen Kent




Steve Kent and his family have lived in Bay City for 40 years. He is VP of Technical Services at MMCC which produces MyBayCity.Com. Kent is active in many Bay City civic organizations.

More from Stephen Kent
---
Send This Story to a Friend!
Letter to the editor
Link to this Story
Printer-Friendly Story View
---
--- Advertisments ---