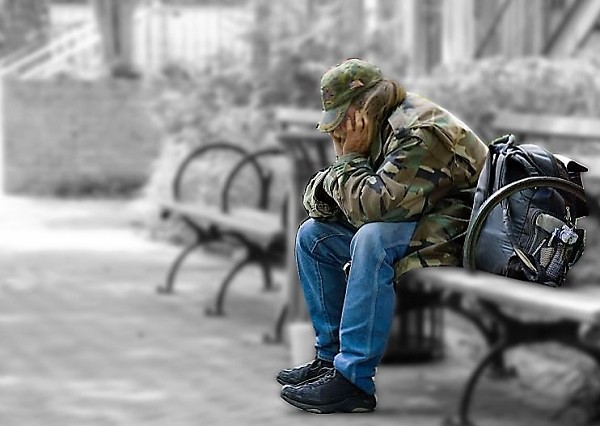 Homeless veterans make up about 10 percent of the total population of homeless.
---
5,000 HOMELESS: Eight County Mid-Michigan Numbers High
Food of Faith Meal Program Has 22 Cooperating Groups
February 1, 2016 Leave a Comment
By: Dave Rogers
It's the middle of the winter, no time to be outside is it?
But in our eight-county mid-Michigan area, state officials estimate that more than 5,000 are homeless.
Counties included in this count are Bay, Arenac, Clare, Gladwin, Midland, Gratiot, Saginaw, Isabella.
Wayne County accounts for approximately 25 percent of the total number of 92,000 homeless in Michigan.
An estimated 10 percent of the total number of homeless are veterans. The Michigan Veterans Foundation in Detroit and Patriot Place in Gaylord are two programs that help to get homeless veterans off the street.
Jason Allen, director of Michigan's Veteran's Affairs Directorate is reaching out to those in need by encouraging veterans to discuss their benefits eligibility with their county Veteran Affairs office or veterans service organization.
"Many Michigan veterans don't realize there are potential grants available through the Michigan Veterans Trust Fund to help families in need. This funding is specifically set aside to help eligible wartime service veterans. As director of Veteran's Affairs, I want to ensure eligible veterans learn about and apply for the benefits created by federal and state law. By contacting a county Veteran's Affairs office or veterans service organization they can receive application assistance for these benefits," said Allen.
The Michigan Interagency Council on Homelessness (MICH) is headed by Co-Chairs Lisa Chapman, Corporation for Supportive Housing (CSH), and David Verseput, Michigan Department of Community Health (DCH). They state:
"Poverty in combination with illness, disabilities, disaster, violence, crime, war and extreme family conflict drive homelessness. None of our systems of care and support work well when individuals and families are changing neighborhoods multiple times throughout the year.
"We believe that housing is a basic need and the elimination of homelessness is an achievable goal. No man, woman or child should be forced to sleep on the streets, in the woods or on a cot in a shelter on any night, in any town or city in Michigan."
One success story cited by the state program concerns a homeless veteran who goes by the name Cowboy; his home was once a tarp in the woods. "He says that his body is getting too old to live outside. Community enCompass provided housing services, connected Cowboy to the Veterans Administration, and assisted him in securing a housing voucher through the HUD-VASH program. After receiving services, Cowboy decided to give back by volunteering at Community enCompass in its homeless services program."
The new Bay Veterans Foundation, headed by Keith Markstrom, is researching housing programs for local veterans in conjunction with the office of County Executive Thomas L. Hickner.
You don't normally see them, but in Bay City, for example, the homeless hang out in the parks, under bridges and behind any building that offers shelter.
Couch surfing is the term used by folks who sleep at friends' houses whenever they can. But basically they are as homeless as those who fend for themselves out of doors.
The Salvation Army, where food is served, the homeless and hungry crowd in at mealtimes.
The Sunday meals at Trinity Episcopal Church are popular and volunteers are kept busy cooking and serving for the Food of Faith program. The program is headed by Patricia Maxim, 2016 Dick Hardy Award runner-up honored by The Bay City Times.
Students from the Bay-Arenac ISD Career Center created and produced a public service message focusing on childhood hunger in America. The video was filmed at Trinity during a Sunday meal service.
http://www.trinityepiscopalbaycity.org/food-of-faith.html
Food of Faith is a faith-based outreach mission that provides meals to anyone in need and has been in existence for over 25 years. Currently 22 churches/organizations provide meals each Sunday at 2:30 p.m.
Food of Faith serves between 90-180 people each week. During the winter, there are people in the dining room as early as 12:30 so they can socialize with their friends, have coffee, and stay warm for the afternoon.
The churches and groups cooperating in the Food of Faith Program are: All Saints, Bay City Civitan, Grace United Methodist Church, Community of Christ, Dore Family, Essexville Baptist, Faith Lutheran, First Presbyterian, Fremont Methodist, Immanuel Lutheran, Our Lady of Peace, Our Lady of Czestochowa, Prince of Peace, St. Jude's, St. Luke's, Trinity Episcopal, St. James/Munger and Pinconning United Method Church.
The state's Campaign to End Homelessness has developed more than 3,000 housing units for the homeless. See http://michigan.gov/documents/mshda/MCTEH_Synopsis_2013_475407_7.pdf
###
---
---

Dave Rogers




Dave Rogers is a former editorial writer for the Bay City Times and a widely read,
respected journalist/writer in and around Bay City.
(Contact Dave Via Email at carraroe@aol.com)

More from Dave Rogers
---
Send This Story to a Friend!
Letter to the editor
Link to this Story
Printer-Friendly Story View
---
--- Advertisments ---