ArtWave Topic of Rotary Program
February 2, 2016 Leave a Comment
By: Stephen Kent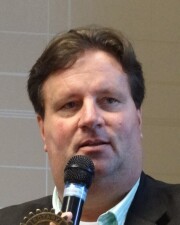 Mike Bacigalupo
Rotarian
Matt Felan
, head of the
Great Lakes Bay Regional Alliance
(GLBRA) spoke to Rotary about the upcoming ArtWave that will inundate the region for four months starting in May. Felan then introduced Morning Rotarian
Mike Bacigalupo
, BLBRA's Art & Entertainment Chair as well as head of the Temple Theatre in Saginaw and the State Theatre in Bay City, who spoke about the details.
Felan began by stating the GLBRA mission is anything that deals with economic vitality and quality of life in the Great Lakes Bay region. Studies have shown that the GLB region is home to a wide assortment of arts and entertainment, but a lot of dollars are leaving the area. People were going to Detroit, Lansing, Grand Rapids, without realizing how much is available locally.
The
ArtWave
steering committee includes people from museums and arts organizations to businesses and libraries, to the Great Lakes Loons. This diverse group examined the last effort, "Art and Sol", the alliance's first foray into the arts and entertainment world, before coming up with a new focus and direction for ArtWave.
The group recognized that arts and entertainment paint a picture of the area. People come to the region and businesses like Dow all the time. They want to know about the region. Arts and entertainment opportunities paint that picture.
"Art and Sol" combined two great ideas, solar and STEM, but may not have been delivered well. The new event will be different. Each of the four months from May to August will feature one or two events from a different city, Saginaw, Midland, Mt. Pleasant, and Bay City. Throughout the four months, all of the cities will promote the event in the featured city for the month.
The GLBRA's role in this program is to facilitate the process. Organization in each city will come up with their own program and provide promotional materials. GLBRA will use its website, print ad, billboards, and other promotional tools to publicize the events.
Events will include concerts, movies, sporting events, theatrical events, art exhibits, museum exhibits, festivals, etc. As the last month, Bay City will promote the River of Time and other September events. It was noted that Bay City has something every month, including the Tall Ships this year. The cross-promotional efforts should highlight those events even if they do not occur in the month assigned to a particular city.
ArtWave
For more information visit
www.greatlakesbay.com
and
www.gogreat.com
NOTE: ArtWave will be launched April 1, 2016. Materials will begin showing up in late March.
---
CLUB NEWS and ANNOUNCEMENTS
Note that the
board meeting
has been moved back one week. We will meet before the regular meeting on
February 16 at 11:00 am
. Everyone is welcomed.
Tuesday, February 16 is also a joint meeting with the Bay City Noon Optimist where they will celebrate their "Unsung Hero Award" presentation.
The Club Service committee may ask your opinion about
Venue & Lunch review
Membership Nurture process review
Club Project, funding and selection process review

Rotary Rocks planning has begun although there is no theme yet. Keep April 28 on your calendar!

Andrea Hales still needs a second family to host our exchange student for the Spring school session. She also says that the exchange for next year is being scheduled now and she needs a first host family on file so they can get busy on obtaining a passport.

Dues invoices have been mailed. For those who have not yet paid, your prompt attention to this matter is appreciated.

Current and past DISTRICT DISPATCH newsletters are available in the LINKS section below.


---
DATES TO REMEMBER
Feb 16 Board meets. This is one week later than normal.

Feb 16 We will meet with the Bay City Noon Optimist Club to celebrate their Unsung Hero Award Presentation

April 9 District Matching Grant Seminar (COPOCO CCU)

April 28 Rotary Rocks Concert

May 20-21 District Conference Alpena


---
Upcoming Programs
(See the official schedule at RotaryBayCity.org )


February 09, 2016 Super Bowl Commercials. Speaker: Dr. Rama Yelkur, Dean College of Business and Management, SVSU

February 16,2016 Unsung Hero Award Luncheon with the Optimist Club. We will be joining the Bay City Optimist Club at the Doubletree to celebrate the youth and the Unsung Hero's of our community.

---

Current and past DISTRICT DISPATCH newsletters are available on the District site shown in the LINKS section below.







Rotary Bay City on Facebook!
Click on the Blue Facebook to visit us there.

Remember! Check attendance sheets at the front desk.
---
LINKS
---
---

Stephen Kent




Steve Kent and his family have lived in Bay City for 40 years. He is VP of Technical Services at MMCC which produces MyBayCity.Com. Kent is active in many Bay City civic organizations.

More from Stephen Kent
---
Send This Story to a Friend!
Letter to the editor
Link to this Story
Printer-Friendly Story View
---
--- Advertisments ---