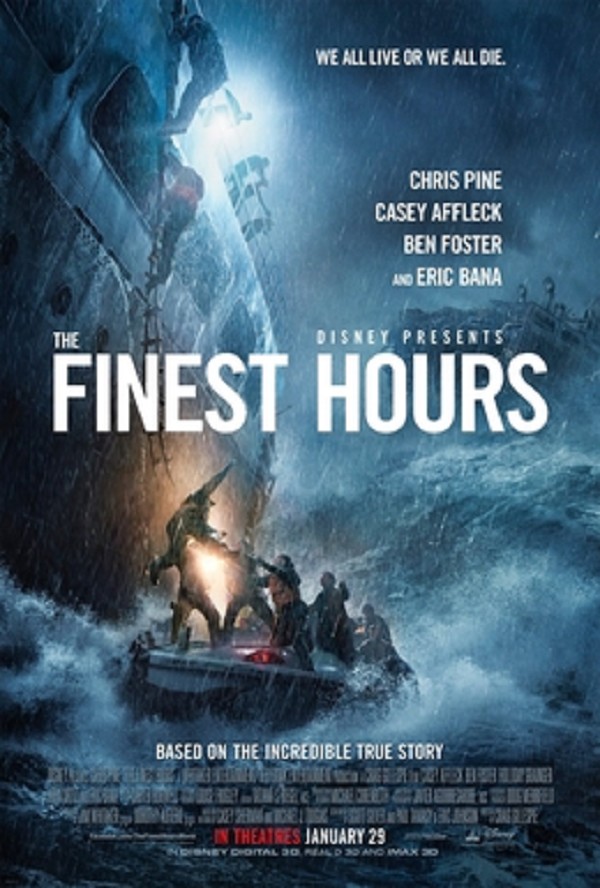 Spoiler Free Movie Review - The Finest Hours
---
Spoiler Free Movie Review - The Finest Hours
February 8, 2016 Leave a Comment
By: Kathy Rupert-Mathews
"The Finest Hours".
Good movie. It's intense, dramatic and realistic. The story is a true account of a rescue of 32 men off the coast of Massachusetts in 1952. It still stands as the most heroic rescue in Coast Guard history.
I've read up on it a little bit and found the movie to be quite accurate. There are only a couple of exceptions in the "on-shore" storyline that differs.
These men fought 60-foot waves and gale force winds to rescue the remaining crew of the Pendleton, a large T2 tanker that was broken in half in the storm.
While watching the movie, I found myself holding my breath for long periods of time. At the end, my hands ached from clenching them into fists. I knew the outcome but that didn't ease my tension. It was much like watching "Apollo 13". I knew what the ending was, but I still was extremely anxious.
Some people who saw this did not like the acting. I did. Chris Pine portrayed the hero, Bernie Webber, very well. His girlfriend, who in the real life story was his wife, was played by Holliday Grainger. She did a good job also. I especially liked Casey Affleck. He was the man who took charge on the ship. He didn't want to be in charge but it was thrust upon him.
A few words of advice. Don't wait to see this at home. You need the big screen to get the proper perspective of the special effects. When the movie is done watch through the credits. You will see actual photos of the real life heroes and the ship.
So go. Have fun. Eat popcorn.
---
---
---
Send This Story to a Friend!
Letter to the editor
Link to this Story
Printer-Friendly Story View
---
--- Advertisments ---